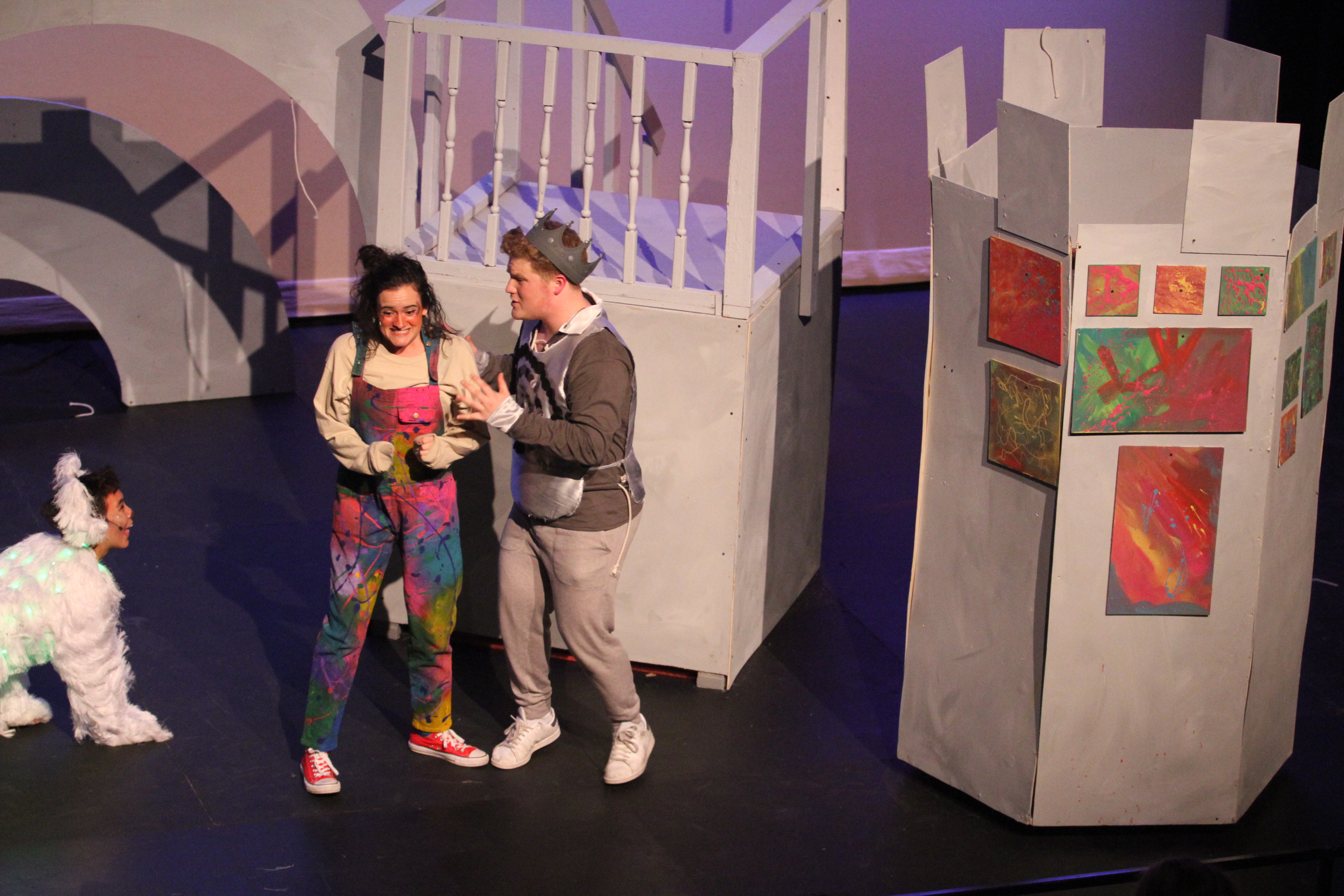 Penn junior Priscilla Felten shines the spotlight on her collaborative leadership skills, as the vice chair of Stimulus Children's Theatre, which is celebrating its 30th anniversary this year.
As the producer of its fall show, "The Prince and the Wooglefoof," Felten, an economics major at the Wharton School, says she was honored to work with New York-based Penn alumna and playwright Jessica Penzias, and the Stimulus cast and production crew, to bring the story to life.
With music by Anthony de Angelis and lyrics by Christyn Budzyna, "The Prince and the Wooglefoof" is based on Brian Anderson's "The Prince's New Pet," which is set in a dreary, all-gray kingdom. A grieving king banned color, ordering the royal painters to paint the kingdom gray every morning, and the royal "color catchers" to remove any colors that might dare to emerge. On his 10th birthday, his son, the prince, meets a new four-legged friend, called a "wooglefoof," and the audience waits with anticipation to see if the duo can restore vibrant color to the bleak, colorless kingdom.
Felten, who hails from Washington, D.C., says the 60-minute production accomplishes a feat that's difficult to achieve with children's theater: It appeals to all audiences.
"The messages of sharing and expressing emotions and learning from children are incredibly important and pertinent," Felten explains, adding that the musical offers typical theater components that engage young children, like bright lights and shiny costumes, but it also leaves some adults in tears by the end of such songs as "Enjoy the View."
For Felten, the show's message goes beyond reaching external audiences. It has her looking around to her classmates at Penn, as well as looking in the mirror.
"This show is perfectly relevant for Penn's campus, as ongoing conversations…challenge us to open up about our struggles and weaknesses to get the support we need to succeed in a competitive environment," says Felten.
"Many think that the easy solution is to act emotionless, because vulnerability can be seen as a professional weakness, but this show helps to break down the stigma in a thoughtful and poignant way," Felten says. "Doing this production achieves the aim of Stimulus. As a college theater group, we are able to create pieces that are equally as thought-provoking for the young adults who attend the show as they are for young children."
Stimulus prides itself on how its commitment to making a local impact reflects the University's values outlined in the Penn Compact 2020, says its current chair, Tessa Goodine, a senior in the School of Nursing from Guam.
"We go into the community and bring our shows to people who may not have the opportunity to experience theater otherwise," Goodine says. "We want to empower, engage, and encourage our audiences."
This year, with about 40 active members, Stimulus piloted a new partnership with Girl Scouts at Penn. Together, they reached out to a number of Girl Scout troops across West Philadelphia and invited them to a free performance of "The Prince and the Wooglefoof," before opening the show to the public. Nearly 75 Girl Scouts and their families attended the performance, which featured a Q&A panel with the cast and production staff.
"It's always a great moment when a child comes up to you after a show and talks about their favorite part, or asks questions, and you can see that they were really engaged," Goodine says.
Stimulus Children's Theatre also takes the show on the road to  hospitals, the Ronald McDonald House, and various community centers. Earlier this fall, the members performed "The Prince and the Wooglefoof" at schools in West Philadelphia, including KIPP West Charter School and Benjamin Comegys Elementary School.
The 30th anniversary has provided Stimulus' members with a moment to reflect on its growth but also on its humble beginnings, Felten says.
"In 1988, Stim started out as a small group of people passionate about bringing theater to children, and we've always stayed on the smaller side. Despite that, we've never stopped putting on great shows and branching out into the community because of the passion of those people," Goodine adds. "Stim is almost 10 years older than any active member, and we are so thankful that it exists and that we've been able to continue Stim's traditions."
Stimulus Children's Theatre is named to reflect its mission, Goodine says.
"Stim is all about simulating the minds and hearts of children, from 1 to 99," Goodine explains. "Whether that be through telling fun stories and encouraging creativity to performing shows that have messages related to sensitive topics, like bullying or even death, we hope to enrich the lives of all those who watch our shows."
In the past 30 years, Stimulus Children's Theater has produced musicals such as "Willy Wonka," "Seussical: The Musical," and "High School Musical," along with plays like "Charlotte's Web," "The Fantastic Mr. Fox," and "The Little Prince."