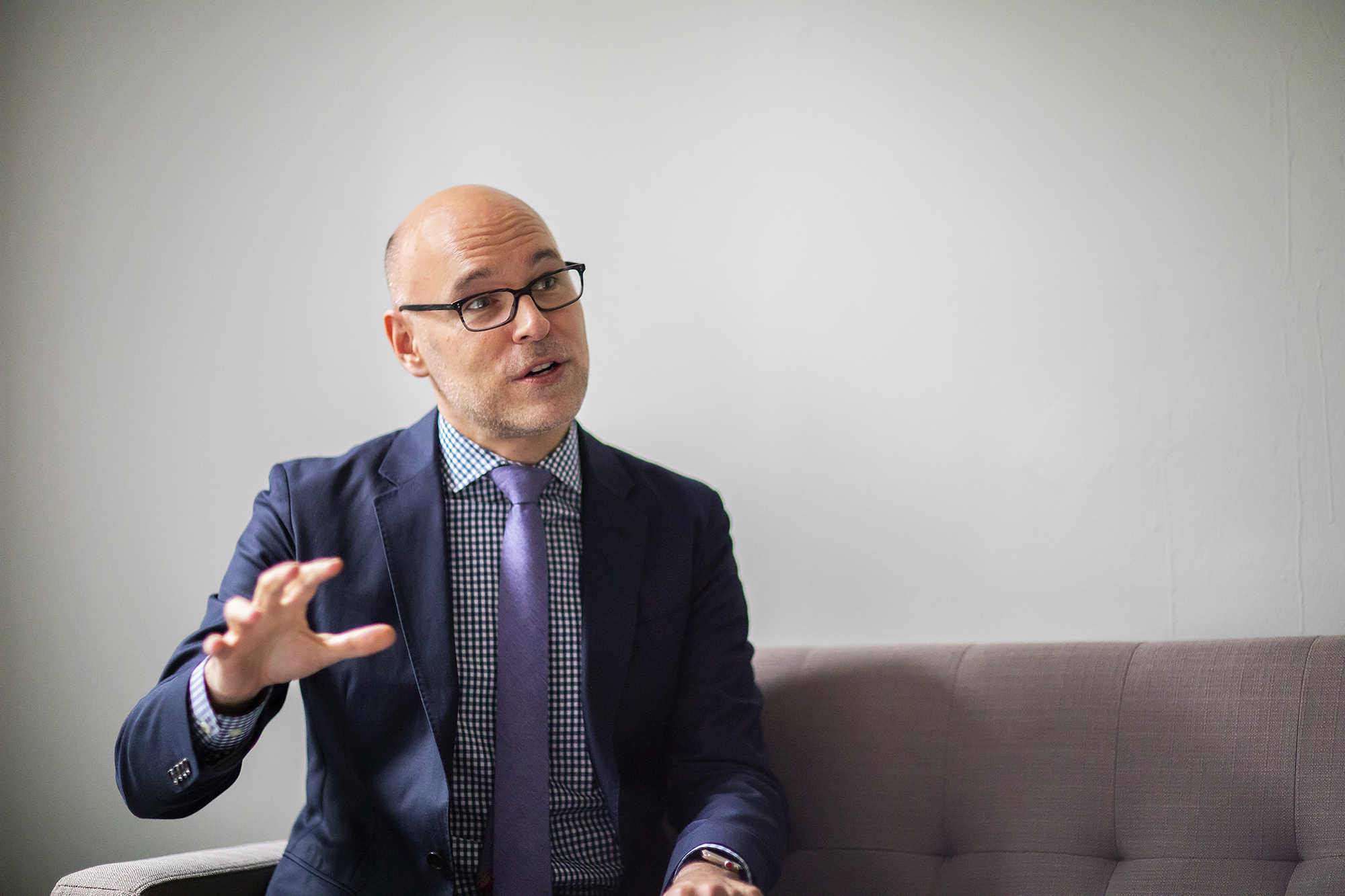 On June 25, the University announced a hybrid plan for the fall semester that includes some on-campus operations as well as remote ones where appropriate. In light of that, Penn Today engaged with Chief Wellness Officer Dr. Benoit Dubé to discuss the newly announced plan and its health implications for students, staff, and faculty. Namely, the potential for the plan to change, the community's dependence on cooperation for these operations to succeed, and the need to collaboratively work to develop new norms in these strange times. 
Can you start by explaining what went into making the decision for the hybrid model this fall semester? From a public health standpoint. And what voices and credibility went into making those choices.
The President put forth a Recovery Planning Group consisting of key stakeholders at the University who then tasked a variety of working committees, each of which had a specific lens, to look at various scenarios for the fall semester. One scenario was business as usual, another was a completely virtual semester with no student presence on campus, and others were variations on this theme. Each of the working committees adopted a specific lens: public health, college housing, and academics, for example. Each of these working committees submitted a report to the Recovery Planning Group, who then pooled these recommendations and concluded that we could continue to pursue our mission while minimizing the risk of person-to-person transmission, while also respecting everyone's autonomy in deciding what's best for them. This is how the hybrid model was designed. This process implicitly started in March, but then crystallized as a clearer mandate later in the spring as we started planning for the fall. 
I want to add one thing to your question: The irony is not lost on us that we made our announcement the same day we broke records for the number of new cases recorded. This confirms that this is a fluid situation and that nothing is etched in stone. But our guiding principles remain: We want to do what is best for our students, faculty, and staff as we pursue our mission of research and education. 
Essentially, we're trying to solve a puzzle and the pieces shift as we're placing them on the table. We have to acknowledge that there are forces at play over which we have no control, except controlling our ability to not take unnecessary risks.
How is Penn approaching accountability from students? And what is the plan for quarantining and contact tracing?
Let's start with contact tracing. As we outlined in the Campus Compact, we want to remind everyone, not just students but also faculty and staff, that we have a collective responsibility to look out for one another. We laid out the Campus Compact to be very specific about behavioral expectations: masks, physical distancing, hand washing, cleaning of surfaces, but also collaborating in contact-tracing efforts. Once we identify a case, we isolate the case but also put forth efforts to identify close contacts and isolate those as well. That's how we stop the spread of disease. And in order to do that we had to be very clear in spelling out what these expectations mean for our students: It means answer the phone, answer our questions, and help us minimize the spread of disease. 
For students who live on campus, we have designated Sansom Place West as our isolation [living space] … We are building a team of contact tracers who will reach out to individuals who are either known to have tested positive for the disease or suspected to have been in close contact. This team will help us contain this infection. The overarching principle here is minimizing person-to-person transmission. 
Now, you may have read that we are also using digital aids to assist us in this. The reason we are relying on technology is because it will allow us to be more efficient in our contact-tracing efforts. There is an app we are exploring that would essentially keep a record of individuals' locations and movements for 14 days at a time based on geotagging information. It's kept on the user's phone, and will help people remember where they were—and hopefully who they were with—if a contact tracer were to call you and say, 'Hey, we got your test results and you tested positive. We'd like to identify close contacts.' The app is there for you to assist the contact tracer in their efforts to identify your close contacts. No one has access to the information other than you. We do ask and expect students to collaborate and use this app as a memory nudge, if you will. 
So, the tracking is there but nobody is accessing it unless you release it?
Correct. The geotagging information is yours and we ask people to share it with us in our efforts to minimize person-to-person transmission.
If there is a spike in cases in the middle of the semester, what is the current plan to handle that?
This is a little bit of a tricky question, as you can imagine, because it depends what the outbreak is. 
Let's say when we do surveillance testing, we identify three members of a sports team. Then we would have to basically shut down the sports team for 14 days and say, 'Hey, you need to convalesce and we need you to isolate from the rest of the community so you don't spread to other people on our campus.' That's a simple outbreak to contain. 
We will be keeping track of various metrics throughout the semester. They will be publicly displayed on our website. The issue here is about transparency. It's not just about the number of cases, it's about how sick people are. We are fortunate to have a public health system embedded in our community. And if the rate of hospitalization goes up and nears capacity, this would be an example of a threshold for us that would question our ability to support our community in a hybrid model, and we may say, 'As of X date, we need to seriously consider having everyone go remote.' It doesn't necessarily mean we would depopulate the campus as we did in March. We may be able to hold virtual instruction but allow students to stay in dorm rooms. There's a multitude of scenarios here. That is what we're actively trying to figure out. 
It's important for us to acknowledge that the decision may not be made just by us. We are guided by public health guidance at the local, state, and federal levels; we will continue to partner with them as we monitor the situation
How do you see the University balancing public health measures with the typical campus happenings, striking a balance between what's safe and continuing in-person operations and academic pursuit?
I think the key to our success will be building partnerships with key stakeholders. For example, we're thinking of creating a team of public health ambassadors, and these individuals could be students, faculty, or staff who would be on-hand to remind others of physical distancing, wearing facial coverings. A typical scenario would be public health ambassadors stationed along Locust Walk who may say, 'Hey, Brandon, looks like you left your mask—may I offer you one?' And they may have a mask or bandana to offer people. Our approach is really one of collective responsibility. That collaboration will be a key to our success. So far, when we've talked to students during focus groups, there seems to be spontaneous buy-in and a desire to contribute to this new public health environment we will all find ourselves in. It's the new normal for the foreseeable future and it will be successful if we all contribute.
What is the holistic thinking about students and their health during the crisis and how they inevitably deal with the anxieties around it, on top of the anxieties that typically come from being in a high-pressure, academic environment?
This is interesting because we all share a common anxiety over this pandemic. In the past, when there was academic stress, there was still a sense of agency over, 'I can choose to drop a class or not belong to as many groups or clubs.' This pandemic has stripped all of us of that agency. And when I say, 'Us,' I mean faculty and staff, too. I think there's going to be a sense of coming together between students and faculty who are struggling with the same issues. For as many students who may wonder whether they want to return to campus, because of health concerns, for example, there will likely be as many faculty who are wary of coming back to the classroom for similar reasons. While we are making a pledge to minimize person-to-person transmission by our policies and recommendations, we cannot guarantee there will be no cases on campus. We must prepare for this reality: There are going to be cases. In order to minimize this risk, we're adopting a very stringent testing policy for students returning to campus—mandatory testing not once but twice for everyone, and the details will be rolled out in the next few weeks. So, we're doing everything in our control to try and mitigate the anxiety that's going to permeate not just for students, but for faculty and staff as well.
But to your original question, Student Health and Wellness Services will be adopting the same hybrid model as the University. Whether we are talking about Student Health or our counseling center, we will offer hybrid services as well, which means we will be available in person but also remotely. Maybe students will not want to come to the counseling center but want to do virtual counseling sessions. Well, that will also be an option. Maybe their counselors won't be able to make it to the counseling center, so students will have to adapt. It will be about acknowledging there are challenges for everyone, students, faculty, and staff alike. This may be somewhat of a bonding experience because this will be a shared experience for all of us.
Are there any wellness initiatives happening this fall related to COVID?
All of our services have done the COVID pivot—we can reach and support students remotely now, something we could not do as well before. It's really a joint effort between all the wellness departments at this point. COVID has a lot of stress and anxiety associated with it because of the uncertainty and apprehension, but there's also a lot of other health and wellness issues related to it. How do you navigate asking friends to wear a mask when they forgot? How do you replace handshakes or hugs? What new normative behaviors can we promote? We don't pretend to have the answers, but we know we do have creative and resourceful students who will help us forge a path forward. Students will help us understand and create this new normal that will allow us to respect public health guidance and minimize person-to-person transmission.
Anything you'd like to add?
I want to send a message of hope that, yes, this is stressful, but we can do this. We have weathered storms before; we will weather this one as well. We have the expertise here and we are a very resilient community. Since the past is the best predictor of the future, we know we'll be OK. We don't know how long this will last, we just know we'll come out OK at the end as long as we all chip in, as long as wearing masks is interpreted as a sign of caring and not a sign of weakness. These are unprecedented times, and that's why we're making unprecedented decisions, such as mandating the flu vaccine this fall. We're in this together and as long as we look out for one another, we will weather this storm.