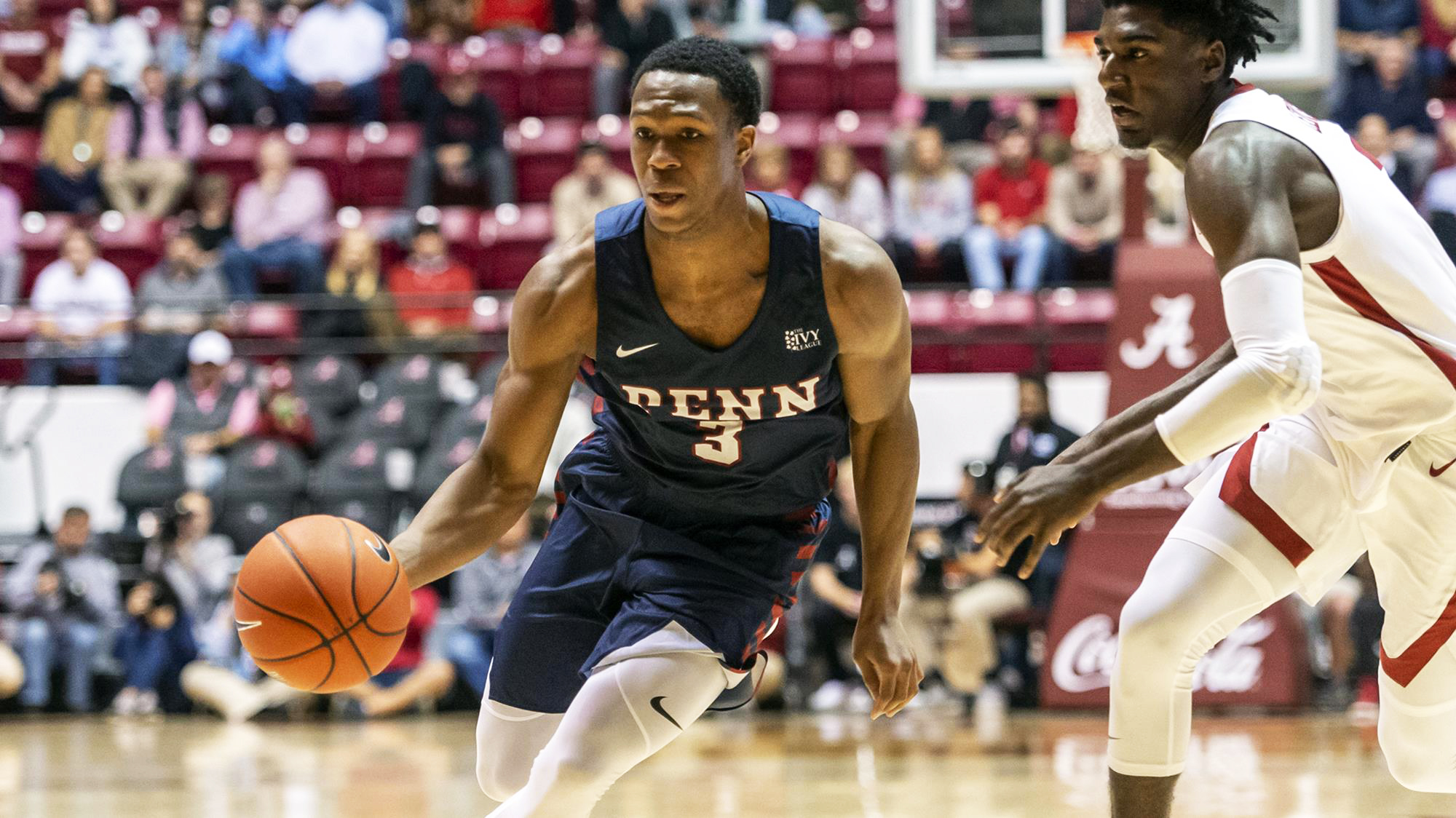 In his first game playing for the Quakers, freshman Jordan Dingle put on a show.
The Valley Stream, New York, native scored 24 points—the most ever by a Penn freshman in a debut—in the Red & Blue's 81-80 victory over Alabama in Tuscaloosa on Tuesday night, including the game-winner with 7.5 seconds on the clock. He also added seven rebounds, two assists, and two steals. 
Tuesday's win marked the first time in the men's basketball team's 1,791 all-time wins that the Quakers defeated an SEC opponent in their home gym.
Penn and Alabama went back and forth in the first half. The Crimson Tide took an 11-5 lead in the opening three minutes. A jumper by senior forward A.J. Brodeur, a triple from Dingle, and a layup by Brodeur put the Red & Blue ahead 12-11. 
A trio of threes by the Crimson Tide gave Alabama a 20-16 advantage halfway through the first half. Buckets by Brodeur and senior guard Ryan Betley gave the Quakers a 22-21 lead.  
Alabama was up six, 33-27, with 4:15 left in the half. A layup by freshman guard Lucas Monroe, a Dingle dunk, and a slam by Brodeur tied the game at 33 apiece.
It was a 35-35 game at halftime.
Buoyed by a three from junior guard Eddie Scott, a layup by senior guard Devon Goodman, and a trey from Brodeur, the Quakers opened the second half on an 8-0 run.  
The lead grew as high as nine—70-61—with 6:46 left on the clock, before the Crimson Tide started to roll. Two Alabama layups and a free throw trimmed Penn's lead to 70-66. 
With 3:32 left in the game, the Crimson Tide got within one, 74-73. Dingle nailed a three that pushed the Quakers' lead back to four. Two free throws and a dunk by Alabama knotted the game at 77-77 with 2:20 left. 
Scott made two foul shots to give the Red & Blue a two-point lead. Alabama guard Kira Lewis, Jr. nailed a three with 20 seconds left to put Bama up by one.
Following a Penn timeout, Dingle got the ball, drove into the paint, and swished a jumper with 7.5 seconds left. Alabama was fouled with 2.4 seconds left in the game, but Lewis missed both free throws.
Brodeur had 19 points, 10 rebounds, four assists, and three blocks. Betley, in his first game back after missing almost all of last season with a knee injury, had 12 points, six rebounds, and one steal. Scott added 10 points, four rebounds, and one steal.
Dingle, who played 37 minutes, shot 9-16 from the field, 2-4 from behind the arc, and 4-6 from the charity stripe. His 24 points broke the record for a freshman in his debut that was previously held by Brodeur, who put up 23 in his first game against Robert Morris on Nov. 11, 2016.