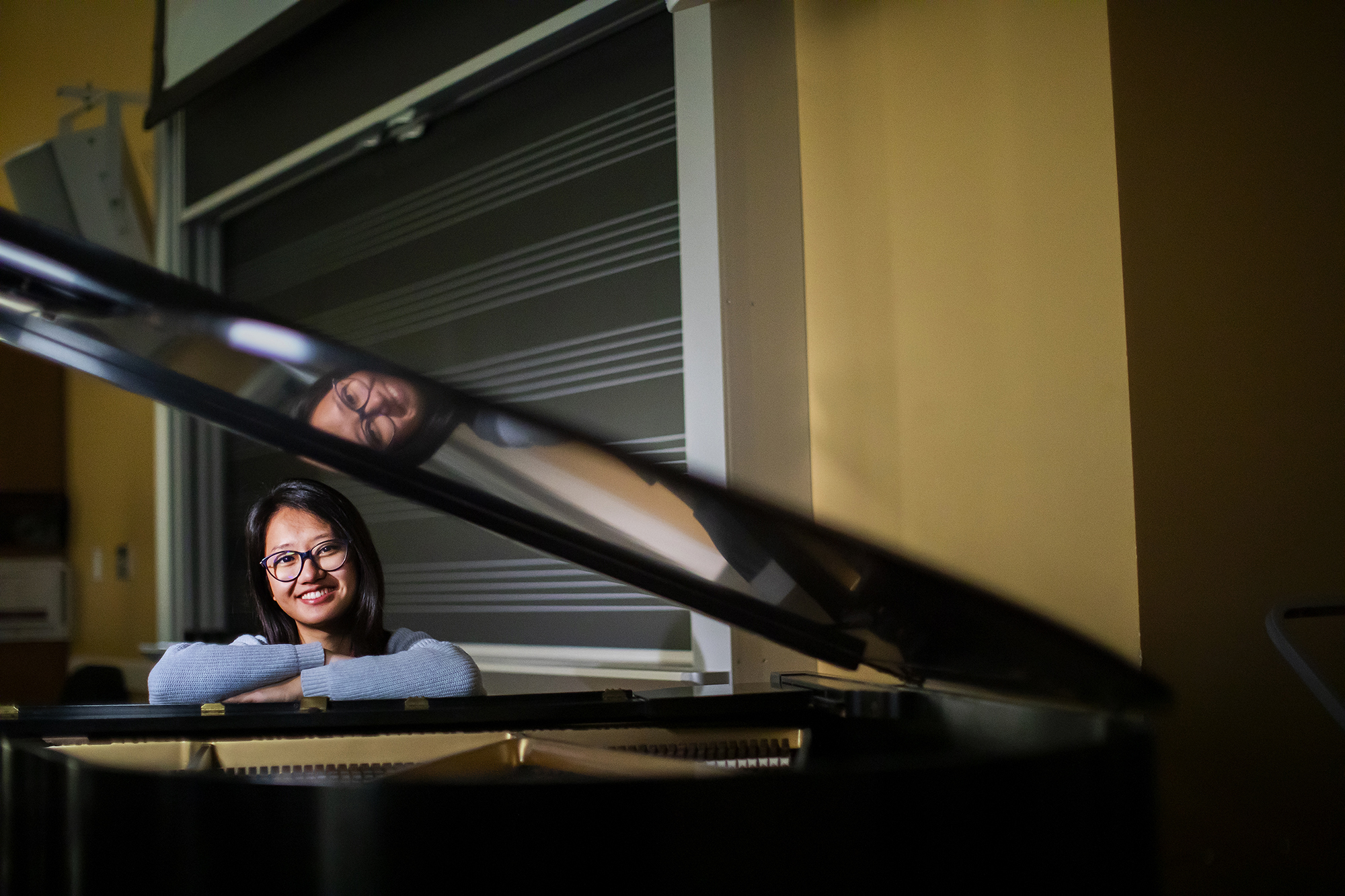 Pianist Ania Vu (Vũ Đặng Minh Anh) was 15 years old when she wrote her first music composition, a jazz-inspired piece that won a competition in her Warsaw music high school. A year later she performed it at the Hanoi Opera House in Vietnam, the country where her parents were born and raised.
"I played a solo recital of classical music, and then at the very end I played my piece with the jazz saxophonist, and that was the very first time when my music was performed," Vu says. "During my first rehearsal with him, I remember that moment when I finally heard my music come to life after having imagined it only in my head. It was so exciting."
A dozen years later, her compositions are being performed in Philadelphia. Now in her fifth and final year at Penn, Vu is a Ph.D. candidate in music composition, on a Benjamin Franklin Fellowship. 
"The hands-off culture at Penn gave me space and time to focus on composing and to grow at my own pace," Vu says. "Over time, I slowly discovered a way of combining my two long-standing interests: music and languages."
Vu's compositions are centered on the piano but usually include other instruments. She also writes music for voice, and often creates the poetic lyrics herself, exploring the interplay between the sound properties of the words and their meanings, in Polish, French, and English. 
Composer Anna Weesner, professor and undergraduate chair of Penn's Music Department in the School of Arts & Sciences, says Vu is "a fascinating citizen of the world, given her background and mastery of many languages" and describes her as "fierce" as an artist. 
"She is not afraid. And when you combine that quality of artistic courage with the deep musicianship she brings to her work, you have a formidable young composer," says Weesner, who has taught Vu in several courses and is her dissertation advisor. "She has an incredibly sensitive ear, and she engages with composing as a long-term pursuit."
Vu has just landed what she says is "an extremely valuable and rare opportunity" for the coming academic year, as the postdoctoral researcher and instructor at the University of Chicago's Center for Contemporary Composition.
"Ania Vu's music is elegant, nuanced, personal, and radiant. The dramatic landscapes she conjures are spellbinding and reveal a kaleidoscopic craft," says Center Director August Read Thomas. "She is following her personal creative star and her inspiring compositions are evocative and tell stories." 
A retrospective and future performance 
In the fall as part of its annual theme of migration, Penn's Wolf Humanities Center sponsored a retrospective of Vu's work: "Ania Vu: Across Cultures and Time." The recital, held at the Penn Libraries, spanned the past decade of her work including 10 selections for piano, voice, and percussion featuring Vu on piano, soprano Paulina Swierczek, and percussionist Alyssa Resh. 
"I've always found her music very singable. It feels very good in the voice. She really understands how the voice works," said Swierczek, in a discussion. "I really enjoy the specificity of the different sounds. It is very gratifying to work together."  
"Playing Ania's music was so fun. I also really love the way Ania uses color and rhythm," Resh said. "When she rocks the rhythms and I rock the rhythms you can hear the composite rhythm really well, and that's really cool."
For the opera she is writing, Vu is planning to stage a premier performance in Center City Philadelphia this fall, with soprano and baritone voices, along with flute, clarinet, violin, cello, piano, and percussion. 
"Opera is really about storytelling and getting into the characters. It is more than just music," Vu says about the opera-in-progress, which will include background visuals and short animations. "The music interacts with other fields, like words, narration, and visuals."

Piano plus six languages
Vu was born and raised in Poland, where her parents settled after studying in Europe on Vietnamese government-sponsored scholarships. She says her mother, Hồng Anh Đặng Hong, also a pianist and music composer, went to Russia at 14 years old, and her father, Hồng Vân Vũ, went to Poland to study naval architecture and design when he was 18.
Piano lessons for Vu started when she was 5, and she attended the public music school in Warsaw from first grade through high school. She attended a French school in Warsaw from kindergarten through middle school and the American School of Warsaw for high school, where she studied in the International Baccalaureate program. She studied German, Polish, and Latin in addition to French and English, and the family spoke Vietnamese at home. 
Vu's mother taught her piano at home and became her first composition teacher. "We worked very closely together on the piano when I was growing up. We practiced, literally, note by note. It was a very meticulous teaching method that proved to be very helpful in many ways," Vu says. "We've always been like a team, working together." 
Vu also took piano lessons twice a week from the age of 9 to 19, she says. "My piano teacher would work with me on the high-level, musical aspect, like how to phrase or what character to bring out; on the other hand, my mom would work on the nitty gritty, low-level aspect, like technique," Vu says. 
Evolution as a composer
The goal was for Vu to study music at a university in the United States. She threw herself into music composing her senior year in high school to ready her portfolio to apply. A piece for solo piano was the first piece she played at the Wolf Humanities performance. "My theme was inspired by Vietnamese folk tunes, and then I wrote variations on that theme," she says. 
She chose the Eastman School of Music at the University of Rochester in New York, as a double major of composition and theory with a minor in social psychology. "I was exposed to so much new music. I found contemporary music to be more creatively satisfying," she says. "I was drawn to music that sounded a bit more abstract. I was attracted to angular music, music that has a lot of contrasts, playing with different types of gestures and characters." 
During her senior year at Eastman, before graduating in 2017, she took a course with Ricardo Zohn-Muldoon. He earned a Ph.D. in composition from Penn and encouraged her to apply. 
At Penn Vu has defined the threads that she wants to focus on in her work, she says, starting in the spring of 2018 when she wrote the piece "Against Time" for solo piano.
"I was very fascinated with the idea of time in music," she says, "and I wanted to write about one specific experience of 'feeling time' from the past. This piece, 'Against Time,' was my response to a difficult year of coping with loss and change. I wanted to translate musically how that feels to have time simply stop, or just float, and not move forward." 
Discovering her voice
Supported by a Music Department summer research grant, she was a participant at the soundSCAPE music festival in Italy in 2018 and was asked to write a piece for piano, percussion, and a mezzo-soprano voice. She says she could not find a poem in the public domain that spoke to her to use for the lyrics. 
"I decided to just try to write something myself," she says. And she did, a poem in Polish, for the piece "a może..." (or what if…) about climate change and human survival.
"When I write the words, I think a lot about their sounds," she says. "It's a fun game for me because I can give myself a constraint of words that have certain sounds and then build a meaningful narrative out of these words." 
She also plays with language by using words that sound the same but have different meanings with different spellings. And she employs a process she calls subtraction, taking out the last syllable of a given line but leaving a sentence that still makes sense. 
Time is also the theme in her 2019 piece "Tik-Tak," manipulating the word tak, "a very common word that people use in almost every sentence in Polish," she says, that has many meanings, including yes, so, as if, and as much. The phrase also refers to the tick-tock of a clock. "For me this piece combines both the aspect of language and time together," she says of the piece for soprano voice, flute, clarinet, violin, percussion, and piano. 
When she approaches a piece for voice, she writes the lyrics first, she says, and then focuses on the music. "If the music requires different words than what I have written, I can always revise the text," she says. "It is liberating to have the agency to make changes on both the music and the words at any given point. I don't have to consult with anybody else or risk upsetting the poet. It's all my responsibility in a way."
Creating an opera
At Penn Vu has studied composition with Weesner, the late James Primosch, and recent faculty additions Tyshawn Sorey and Natacha Diels as well as two visiting professors, Marcos Balter and Amy Williams. "I've had wide exposure to different professors and teaching styles, and each of them offered me different things," she says.
Since September she has been a composing fellow with the American Opera Project's Composers & the Voice, a two-year program based in Brooklyn that offers collaborative instruction on writing music and librettos. Fellows are required to write six songs, each for a different voice type. 
The experience has been influential, she says, as she writes her opera, "Through the Doors—An Opera for Chamber Ensemble, Multimedia, and Electronics," for her doctoral dissertation. It is the first work that she is writing first in English, she says. "The course has already made me rethink so much about how to build the dramatic arc of the story through the libretto and how to effectively write for the voice," she says. 
She plans to have the opera completed by the end of summer and to stage a production in Philadelphia's Old City area, supported by two Sachs Program for Arts Innovation grants and a School of Arts & Sciences grant. The interdisciplinary work explores personal freedom, choice, and the role of time, she says. The story is by Vu and her friend, a graphic designer and pianist, Modesta Gorol in Poland, who is creating the background visuals and animation. 
"The piece deepens my explorations in words and time, themes that have emerged throughout my portfolio during my studies at Penn," she says. 

A future in academia
Vu says one of her dreams is to have her opera performed by a professional company, but her career goal is to teach while also continuing to compose. Vu was a teaching assistant and instructor at Penn, in musicianship and music theory. 
"I would love to become a professor at a university," she says. "In my ideal world I would also have time to write music and have private students." 
She will be doing just that in the coming academic year at Chicago's Center for Contemporary Composition, where she will develop new works for ensembles, teach an undergraduate course, provide composition lessons, and participate in workshops and events. 
As she looks to the future, she says she will continue to explore the relationship between text and music, hoping to expand to include Vietnamese. "I would like to write multilingual vocal works that examine the sonic relationship between different languages and culturally complex narratives," says Vu. "As I keep writing more, I hope that my music will keep evolving over time."