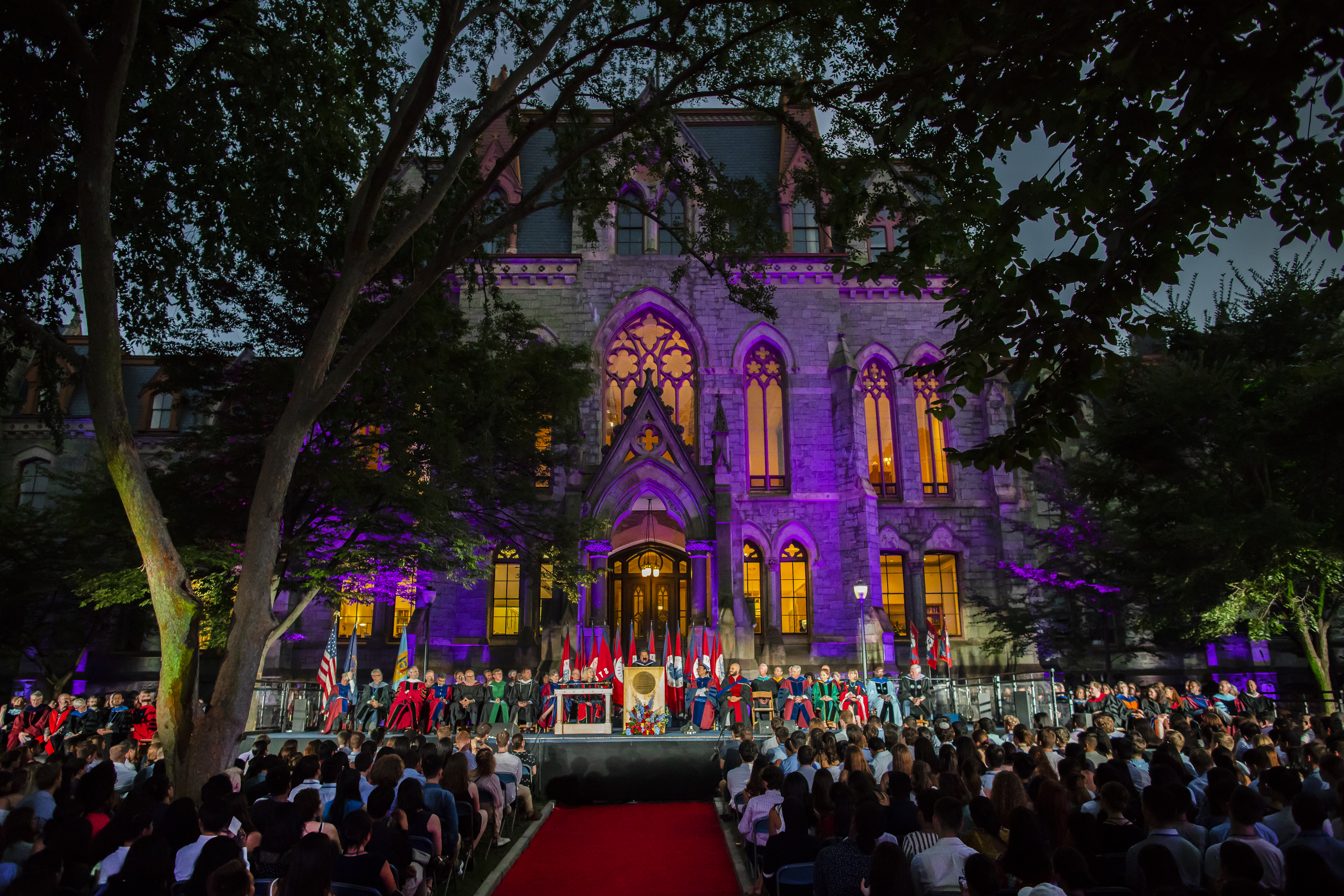 Challenging the Class of 2022 to a "momentous calling," University of Pennsylvania President Amy Gutmann asked the newest Penn students "to not just to meet destiny, but to make destiny."
Gutmann spoke to the 2,500-plus freshmen and transfer students during Convocation, Penn's traditional welcome the night before classes begin. Penn's freshmen class, in this, the University's 279th year, comes from 49 states, Washington, D.C., Puerto Rico, and 88 countries.
"Whether home is near or far, it is my happy honor to welcome you all to the Penn family," Gutmann said. "Never before in Penn's history have so many first-year students been born at the turn of the millennium. We will not see a similar class for another thousand years. That's a long time. You are truly one-in-a-millennium."
The sun was setting on the hot and humid night while she spoke, standing on the steps of College Hall, facing the students sitting in blue chairs filling College Green. They had filed in by their college houses, led in by members of the Penn Band. Red and blue lights lit the scene.
First they were welcomed by Dean of Admissions Eric Furda, before he passed a Penn Relays baton to Gutmann. "It's time. It's time for your individual stories to become your narrative as a class through your shared Penn journey," he said. "It's time. It's your time."
Gutmann noted that many of the freshmen will vote for the first time, in the midterm elections this fall.  "The importance of you doing so is impossible to exaggerate," she said. "It will be a milestone, a milestone moment, when your generation speaks more powerfully than it has ever done before."
To make destiny, she said, the students need to work together, with each other, and the Penn community. 
"To truly make destiny, to affect change for the better, no one person goes it alone, " she said. "At Penn, everything we do to make our future better, we do together." 
Gutmann highlighted the career of Sadie Tanner Mossell Alexander, who was a student at Penn a century ago. Alexander earned her bachelor's degree, master's, and Ph.D., becoming one of the first two African-American women in the United States to earn a doctorate, and the first to earn a Penn Law degree. She then went on to serve on President Harry Truman's Committee on Civil Rights. 
"What Dr. Alexander's story also reveals is that making destiny—even for pioneers—is never a solitary pursuit," Gutmann said. 
Penn Alexander, a public school in West Philadelphia, is named in her honor. Two members of the University's freshmen class are graduates of that school, Jenaye Johnson and Jana Pugsley. 
"That's the best part of making destiny: When you knock down doors, you open them for others," Gutmann said. "Yours is a generation—and this is the class—that will bust open so many doors." 
Penn Provost Wendell Pritchett urged the students to open their minds, embrace new and different experiences, and strive to be broadly educated. "I'm not going to say only pursue your passion at Penn," he said. "Instead, I'm going to advise that you embrace a growth mindset. We are all continual learners, and the journey is as important as the goal." 
The Quaker Notes a cappella group and the Penn Glee Club both sang. The senior class president planted the Class of 2022 flag next to the podium. 
Chantalle Dupont, from Chicago, a student in the School of Nursing, said Convocation for her brought "a really great sense of unity."
"There were a lot of things that made me think about [the fact] that we are all from different places, and that is a good thing," she said. "We are all pursuing our own paths, and at the end, we are all changing the world and making it a better place by pursuing our passions, but also exploring new things and encouraging each other that way." 
Rohit Majumdar, from London, is in both the Wharton School and the School of Engineering and Applied Science. "It's very nice seeing the diversity in the class," he said. "When everyone said where they were from, I heard at least 10 different places. It's nice to have the international community."
Anjalee Bhuyan, from Philadelphia, in the College of Arts and Sciences, said she appreciated the traditional ceremony. "It feels important to have something before starting classes," she said. "I think it was a good transition."
The crowd voted, by cheering, on the class name, given three choices. The winner: 22 Together. 
"Remember, this ceremony embodies what lies ahead. We will work together, we will discover together, and we will have fun together," Gutmann said. "But most of all, here with the best living and learning community in the world, you will make destiny and we will make destiny together. Class of 2022 Together, what an exciting time it's going to be!"