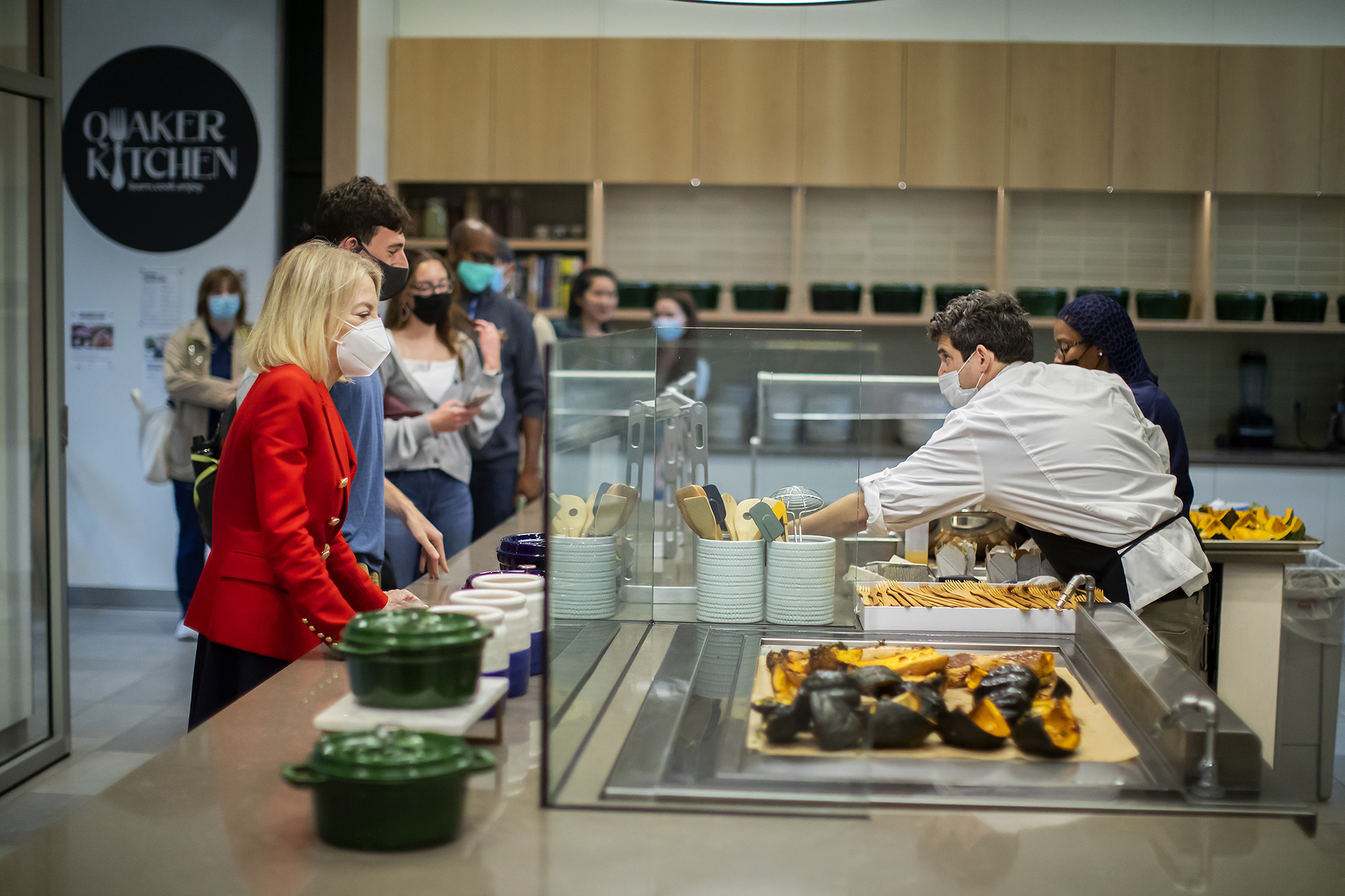 Penn President Amy Gutmann's mother loved to cook and shared that love with her, first teaching her how to bake and then how to create main courses. 
Now as a gift to the campus, the Office of the President is funding a food-centered pilot program to bring students together through culinary endeavors in the Quaker Kitchen at the center of New College House West. 
"I want you all to come up with ideas for how you can learn to create community and bond with each other over food," Gutmann said to students gathered in the central open courtyard of the new residence hall for a welcome event on Tuesday. 
The Quaker Kitchen Culinary Fund will promote the culinary arts and community through events including chef lectures, cooking demonstrations, special House dinners, ethnic and sustainable food celebrations, and food-centered programming created by students, said Amy Stornaiuolo, the House's faculty director and an associate professor in the Graduate School of Education. 
"I've learned so much over sharing cooking and eating together," Gutmann said while describing learning to cook from her mother. "And my experience is that there's almost nothing that beats food for bringing people together, right?" 
The program enhances the College House system's mission to "bring intellectual life into students' living spaces," said Lisa Lewis, faculty director of College Houses & Academic Services and an associate professor in the School of Nursing. 
The Culinary Fund will subsidize the cost for students to participate, Gutmann said, "so you can actually enjoy it and not worry about whether you or your friends or the people you invite can afford it."
Students at the event were already bonding over food, eating a snack created by Quaker Kitchen Chef Daniel Stern; warm handmade cavatelli pasta and marinara sauce made with roasted butternut squash topped with arugula salad and ricotta salata cheese, served in paper boxes with bamboo forks. 
"We heard what students wanted, and we designed it. Fitness, music practice and meditation rooms and an unmatched kitchen obviously provide much more than a place to sleep or to study," Gutmann said about the University's 13th College House, which opened in August. "I hope it's quickly become not just housing, but a home, a home away from home."