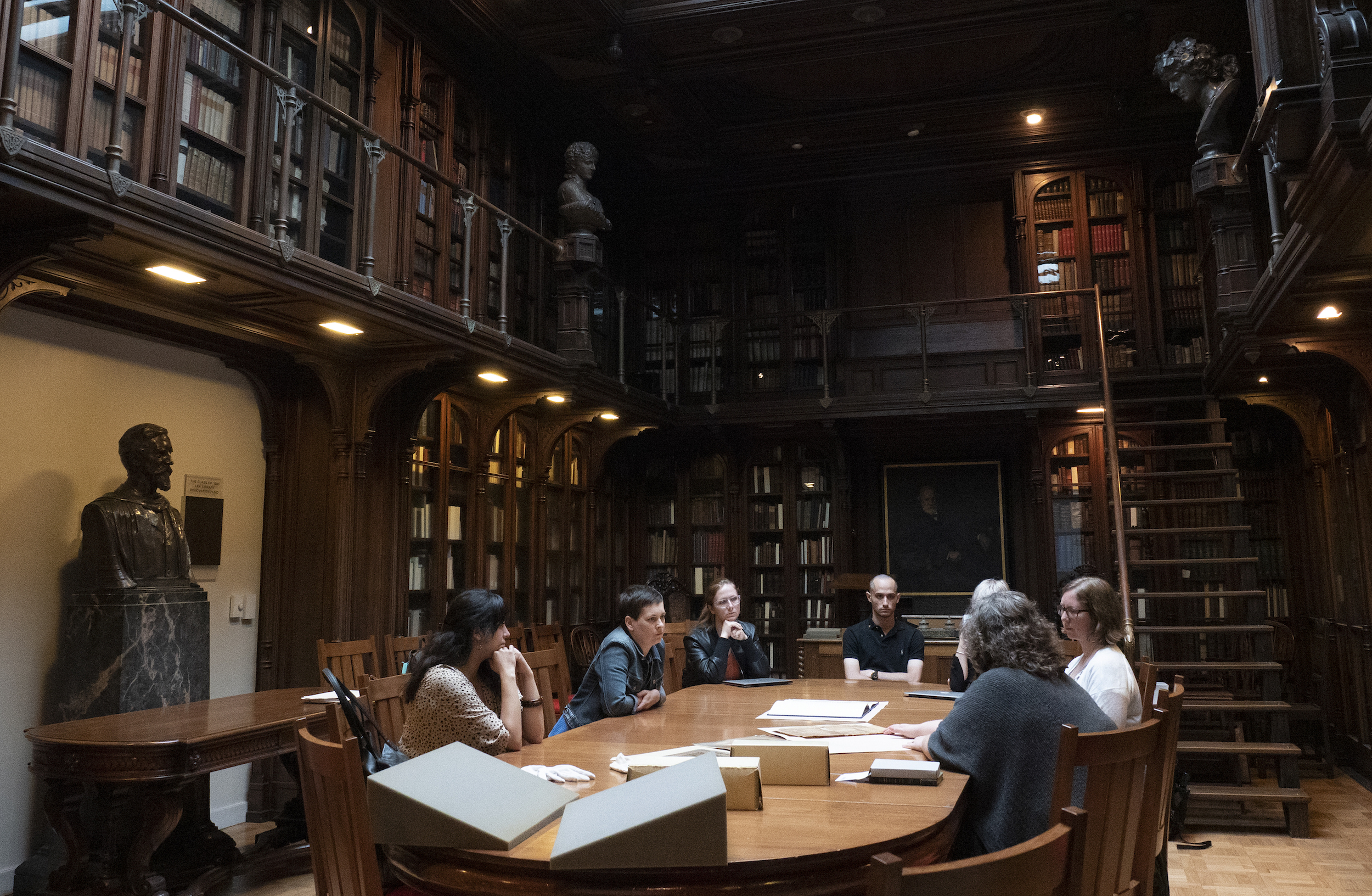 When presented online, digitized manuscripts can be displayed in a variety of ways, with the entire book shown in a page-turner, for instance, or with images laid out in a grid. Though each interface type serves a different function, for Penn Libraries' Dot Porter they together offer a valuable teaching tool. 
"In many digital formats, you often can't see how big the book is, how thick it is. You lose the sense of the book as an object," says Porter, curator of Digital Research Services in the Schoenberg Institute for Manuscript Studies. "When you're with a manuscript in real life, you get a sense of how the pages feel or where one section ends, another begins." And those physical cues are important to the reader. 
This lesson—that digitization requires determining the right interface for a manuscript and thinking about how the user will experience it—is one of many Porter demonstrated to a half-dozen students during the weeklong DReAM Lab, short for Digital Resources and Methods, put on by the Penn Libraries and the Price Lab for Digital Humanities of the School of Arts and Sciences. Porter's course, called Digital Surrogates, was one of nine, which ranged from text analysis to digital humanities in the classroom. 
In 2018, Penn had hosted the Humanities and Intensive Learning and Teaching conference, a national training institute that switches locations annually. This year, Penn decided to embark on its own conference. More than 100 people, including 40 graduate students, attended. 
"The idea was to help fill in gaps in humanities curricula where people don't necessarily get as much exposure to digital tools and learning how to use new technology," says Stewart Varner, the Price Lab's managing director. "For each class, we tried to pair some sort of concrete digital skill or digital technique with a mode of humanistic inquiry." 
Another course, from the Libraries' Molly Des Jardin and Scott Enderle. taught deep-diving into the language of a work's corpus. Another, co-led by Clayton Colmon of Penn's Online Learning team and two West Chester University instructors, focused on augmented reality and Afrofuturism, a "cultural, aesthetic, philosophical, literary, and political movement with roots going back to Sun Ra's experimental jazz and Samuel Delany's science fiction," Varner explains. Recently, he adds, it has received attention through the "Black Panther" film and the music of Janelle Monáe. 
DReAM Lab went well, according to Varner, fostering important conversations in a still-young but growing field. He says the Price Lab is already thinking about next year's conference. 
"Humanities departments are still trying to figure out how this stuff can actually fit into a curriculum," he says. "Digital humanities varies not only from department to department but from scholar to scholar. A conference like this allows scholars to look at a range of topics, what speaks to them as individuals and in regard to their scholarship."