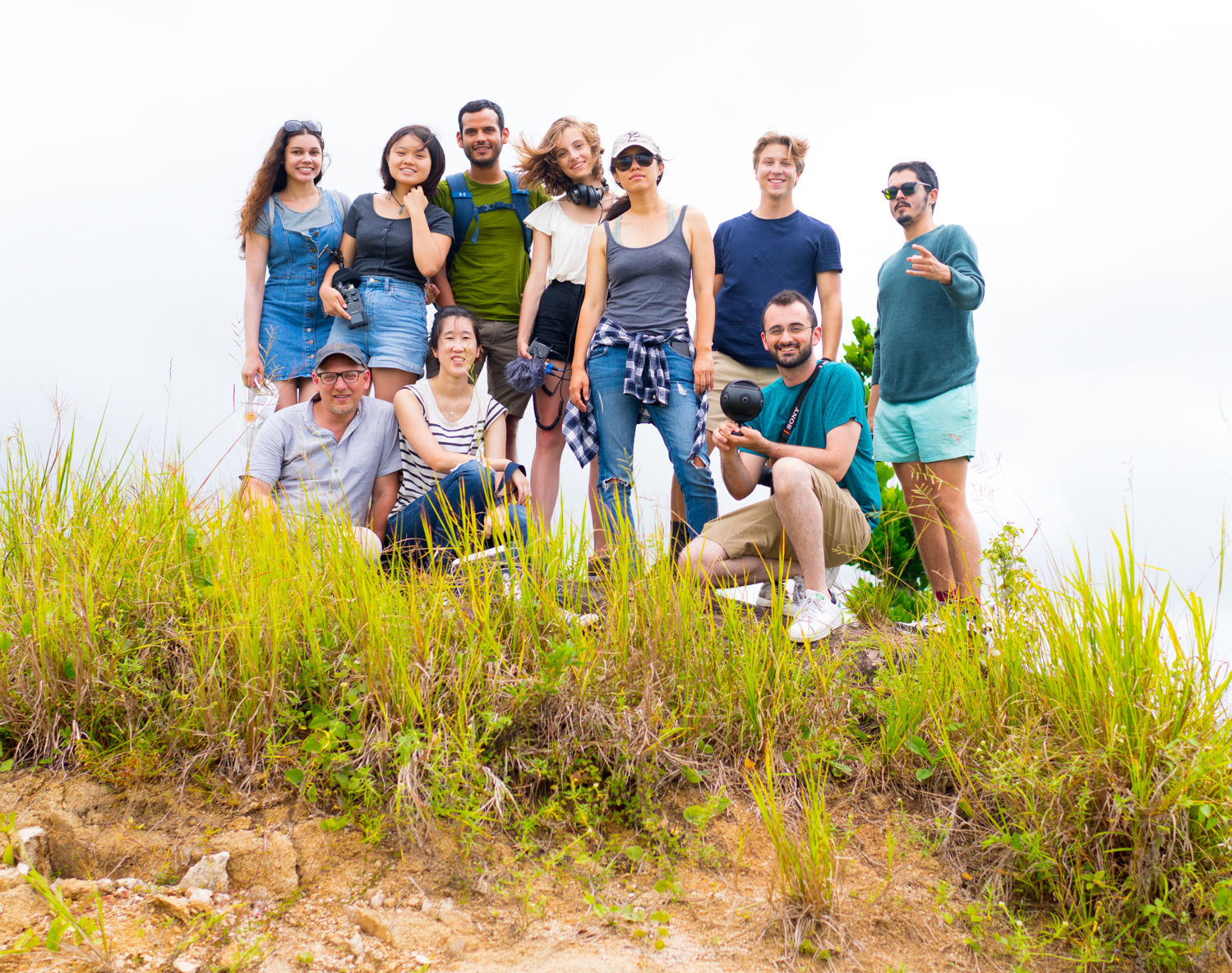 A mango tree used to stand at the top of a mountain in the center of Puerto Rico, a sentinel that symbolized the heart of the island. Destroyed by Hurricane Maria a year ago, a stump is all that remains, surrounded by an expansive view of green hills, the town of Orocovis in the valley below.
And yet, it is an inspiration. A troupe of puppeteers and actors rewrote the local fable as a hopeful story of recovery and rebirth: The mango tree negotiates with the hurricane, agreeing to succumb only if its seeds are scattered to create new trees and tales.
Capturing the troupe's performance at a summer festival was a team of Penn  filmmakers, who then rushed to the top of the wind-whipped mountain just in time to get the shot of the fabled spot as the sun was setting.
"That was such a beautiful way of looking at something that could appear to be very devastating, but turn it on its head and make it hopeful," says junior Melisande McLaughlin, a cinema and media studies major. "There is a way for us to reimagine Puerto Rico."
McLaughlin was one of five Penn undergraduates on a summer film project in Puerto Rico to create virtual reality videos about the response of artists to Hurricane Maria. Led by Peter Decherney, English professor and director of the Cinema and Media Studies Program, the project was funded by a Making a Difference in Diverse Communities grant from the School of Arts and Sciences.
"The people are very hopeful, especially the artists. The artists are so important in the community," says Penn sophomore Alec Escobar, a philosophy, political science and economics major from Villanova. "Puerto Rican art is so alive, music, painting, sculpture, all of it is so vibrant."
The troupe that performed the mango tree fable, Y No Había Luz (And There Was No Light), was among more than a dozen artists filmed by the Penn team during their two-week excursion in July.
"They were so creative, and their performance was such a work of art that really encapsulated the mentality of the town," says Escobar. "I feel that this is a common theme for a lot of the artists we saw: They take the sentiments of the Puerto Rican people and condense them into their art, focusing on a particular aspect of their community. The artists explore the really pure emotions and express them physically."
'A perfect fit'
Hurricane Maria, which struck the Caribbean in September last year, prompted Decherney to create the Puerto Rico project with the objective of using film, specifically virtual reality, to tell the stories of trying to create something new out of devastation.
An estimated 3,000 people died as a result of the massive storm. Most homes were damaged, and much of the island's major infrastructure, including the electrical grid, is still under reconstruction. Polls showed that more than half of Americans didn't know that Puerto Rico is a United States territory, its people U.S. citizens.
"This was partly an attempt to tell stories about Puerto Ricans as individuals," Decherney says. "And one of the great things that virtual reality can do is connect you with another person and really put you in their space, in their environment, and so it seemed like a perfect fit."
Partnering with artists—painters, musicians, puppeteers, actors, dancers—in locations throughout the island would allow them to tell stories from several different perspectives, and highlight multiple aspects of the situation after the hurricane. "We thought it could be compelling to use virtual reality to put viewers inside the perspective of the artists, or engage in a performance, be right there," Decherney says.
The artists were selected with the help of Penn alumni in Puerto Rico, including Christine Nieves, a 2010 graduate, activist, writer, and speaker who works with a nonprofit. "Some of the artists are older and more established, some are just starting out, some exhibit work in galleries, some are street artists," Decherney says. "We really wanted as wide a gamut as possible."
Another local member of the team was Vanita Flanagan, a cinema and media studies major who graduated from Penn in May. She is from Toa Baja, just outside of the capital of San Juan.
"Art has been a way for people to heal themselves. Living on an island itself is very isolating. Having a status that renders you a modern colony is very isolating," says Flanagan, who hopes to be a screenwriter. "I think art has been a way for Puerto Rican people to express all these feelings, and also to reassert our culture in the arts."
Flanagan's family survived the storm, but like most in Puerto Rico their home was damaged, and they did not have electricity for months. "For me this project was so meaningful because I wasn't able to be there," she says. "I was desperate to help while I was in Philadelphia, but there was nothing I could do. The filming has been cathartic for me because I felt like I could finally do something to help."
'Long days, long nights'
The ultimate goal of the Penn in Puerto Rico project is to make a virtual reality film, divided into chapters featuring actors, musicians, sculptors, painters. By putting on a headset, a viewer can be immersed in the experience, able to see all around, as if they are there in the space.
"The power of film and the power of images, especially the cutting-edge medium of virtual reality, could reach a lot of people and educate them about the state of Puerto Rico," Flanagan says.
The project built on the experience gained by Decherney during the Penn in Kenya summer abroad course the previous year. Also funded by a Making a Difference grant, eight Penn undergraduates went to Africa to produce documentary films with students in the Kakuma Refugee Camp. They experimented with virtual reality filming, as well.
The Puerto Rico project was focused primarily on virtual reality filming, to capture the work of the artists as well as their personal perspectives in one-on-one interviews. The team also filmed with traditional video, and took thousands of photographs.
The days were full, starting often before dawn, and ending long after midnight. The students were divided into two teams—one was Buster for Buster Keaton, and the other Chappy for Charlie Chaplain—with two sets of equipment, two jeeps, and different assignments to maximize filming opportunities.
Decherney led one team, and Penn alumna Jean Lee, 2009 graduate and a filmmaker in Los Angeles who also went on the Kenya trip, led the other. Both teams included locals hired to help with logistics and filming.
"We ran it like was a professional production. Students had clearly defined jobs and a lot of responsibility. And they developed significant expertise," Decherney says. He and Lee conducted the interviews, while the students worked as sound technicians, camera operators, and also were in charge of taking behind-the-scenes videos and still photographs.
The virtual reality cameras were new to everyone and they were learning as they went along. Something as simple as where to situate the camera in the room, at what height, how to best capture motion and emotion, presented challenges, and they had to adjust along the way.
"It was a great learning experience that I could not get anywhere else," says Ericka Lu, a junior at the Wharton School studying business analytics, who has been interested in making videos since she was in high school growing up in China. "It was great to work and talk with people who are really passionate about film."
The teams traveled from one end of the island to the other, hiking in the rainforest to capture a sunrise, hitting the beach for the sunset, filming painters in city studios, and performers on small-town streets. They would all gather together at the end of each day in the San Juan apartment they shared to review the footage, talking for hours and discussing what they could try next.
"We had to stitch the files constantly in order to see what we did before to see what worked and what didn't work," McLaughlin says. "So, long days, long nights."
A major challenge was figuring out how to keep out of the shot themselves, sometimes hiding under benches and behind barriers, because virtual reality cameras shoots from six different angles and a full 360 degrees. On one shoot they set up the camera in a bar to catch the performance of a drag queen, and went just outside the room, and when they came back the camera was on the floor, the tripod tipped over.
"When one of the cameras broke, it was definitely a low point," Decherney said. But then the two groups joined together and went on the same shoots. "The team really came together and we were making the same film, creating the same project," he said. "It was something great that came out of something that was, well, not fun."
'At the forefront'
Penn is a pioneer in exploring the use of virtual reality for storytelling, as opposed to gaming or simply as a way to immerse a viewer in a place, Decherney says. The technology is rapidly advancing—this year's cameras were more sophisticated than the ones they used the previous summer. In addition, headsets for viewing are much-improved, and becoming more affordable and accessible to wider audiences.
"I think all of a sudden there will be a bigger market and an appetite for more and different kinds of content, and Penn is at the forefront of trying to figure out what that might look like, and how we can use the technology to tell stories, for social awareness, and for research," Decherney says.
A group of surrealist puppeteers created an in-the-round performance specifically to maximize the virtual reality experience. "Artists also want to be collaborators in the process and they are able to shape the film in ways that you might not have thought to shape it," says McLaughlin.
The variety of the stories from their filming in Puerto Rico is impressive. An artist who rides a skateboard, rolling paint on canvases laid out on a halfpipe to create abstract paintings, turned his studio into a warehouse after the hurricane to distribute donated household goods. A group of puppeteers started a parade to bolster a feeling of community. Two sets of identical twins, earth and environmental scientists, turned to art to express how the hurricane has transformed the rain forest by using downed trees to make planters for new-growth plants. A pianist now performs in the dark.
"One thing that really surprised me was the level of independence that artists and individuals sought after the hurricane," Decherney says. "Really everyone failed them—the federal government, the local government, the institutions that are supposed to help them. So they started to not just take things into their own hands but work as small communities. We have a number of stories and interviews about artistic spaces that became communal centers."
The Penn team also interviewed the governor of Puerto Rico, Ricardo Rosselló, who spoke about the importance of art for creating a sense of identity and energy for Puerto Rico after Maria.
"Every artist we spoke with was working to represent the traumatic experience of the hurricane and imagine a way forward," Decherney says. "For many artists, the communal act of creating music and theater after the hurricane was the first step towards healing and rebuilding in the immediate aftermath."
'Very emotional'
The team's approach to interviews was a critical aspect of their work, the students say, requiring great sensitivity.
"The experience of the hurricane was still very fresh for them; conducting interviews…it was very emotional," says Escobar. "We tried to draw out the emotion in them, but not to the point where it made them uncomfortable. It was a point we had to balance out, making sure that we connected with them but also making sure they felt comfortable with the situation."
The mission of the Making a Difference grant is to impact both the Penn students, getting them out of the classroom and into the field, as well as in the communities they visit. In both Puerto Rico and Kenya, Penn donated cameras and computers and held workshops on filmmaking. In both programs, students partnered with local artists and created films that will take viewers into the lives of African refugees and Puerto Ricans after the hurricane.
McLaughlin, the one student in the group who also was part of the Kenya project, says being a part of both grant-funded projects has "transformed me as a filmmaker and an individual," in part because of the requirement to collaborate and give something back to the communities. "As a result, I feel like I was able to gain something by going to make the film, but it also put me into a position to ensure that they gained something by being part of making the film," she says.
This semester she is a teaching assistant in a virtual reality film course taught by Decherney, and is planning a career in filmmaking. "Going to Puerto Rico and speaking with artists who were having impact that you could see because it is so necessary, re-instilled in me a sense of purpose," she says. "For me it was life-changing."
In addition to holding events to share the finished videos with audiences at Penn, the team plans to show them in Puerto Rico, Decherney says. There are also plans to submit the finished projects to film festivals, which are beginning to include immersive video. And with the way paved by video gaming, the stories may someday be streamed to virtually anyone anywhere.
One of those stories will be about the mango tree. In its negotiation with the hurricane, its seeds were to be distributed across the island—and Puerto Rican flags were to be spread around the island, too. This has proven to be more than a fable, McLaughlin says, as countless flags have popped up across the island after the storm.
"The flags symbolize a call for Puerto Rican unity, self-sustainability, and independence," McLaughlin says. "And the artists' response to Maria proved that this might be possible."
Homepage photo: Sophomore Alec Escobar films a parade by the street circus Vueltabajo on the way to the town square in Mayaguez.