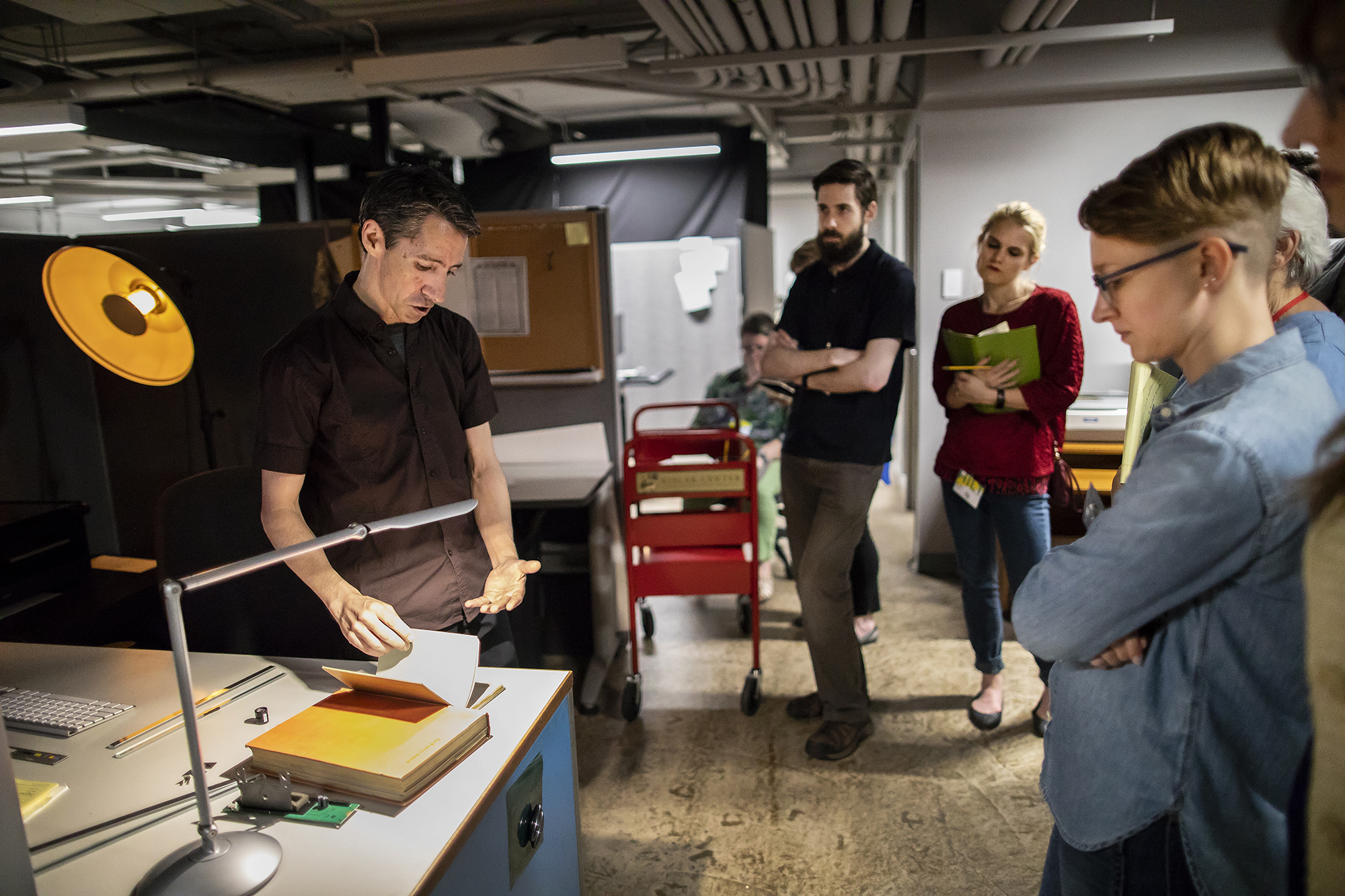 In the basement of Van Pelt-Dietrich Library, through two locked doors and around several corners in a temperature-controlled room, digital imaging specialist Chris Lippa holds a blue box no bigger than an eyeglass case. He doesn't know what it contains.
"You'll want to set it down when you open it," says Dot Porter, curator of digital research services in Penn's Schoenberg Institute for Manuscript Studies.
From inside the box, Lippa pulls out a small scroll. As a photographer for the Schoenberg Center for Electronic Text & Image (SCETI), he spends his days digitizing and cataloguing all kinds of materials, from books and manuscripts to rare objects like the one in front of him now.
"It's kind of a choose-your-own adventure. Usually I don't have a whole bunch of people watching me when I handle delicate materials," he explains to a group of 10 adults standing in a semi-circle around him. "Now I'm not just a photographer. I'm also something else, and I need to try to figure out the best way to hold this scroll open."
The observers are all participants in the Humanities and Intensive Learning and Teaching (HILT) conference, an annual national training institute in its sixth year—held for the first time at the University of Pennsylvania—that brings together professionals from across the digital humanities. Porter's course, co-taught with SUNY Binghamton English professor Bridget Whearty, focuses on the concept of digital surrogates, and the SCETI excursion is part of the four days of learning and conversation.
"I tend to think of HILT as summer camp for digital humanities," says Stewart Varner, managing director of Penn's Price Lab for Digital Humanities, which helped organize the conference. "People sign up for one class for the whole week. It's the right amount of time to actually learn something, and there's that practical side to it, too."
In addition to Porter's course, HILT attendees could choose from one on source materials, one on race and historical representation, even something about the programming language Python. Penn Libraries'  Scott Enderle, a digital humanities specialist, and Katie Rawson, director of learning and innovation, co-taught a section on text analysis.
HILT at Penn has been more than a year in the making, part of a greater initiative begun by Trevor Muñoz from the University of Maryland and Jennifer Guiliano of Indiana University. "There's a venerable and long-running digital humanities summer institute held at the University of Victoria in British Columbia that's been going on for maybe 20 years. It's the flagship," Varner says. "But demand for this kind of training has grown dramatically over the years, meaning there's more than enough room for an East Coast option."
When Varner began his current role in September 2016, helping organize HILT was one of his first priorities. "We have a lot going on with digital humanities at Penn," he says. "It's something the campus is interested in and there's a lot of support here."
Varner adds that hosting HILT provided an opportunity to showcase the University's expertise in these areas. "What are the real strengths of Penn? Our manuscripts and special collections are such an obvious choice," he says. As such, when he first learned Penn got the green light for HILT, he approached Porter about designing a class.
"I've known about Dot Porter for years, even before I got to Penn. She's a celebrity in the world of digitizing medieval manuscripts and rare books," he says. Conference attendees agreed, and her course filled quickly. 
"HILT was a great experience for me. The students were incredible. We had a great group with a variety of backgrounds and expertise, and everyone learned from each other," Porter says. "Digitization sometimes isn't taken seriously as intellectual work. There's this idea that digital photographs are neutral, and they are in some sense brainless, but that's just not the case. So many decisions need to be made about how to present an object before the camera click."
Back in the basement of Van Pelt-Dietrich, such decisions happen in real time, as Porter engages the group in a conversation about the scroll. Should both sides get photographed though only one contains writing? Yes, they decide. How would they handle a similar parchment scroll glued together at membranes, what Porter describes as akin to pages in a book? When Lippa picks up the final item, a small maroon box embossed with gold writing, the energy in the room surges.
He gently opens an outer container that holds an inner box, then carefully lifts four flaps of tissue paper, eventually getting to the treasure inside, which resembles a pack of playing cards. "Wow, this is great!" he says.
The box actually holds "The Game of Star Authors," a set from 1887 in remarkably good condition considering its age. The material takes the discussion in an entirely new direction, about whether to rearrange, straighten, or reorder the cards and whether to digitize the inside and outside of the box.
"If this is my project, it's my responsibility to say, 'The cards are in the order I want them,' or I reorder the images myself," Porter explains. "That's what it comes down to, making these sorts of decisions."
And that's the point of HILT–to participate in dynamic, gently guided conversations on topics changing by the day and the minute, as technology progresses and the idea of digital humanities morphs from  what it looks like now into something its students and practitioners can today only imagine.