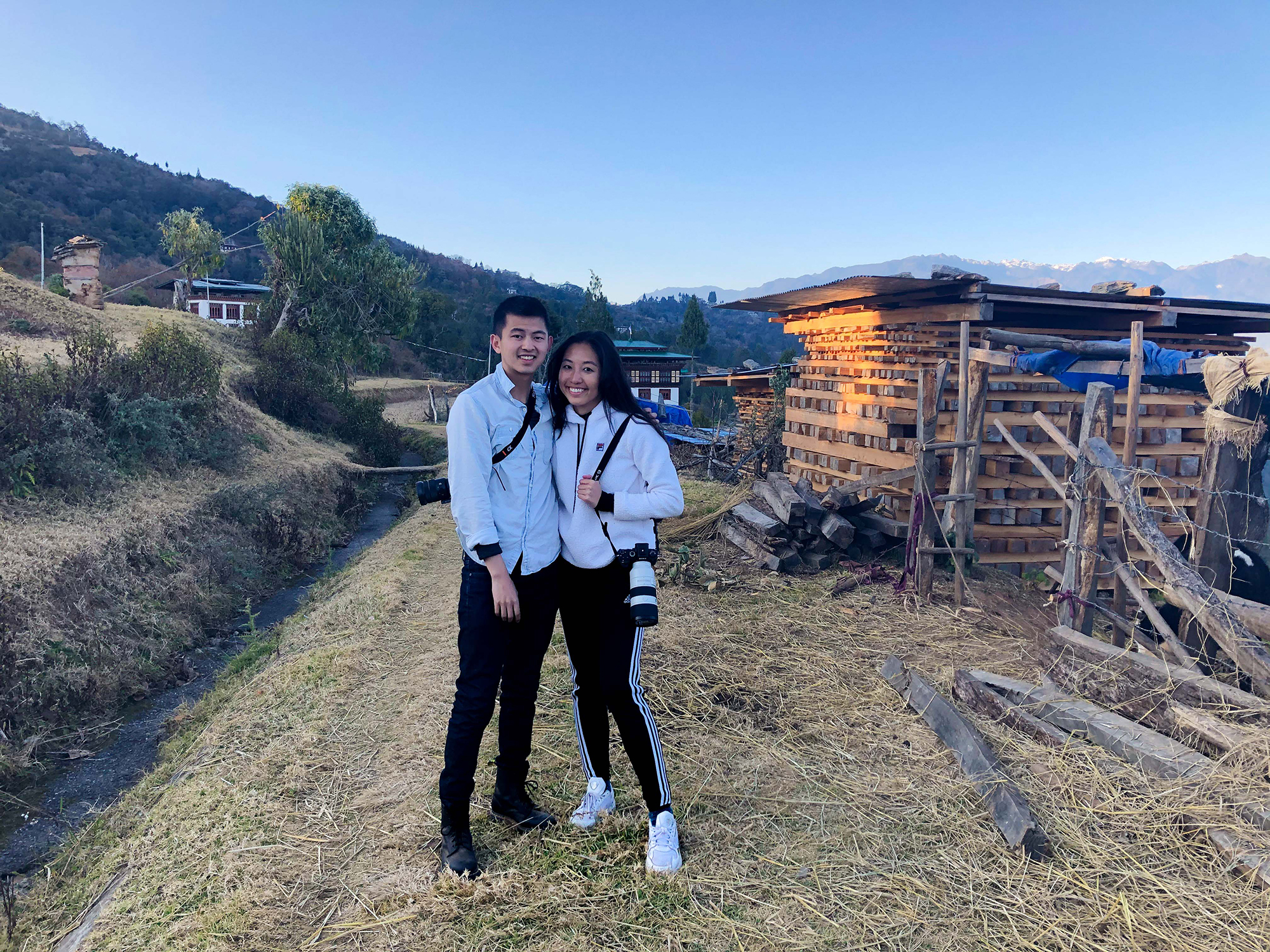 They met in their first class on the first day of their freshman year at Penn. Now the two seniors have embarked on a research project that combines their passions, filming a documentary to investigate how water scarcity and climate change is changing the lives of villagers on the other side of the world.
Alina Peng and Charles Zhang traveled to the Kingdom of Bhutan in the Himalayan Mountains for 18 days in January, collaborating with advisors and students at the Royal University of Bhutan to conduct interviews with people in three rural communities. The project was supported and funded by several grants, including the National Geographic Society Early Career Grant.
They shot a terabyte of footage that will become a 20- to 30-minute film on the impact of water scarcity on everyday life, how people and communities are adapting, sharing resources, and collaborating on solutions. Once it is completed in the fall, they will share the film with National Geographic, film festivals, and media outlets.
"In Bhutan, it felt like I was dreaming, that Charles and I could accomplish such a project, to be able to do what we wanted to do in the field," says Peng, who is from the Princeton, New Jersey area.
"Alina and I both agree that climate change is one of the biggest issues of our generation, and how it is affecting so many regions around the world," says Zhang, from New Albany, Ohio. "There is so much we read in classes, in textbooks, and online; we wanted to go out and hear people's stories and document how people are adjusting their lifestyles to the environmental impacts of a warming world."
Peng is a philosophy, politics, and economics major in the College of Arts and Sciences, who is also pursuing minors in fine arts and consumer psychology. Zhang is an economics major with a finance concentration in the Wharton School, with a minor in computer science.
The two met in Chinese class freshman year, and shared the same interest in photography, movies, and television shows. In 2018, they started talking about filming a documentary and decided to create a project to apply for a National Geographic grant.
Zhang had completed an internship at the Council on Foreign Relations on energy, security, and climate change, and discovered his interest in environmental sustainability, carbon emissions abatement, and research. Peng had studied filmmaking in her video production classes as part of her fine arts minor, and also photography, and had worked as a social media production assistant at Wharton Business Radio on the "Women at Work" show.
"We talked about what interests were common to us and how could we fuse what we both love to do something," Peng says. "The more we researched into it, the more excited we got about it."
As one of the greenest countries in the world, situated between China and India, they decided Bhutan was ideal for their research.
They wanted to investigate how villagers were coping with water scarcity, which has resulted in a shift in the socioeconomic balance as the men and young people left to find work in cities, leaving behind women to farm the land and care for the elderly. "A lot of data has not been reported on these women's perspectives. They know firsthand the effects of climate change," Peng says.
Incorporating those interests in their application, they won the National Geographic grant in January of last year, which included funding, an adviser, workshops, and training. "We've been inducted into this network and society of people who are passionate about research and storytelling," Zhang says.
They turned to experts at Penn for advice, including Peter Decherney, professor and director of the Cinema & Media Studies Program, who has worked on several ethnographic documentary films, including in Kenya, Puerto Rico, Myanmar, and Ethiopia. He says he spoke with them about the ethics and practice of documentary filmmaking.
"Like so many Penn students, they were fearless in taking on a big project, navigating a new culture and country, and even negotiating contracts with another university, asking for the help they needed," Decherney says.
They worked with Penn's Center for Undergraduate Research & Fellowships (CURF) to apply for several other grants, including the Undergraduate Sustainability Action Grant, Penn Museum's Field Funds, the Turner Social Impact Society Impact Award, and the Seltzer Family Digital Media Award.
"They were incredibly persistent and savvy about how they were going to fund this undertaking that they were incredibly passionate about," says Ann Vernon-Grey , CURF senior associate director of undergraduate research.  
The pair planned and budgeted: travel, food, lodging, resources needed each day in Bhutan, and with editing and post-production. They prepared for the filming by talking with experts around the world about how best to approach the interviews.
"It was through months and months of virtual collaboration and holding meetings and talking to people to get a sense of what we could be able to work on and deliver," Peng says. "When we got there, we were able to flesh out the narrative to fullest extent and begin filming."
They stayed in the dorms at the Royal University and the local students went with them to translate during day trips to film.
Of the three villages, Talo was the most interesting for Peng, she says, because more than half the households were headed by women farmers, learning how to manage with increasing water scarcity. "Women were working together to grow the crops, maize, and rice. There was an entrepreneurial spirit and female empowerment I thought was interesting," Peng says.
In the village of Phangyul, they interviewed an 83-year-old man living by himself—his children gone to the city—and explored how the community was helping him by sharing a portion of their crops and taking on the brunt of the agricultural work. In Rubesa, farmers collaborated to build a water pump and pipeline for the village.
"That sort of communal sense has permeated throughout the villages," Zhang says. "We wanted to research the social dynamics and lifestyles of people, and we were able to see different relationships being developed."
The villagers welcomed them into their homes, introduced them to their families, and often invited them for lunch. "We were guests in this space, and we were watching how they live day to day," Peng says. "I will remember it forever."
Now, Decherney says, the two students are facing what may be the most challenging part of the project, "to put it all together and make sense of it, to turn it into a story that's fair and interesting." They now are editing the film during their last semester at Penn, and plan to complete the film over the summer.
After graduation, Peng and Zhang plan on working in the intersection of tech, sustainability, and digital media, as the two are highly interested in using their passions as a vehicle for change.
"Both of us are really interested in storytelling," Peng says. "We definitely want to take on projects that deal with raising awareness for social issues we care about."
Homepage photo: An aerial view of communal farm houses in Phangyul, where local villagers would congregate. Photo by: Charles Zhang and Alina Peng.