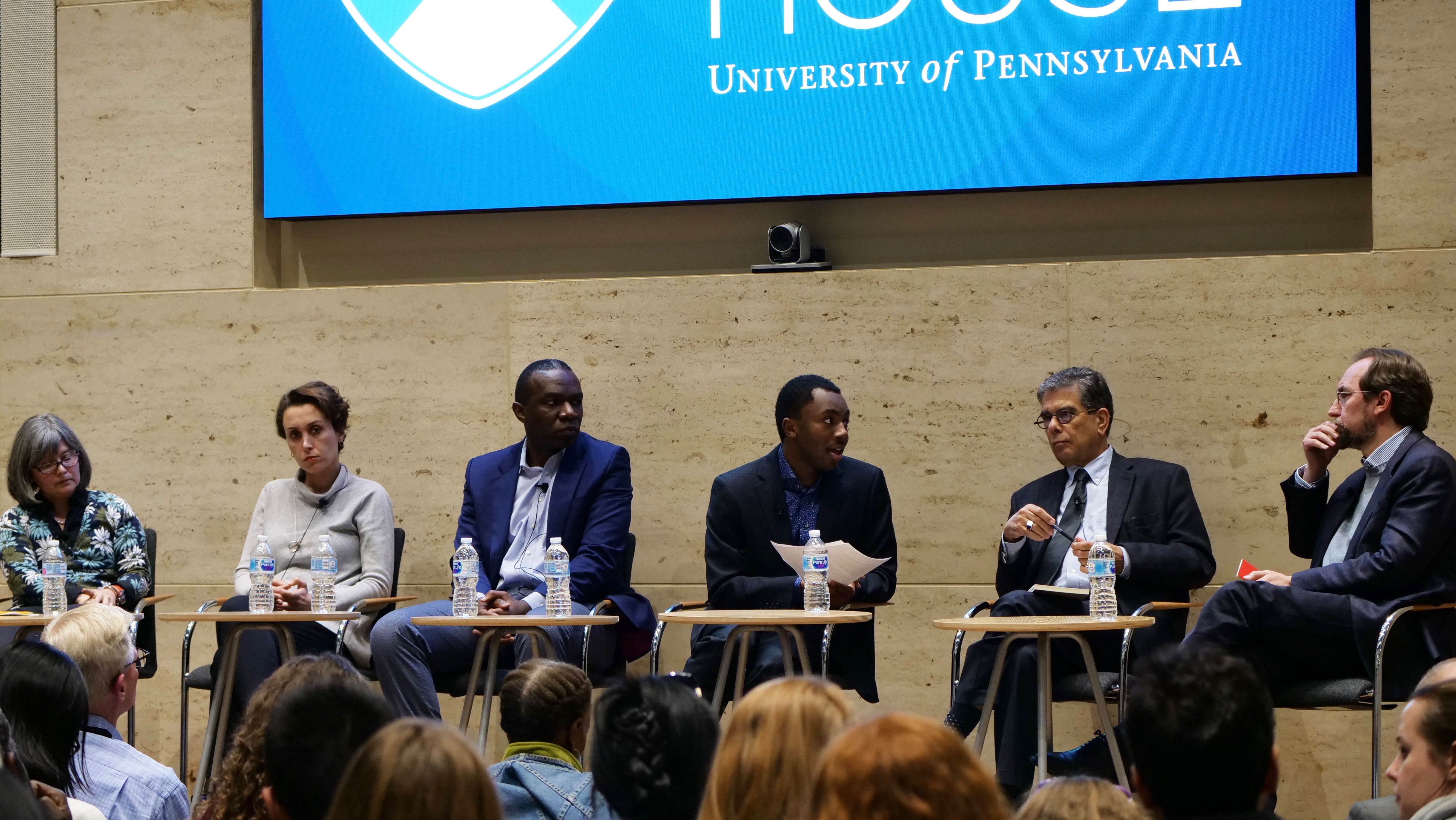 Speaking to a capacity crowd at Perry World House, Penn junior Sonari Chidi said that, in his view, the depiction of refugees in the media is not balanced or complete, and he wants to try to fill the gap.
"What was missing were the voices of the refugees themselves," he said. "I wanted to get their perspective and their voices about how the media was representing them."
And he did, starting by talking with refugees living in the Kakuma Refugee Camp while he was on the grant-funded Penn-in-Kenya summer abroad course in 2017. In his bits of free time, Chidi interviewed refugee filmmakers trained by the nonprofit FilmAid International. They were partners in the Penn project to create documentaries about the neighboring Kalobeyei Settlement. 
Since then Chidi, of Los Angeles, has created a documentary film, weaving together interviews with journalists, professors, immigrants, and asylum seekers and other refugees, along with a critical look at coverage of the refugee crisis in the national and international media. 
The 23-minute documentary, "Shattering Refuge," is the result, screened for the first time at Penn on Monday night at the Perry World House, followed by a panel discussion with faculty and visiting fellows. 
The event, attended by more than 150 people, was presented by Perry World House, the Center for Africana Studies, and Chidi's company 4Ground Media, with marketing support from the Cinema and Media Studies program in the School of Arts and Sciences. 
"The power of film is not only to be able to see a glimpse into other people's lives and experiences that are not like our own, but to understand how their experiences are really a reflection of us," Chidi said. "Although we have external differences, there are some fundamental similarities and dreams and hopes and desires and human rights that we all share." 
Chidi, a double-major in cinema and media studies and Africana studies, has just been accepted to the Penn Law Class of 2022 through the BA/JD sub-matriculation program, which allows him to start as a full-time law student in the fall. He also has pursued research as a CAMRA Fellow and a Fox Research and Service Fellow. 
His goal, he said, is to use film to effect social change, creating conversations to make a difference. Since early 2016, Chidi has been producing webisodes and short films through his company Sonari Jo Productions. "African Time" webisodes, which use comedy to challenge stereotypes about immigrants, have been viewed more than 10 million times on internet platforms. 
Chidi proposed the idea for "Shattering Refuge" before embarking on the Penn-in-Kenya trip led by Peter Decherney, English professor and director of Cinema and Media Studies. The documentary is produced by 4Ground Media, a company Chidi founded to create documentary projects and events. 
Chidi co-founded and is now president of Penn FilmAid, a student group working with the Philadelphia refugee community to help them tell their stories. He was in a fall course taught by Decherney that produced a virtual-reality film about a Syrian refugee who is now a global guide at the Penn Museum. 
"How do we move forward?" Chidi asked the panel when he kicked off the discussion after the film. "How do we envision our world with 68.5 million forcibly displaced people?"
Poet Fatemeh Shams, assistant professor of Persian literature at Penn, was both on the panel and in Chidi's documentary. Shams is in exile from her native Iran–she calls herself "stateless"–and affected by the presidential travel ban. She said Chidi's film introduces a needed counter-narrative to the rhetoric surrounding refugees and asylum-seekers. 
"We need more shared space for understanding," Shams said. "That is something we are missing." 
In particular, Shams noted an interview in Chidi's film with Kakuma resident Loduye Ghaisen who said that "refugee is just a term," and, that while he and Chidi had the same filmmaking abilities, as a refugee he does not have the same resources to pursue a career. 
"Refugee is just a term, but in the world outside of the camps it is an image, it is a stigma, it comes with a lot of misunderstandings," Shams said. "One thing that is essential … is to shatter this image that has imposed itself on the refugee."
Penn Law School's Sozi Tulante, former Philadelphia city solicitor, was born in what is now the Democratic Republic of the Congo, and moved with his family to Philadelphia in 1983 as political refugees. 
"One aspect that resonated with me [in the film] is the notion that for many people refugees are hopeless and in despair, and in many ways I chafe at that. We just wanted opportunity," he said. "Often times what we really need is film and imagery to combat film and imagery." 
Also on the panel was Zeid Ra'ad Al Hussein, former United Nations high commissioner for human rights, a Perry World House Visiting Global Distinguished Leader-in-Residence. He said 4.5 percent of the world's population is displaced and on the move. The rhetoric around the world, he said, is xenophobic, and mirrors language from 1938 regarding Jews fleeing Germany and Poland. 
"We can be a more humane and a kinder world. We have to choose what we want," Al Hussein said to Chidi. "The trajectory is one of meanness and spite and that's what we have to reverse, and your film tries to do that, so well done."
Calling the film "powerful and compelling," panelist Michel Gabaudan, former president of Refugees International, said that a big challenge is reaching Americans who are worried about refugees from different cultures entering the country. Perhaps films like Chidi's, he said, could make a difference. "We don't know how to reach them," said Gabaudan, who is also a Perry World House Global Shifts Visiting Fellow. "They are scared, because they don't understand."
Chidi said he is determined to continue the conversation, around the country and around the world, with his documentary. He is submitting the film to festivals and holding other screenings, including a trip back to Kenya to present it at The Transatlantic Roundtable on Religion and Race Conference in Nairobi. The film has already won the Rough Cut Film Festival's Social Justice Award. 
Once the film festival cycle is completed, Chidi will make it available to view online. "I want to get it out there to have as many people as possible see it, and people from different perspectives, to hopefully learn something new and have their perspectives challenged," he said.
Photos by Alexander Derrick.