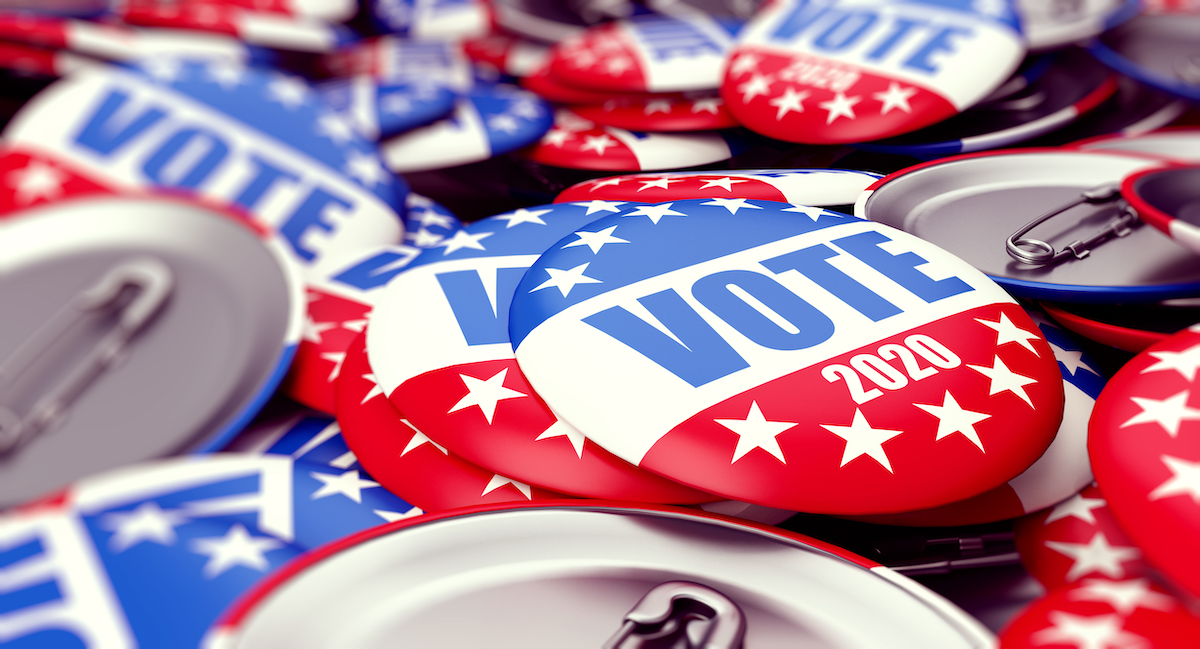 The buzz of a newsroom on election night is like nothing else: the excitement, the stress, the weight of getting the results out quickly and accurately. For many, it's the culmination of a career in journalism and political science.
But for a group of Penn undergraduates, those experiences were built into their election night jobs on NBC's Decision Desk—everything, that is, but the newsroom itself. The opportunity to work on the Decision Desk became even more unique this presidential election, as the pandemic kept students out of their usual spot at 30 Rockefeller Plaza in New York City, and brought the newsroom tools to their homes, apartments, and the Comcast Center in Philadelphia.
The Program on Opinion Research and Election Studies (PORES) offers interested undergraduates a chance to use their data research and political science skills on NBC's Decision Desk. That's because John Lapinski isn't just the director of PORES (and faculty director of the Fels Institute of Government and faculty director of the Robert A. Fox Leadership Program)—he's also the director of elections at NBC News. When NBC declares a winner, it's because Lapinski has called it. When he arrived at Penn, Lapinski formed a bridge from the University to NBC with the creation of student jobs on the Decision Desk, not just for presidential elections but also during primaries, making it an only-at-Penn experience.
"We use a lot of the coding and statistical skills that we gain as social scientists on the Decision Desk, and they are valuable skills for undergraduates to have in conducting their own research but also when they go out into the real world," Lapinski says. "I thought it would be a really good opportunity to use NBC to help enhance the classroom experience. It's a real win-win: NBC gets these really amazing students to do great work for the company, and the students get a one-of-a-kind experience. I view it as mutually beneficial in every dimension."
The PORES students served on three different teams to support election night work at NBC: exit polling, monitoring state and county election returns, and keeping track of other media outlets' election coverage. Most students worked from their homes and apartments.
However, Leonard Chen, a junior and philosophy, politics and economics (PPE) major in the School of Arts & Sciences from suburban Philadelphia, and Katie Steele, a senior at Wharton from Solebury, Pennsylvania, studying statistics and business economics and public policy, were two students on site working alongside the exit poll desk at the Comcast Center. They were joined by other Penn PORES professors and staff members using the Philadelphia NBC headquarters as a Decision Desk outpost due to COVID-19.
In past elections, the exit poll student team would have been more robust, but due to social distancing and efforts to keep all workers safe, the number of students on site was reduced for this election, says Andrew Arenge, PORES director of operations. Lots of advance and day-of COVID testing, personal protective equipment, and strict social distancing were all in place on the desk, Arenge says.
Ami Ikuenobe, a junior and PPE major from Rolla, Missouri, was on the team tracking other media organizations' election coverage in her first Decision Desk role, from the comfort of her off-campus apartment.
"It's an amazing opportunity to see the behind-the-scenes action of what it takes to run election night. People sitting at home don't really know what it's like, and before now I didn't really either," she says. "It's a once-in-a-lifetime experience and I have to keep reminding myself of that. I was talking to a former high school teacher in Missouri and they're like 'wait, you get to do what?' and I'm reminded that it isn't ordinary for college students to do this type of work."
Grayson Peters is a junior from Nashville, Tennessee, majoring in environmental studies, with a minor in survey research, data analysis, and American public policy. He's been working with PORES since the second semester of his freshman year. This election he monitored election returns from states. "It's different not being at 30 Rock like we were in the primaries, where you felt like you were in the room where it happened," he says. But the experience is still rewarding from home. "It's an incredible opportunity to play a role in this historic election," he says.
Senior Bayley Tuch from Los Altos, California, is majoring in political science and minoring in survey research and data analytics, and it's her first election working with the Decision Desk.
"The moment I heard about the opportunity a few years ago and I knew there was going to be a presidential election my senior year, I was like, 'I want to be in the room, that seems super cool.' Of course, being in the room during this pandemic means something else, but it's still cool," she says.
Like Peters, Tuch is part of the team that monitored results for key counties and states, and looked at Twitter feeds to track information. They watched the initial vote drop that happened when polls closed, as well as monitored results as they trickled in over the course of the night and morning, keeping track of how many mail-in ballots had been counted versus in-person ballots.
"It's exciting to peel back the curtain and understand what's happening in these news organizations on election night," Tuch says. "I'm interested in data and politics so I am excited to learn all about the projection models they use, and how calls are made."
Chen, one of the two Penn students onsite at the Comcast Center, says although the work was essentially the same as previous elections he'd worked on, he did miss commuting up to Manhattan this election cycle.
"It was so exciting. You're sitting in Amtrak next to these [people], all clearly on their way to important meetings, and you're a 19- or 20- year-old student on your way to important events, too," he says.
His and Steele's role was to get survey research illustrated and visualized for viewers, using their data analysis skills to produce pie charts, histograms, bar graphs, and line graphs for use on live television. Versions of their graphs ended up in stories on NBCNews.com, as well.
"I've never had higher pressure than having millions of people look on TV and see my work seconds after I've completed it," Chen says.
Steele got involved with PORES because she knows she wants to pursue a career in political research.
"For me, this job at NBC is invaluable, in terms of future interviews and when I'm looking for jobs, it's a huge selling point and I feel really lucky to do it. I don't think it could have happened at any other university," she says. "In 2016, I stayed up watching NBC on Election Night until 4 a.m. and I never would have thought that four years later I'd be covering the presidential election for them."
Knowing she's contributed to meaningful coverage of this important election is a thrill, she says.
"Seeing my graphics on Twitter the next day is pretty exciting," Steele says. When she returned from New York during the primaries in the spring, she walked into her building's lobby to see MSNBC on the TV. "And again, there was one of my graphics. In those moments it's very clear how far-reaching the coverage is, and it's sort of surreal to know that I helped to create that."
The pandemic made the work a little bit more challenging in that Steele and Chen weren't sitting together talking and working things out verbally, he says, as well as having fewer students onsite to split up the work. Chen is working from 4 p.m. to 4 a.m., with Steele taking the reins from him for her 12-hour shift in the hot seat.
"It really is a privilege to be sitting in the control room and to see all this play out there," Chen says. "It's like having front row seats to history."
Interested in learning more? Join the Penn Program on Opinion Research and Election Studies on Tuesday, Dec. 8, from 3 to 4:30 p.m. EST, for an "Inside the 2020 Election" panel and small group discussions about what happened on election night. Hear firsthand accounts from some of the students, faculty, and staff who worked on the Decision Desk at NBC News, then participate in breakout rooms where you can ask questions about projecting races, exit polls, and the impact of the results. All are welcome to participate.
Please RSVP in order to receive the Zoom link and access information: https://upenn.co1.qualtrics.com/jfe/form/SV_bfRQz9AvPlweIS1.