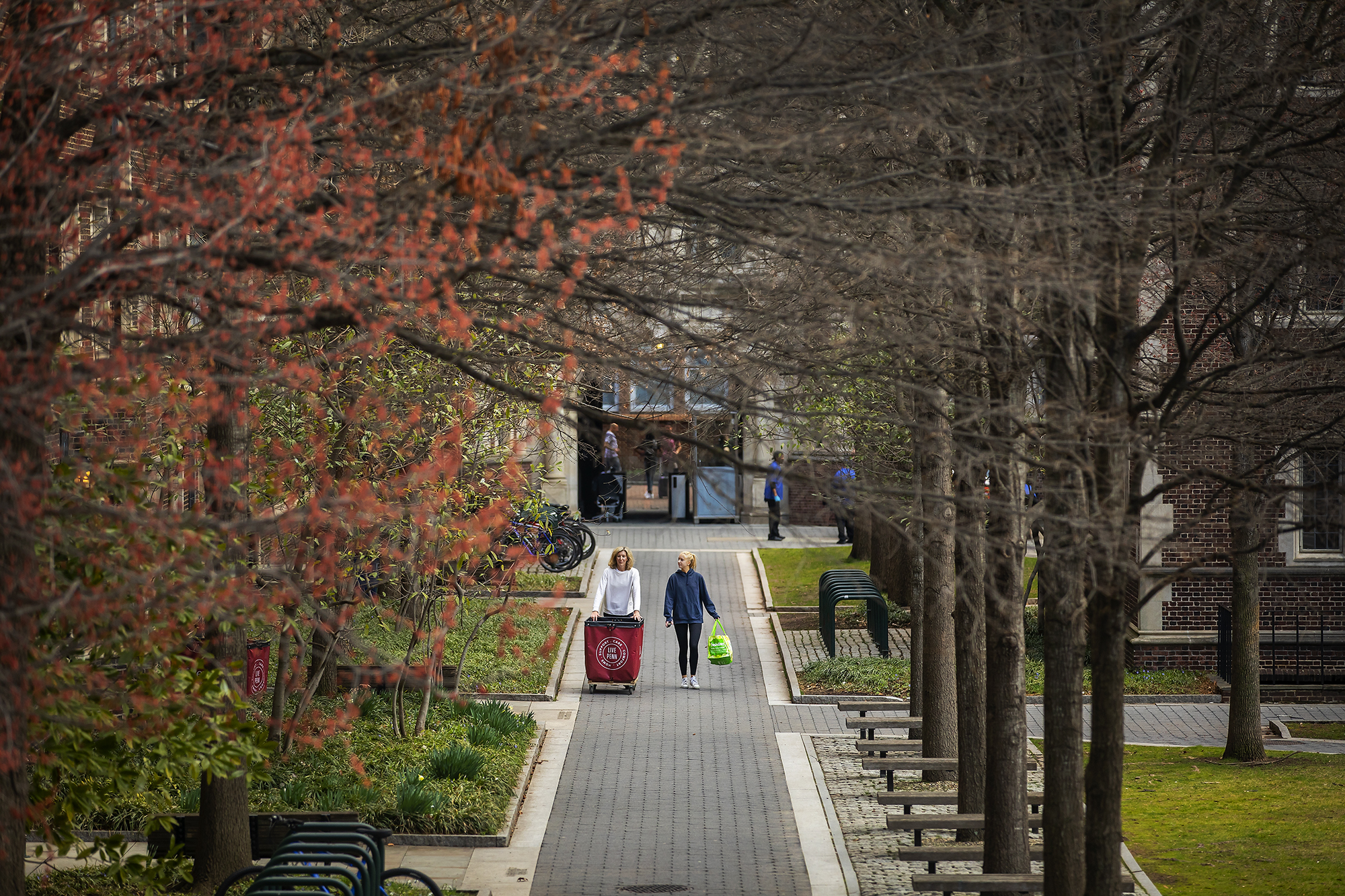 As the email announcing the University's guidance on COVID-19 arrived in inboxes on March 11—extending spring break by a week, then finishing the semester with online classes—student services teams quickly began a process to support highly aided undergraduates, international students, and other impacted populations. 
Staff from Residential Services, Student Registration & Financial Services, Student Intervention Services, Penn Global, Penn First Plus, Student Health Service, Counseling and Psychological Services, Campus Health, Special Services, Weingarten Learning Resources Center, and College Houses and Academic Services formed a rapid response team. 
On Thursday March 12, they set up in-person support in Houston Hall, providing counsel and resources to hundreds of international students concerned about how the changing landscape would impact their studies, their immigration visas, and their futures.
By the weekend, the multi-disciplinary team shifted to the highly personalized and time-consuming work of evaluating requests to remain on campus. At the same time, the team supported hundreds of students heeding the directive to "depopulate" campus to help prevent the spread of the disease. 
"We took each case individually and carefully," says Sharon Smith, associate vice provost of University Life. "As a first-generation student myself, it's been heart-wrenching knowing the challenges our students face. We are doing everything we can to support them. It's professional and personal to us."
"Student Financial Services reached out to all aided undergraduate students shortly after Wednesday's announcement to remind them of available services, and worked with partner offices throughout the week to support them in making quick decisions related to moving off campus," adds Elaine Varas, senior University director of financial aid. "We also reassured work-study students that they would continue to be paid for their regularly scheduled hours for the remainder of the semester."
On Sunday alone, the team connected with more than 550 students in person, by phone, and email. International students from Level 3 countries and some highly aided students and students with special circumstances received approval to remain on campus. 
Students who needed to leave campus over the weekend were immediately offered a personal staff member to facilitate the transition. Penn purchased plane tickets, arranged ground travel, and covered baggage for students departing campus. Many aided students are also receiving additional financial assistance to ensure they have food and Internet service for the remainder of the semester.
Three students with extreme financial need said they didn't have technology at home to take classes online. Student Intervention Services staff rush-ordered laptops, which the students picked up before flying home. In another case, a student with no personal financial means was provided a Penn debit card just hours before leaving to return home. Another student temporarily moving in with relatives appreciated receiving financial assistance to help cover the cost of food and internet service.
"Students feel that Penn is their home," Lauren Rudick, director of Student Intervention Services explains. "Because of a public health emergency, it can't be their home right now. We still want to show our care for them and show them our support wherever they will be."
"Knowing all of the reasons why my undergraduate institution felt like a haven for me, I knew that the coming days were going to be difficult," shares Marc Lo, executive director of Penn First Plus. "Receiving the news that a place that had become your home was no longer safe for you was something we knew many of our students would struggle with."
International students also continued to receive specialized support from on-campus experts. 
"In addition to the resource site, International Student & Scholar Services worked to make sure that students' visa status would not be impacted by online and remote learning and held virtual town halls from Friday on to counsel the thousands of international students who returned to their home countries to finish the semester," says Amy Gadsden, associate vice provost for Global Initiatives. 
Now as the major work moving students off campus is complete, efforts are being realigned.
"The team's immediate focus has had to be trying to solve the most urgent and immediate critical concerns, while supporting as many students as possible in departing from campus," Varas says. "Our focus will now shift to how we can continue to support our students remotely through the remainder of the semester."