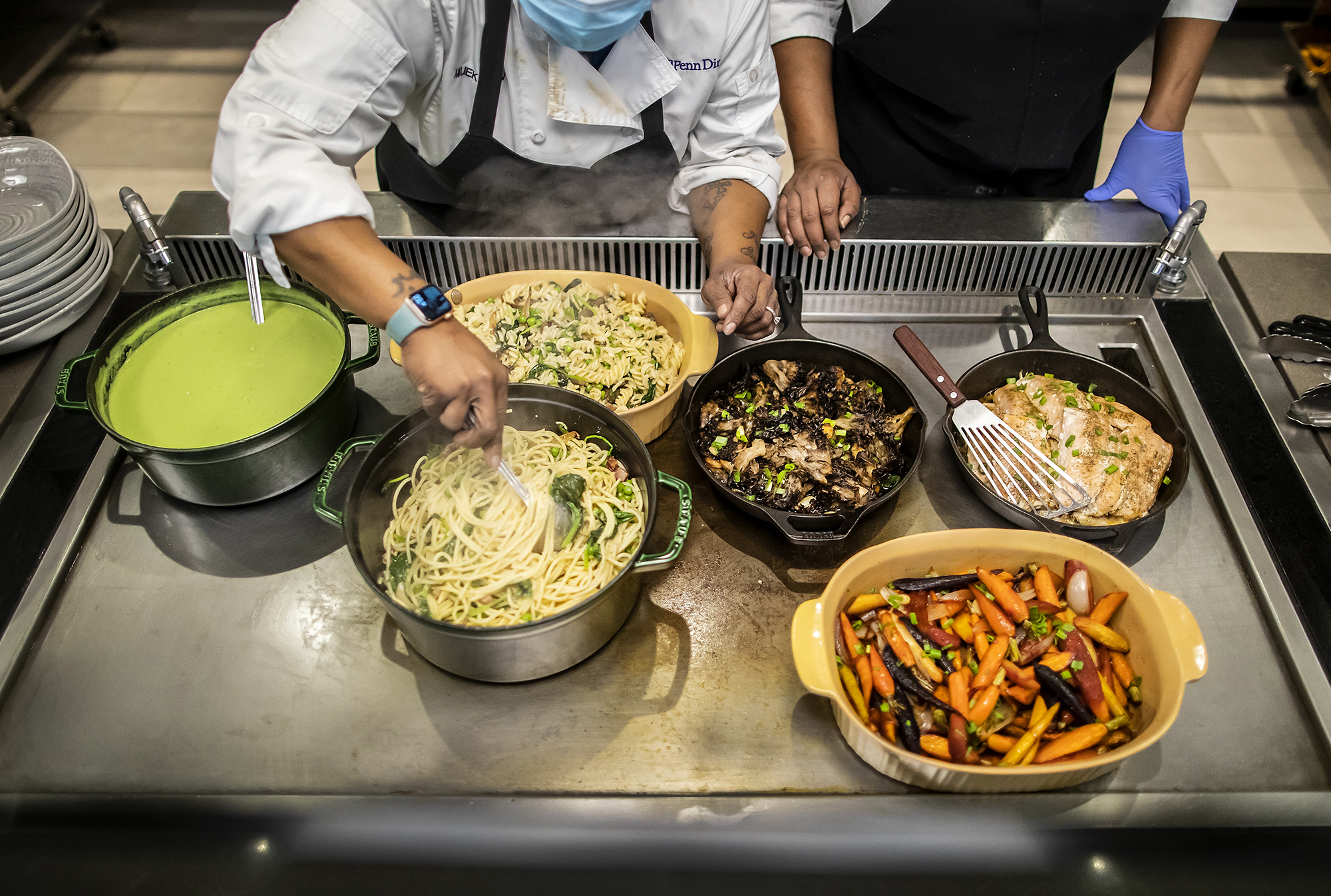 At 4:30 p.m. on a Wednesday, the buzz in Quaker Kitchen in Penn's New College House West is palpable as the team preps for the nearing dinner rush. Music plays in the background as a blender blends, pots clank. Sous chef Kwazi Hlela prepares the pea puree that will accompany the main dish, a locally sourced salmon and green leafy tatsoi, while others roast maitake mushrooms and whip cream, toss spaghetti, and chop raw bacon.
Though such a lead up to dinner isn't unique for this kitchen, this week's meal is. It's a collaboration between Quaker Kitchen Chef Daniel Stern and the team at the Penn Park Farm in honor of Earth Week. It features a plant-forward feast sourced from local purveyors that is based on the produce growing at the farm.
"We don't always talk about food and its impact on climate change and sustainability," says Lila Bhide, founder of the Penn Food and Wellness Collaborative, which includes the quarter-acre farm. "Everyone has to eat. It's important that we learn how to leverage food to fight climate change as opposed to it being something that contributes to the problem."
That's something Stern has been doing through what Penn Dining calls Q'ulinary Sessions. Quaker Kitchen is open Monday through Thursday for dinner. On Fridays, it often turns into a classroom, offering Penn students a chance to learn basic cooking skills. Ahead of Earth Week, Stern and his team worked with the Penn Park Farm to design a menu, then provided a cooking lesson to a select group on April 15. That meal became this week's menu for Quaker Kitchen diners.
Stern says part of the goal of those sessions generally and of the Earth Week collaboration specifically is to highlight the principle that the food choices people make affect the environment. It's a guiding philosophy for him as he cooks and for Penn Dining overall.
"This is not a once-a-year-occasion," says Stern, who before coming to Penn was chef-owner of R2L in Philadelphia. "My goal is for Quaker Kitchen to operate like this year-round, to raise awareness about food waste and food access." Eating to benefit the planet has another advantage too, he says: It's delicious.