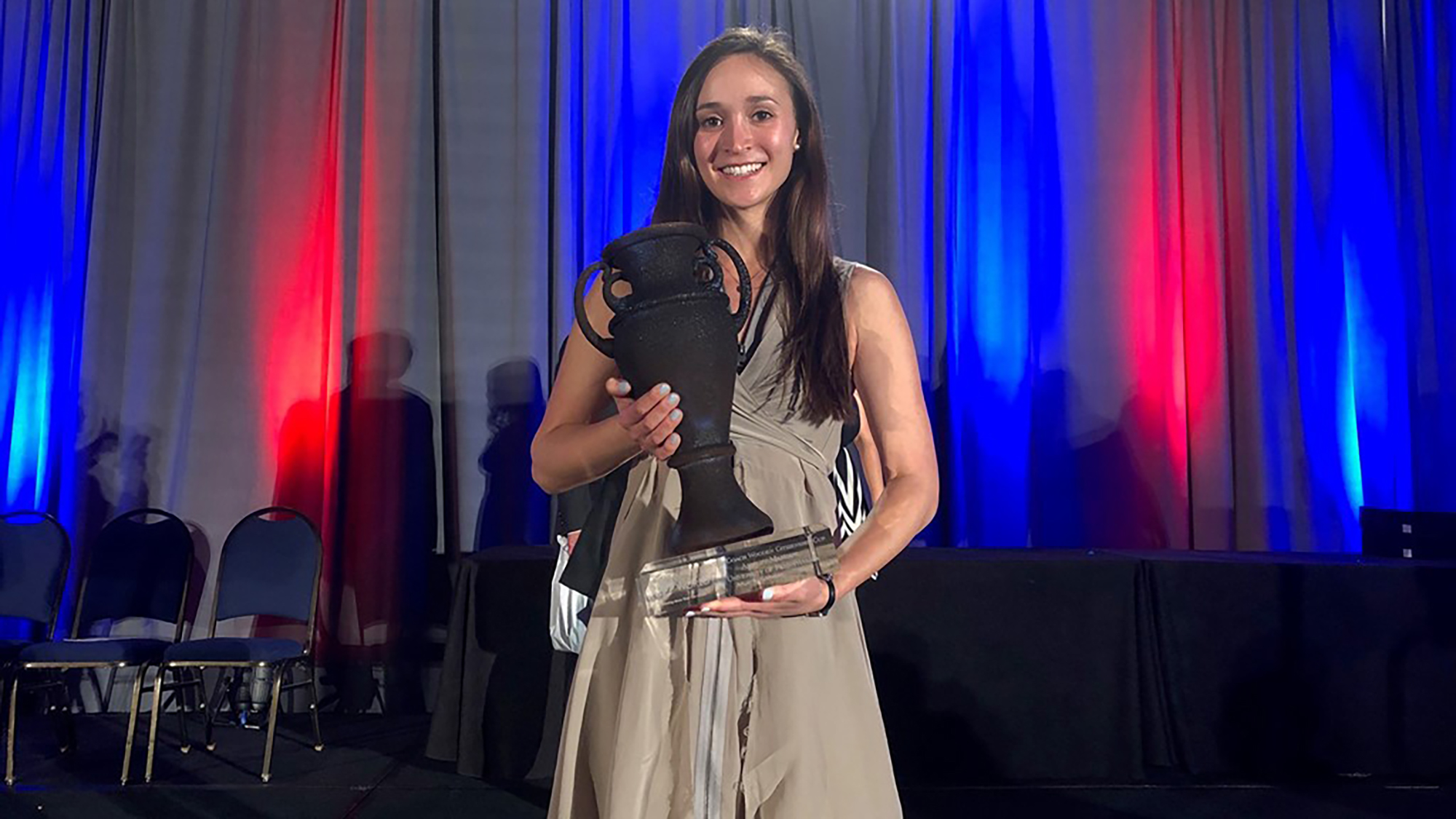 Athletes for a Better World (ABW), an organization that aims to use sports to develop character, teamwork, and citizenship, awarded its Coach Wooden Citizenship Cup to Ashley Marcus, a senior on the women's fencing team, at its annual awards ceremony in Atlanta on Wednesday, April 25.
Named after John Wooden, former head coach of the UCLA men's basketball team and a 10-time national champion, the Citizenship Cup is presented to distinguished athletes from any sport—two high school, one intercollegiate, and one professional—who best display character, teamwork, and citizenship, attributes ABW deems central to transforming individuals, sport, and society.
Marcus, a communications major, is the second Penn student-athlete to be honored with the Wooden Citizenship Cup. Former men's basketball player Dau Jok was the collegiate recipient for the 2013-14 academic year.
From Golden Beach, Fla., Marcus is committed to fighting bullying and sexual violence through various means, including helping to rewrite legislation, authoring a book, and public speaking.
Last summer, she interned at the U.S. Department of Justice in the Criminal Section of the Civil Rights Division, conducting research on human trafficking. She has also worked for the Florida Parent Teacher Association, lecturing and leading discussions throughout the United States about reporting processes and legislation pertaining to sexual violence in elementary, middle, and high schools.
In addition, Marcus co-authored an amendment to Florida Anti-Bullying Law 1006.147, also known as the Jeffrey Johnston Stand Up for All Students Act, which requires school districts to adopt an official policy prohibiting bullying and harassment of students and staff on school grounds, at school-sponsored events, and through school computer networks.
In August 2011, Marcus founded the "Just Tell" organization after identifying a need for sexual violence prevention and education within Florida's public schools. Through "Just Tell," she authored educational pamphlets distributed in schools throughout the United States for students and guidance counselors on understanding the implications, reporting, and prevention of sexual assault in schools.
Marcus has also authored a children's book on reporting and preventing sexual violence, "Just Tell: Raising Awareness About the Sexual Abuse of Children," which serves as a guide to facilitate communication between parents and students.
On Penn's campus, Marcus is a board member of Penn Anti-Violence Educators and a student-athlete representative for the University's Public Safety Focus Group, a collaboration of Penn student groups and Penn Violence Prevention that promotes on-campus safety measures, such as the dissemination of campus resources.
Within Penn Athletics, Marcus spurred the department's "It's on Us" campaign, the first of its kind among Ivy League institutions. As part of the initiative, she planned and executed sexual-violence education events in which members of the Penn community were encouraged to take the pledge and learn about the University's resources.
A Thouron Scholar, Marcus will attend the University of Edinburgh in the United Kingdom and study policy studies after graduating in May.