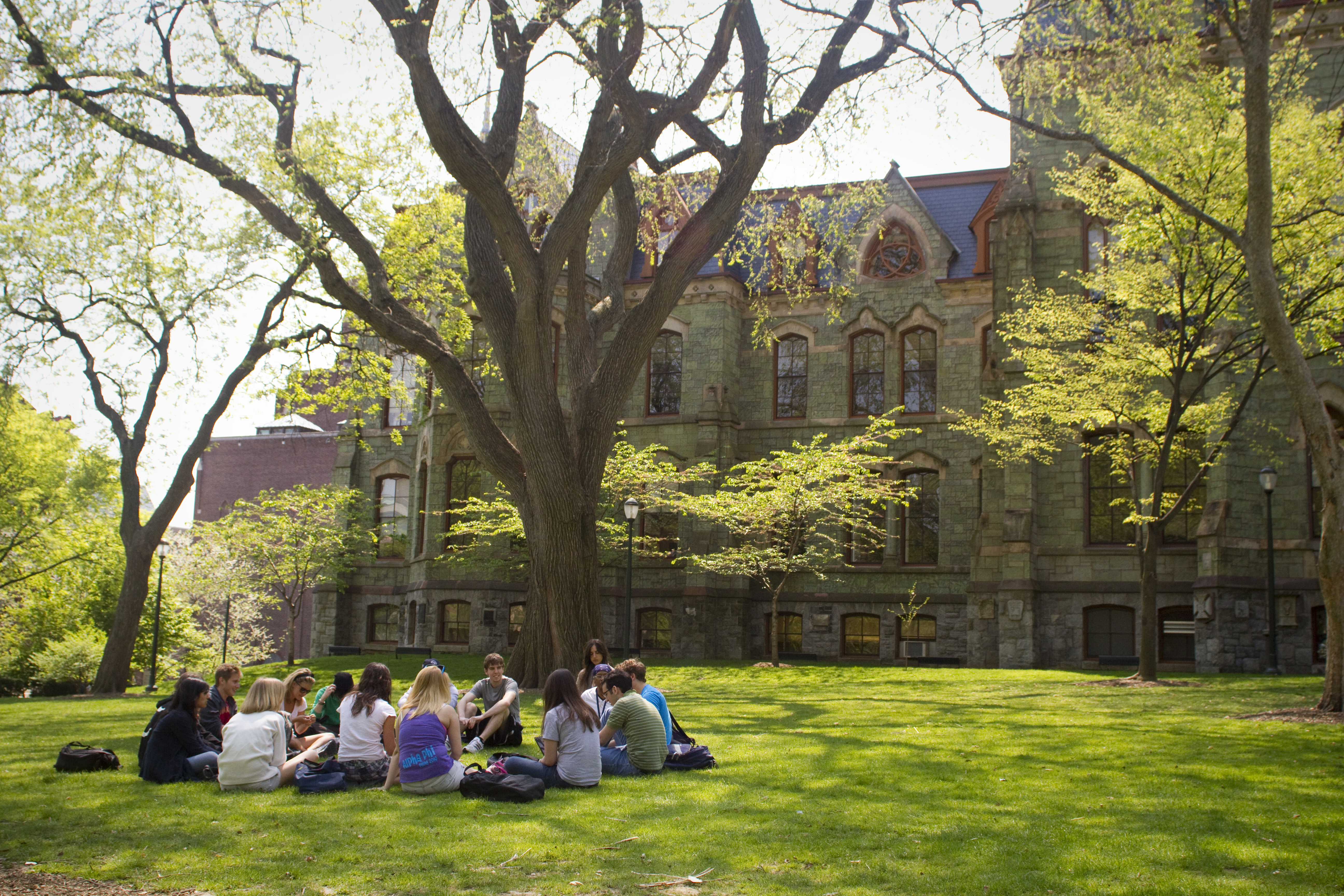 During Reading Days, April 26-27, and Finals Week, April 30-May 8, schools, organizations, and centers across campus put additional services and resources in place, hosting events to help prepare students.
Valarie Swain-Cade McCoullum, vice provost for university life, says the VPUL office is devoted to supporting undergraduate, graduate, and professional students year round, working to develop special programming before key exam periods.  
"We know that community gatherings and special events that promote student engagement can help students relax and nurture their resilience to meet academic and personal challenges," Swain-Cade McCoullum says.  
Working Late? Safety First
In addition to its regular Walking Escort Programs, which run every day and all year long, the Division of Public Safety is offering a Walk Back Program, during Reading Days and finals. In conjunction with the Undergraduate Assembly and the Graduate and Professional Student Assembly, the Walk-Back Program runs from Thursday, April 26, through Tuesday, May 8.
How does it work?
Every half-hour from 10 p.m. until 3 a.m., an Allied Universal public safety officer will stop in the Van Pelt-Dietrich Library to offer a walking escort to either a nearby residence, a vehicle parked on campus, or a SEPTA stop. After escorting a person, the officer will return to repeat the process. 
If students would like to request a walking escort at other times, they can call 215-898-WALK and an officer will be dispatched to their location to walk with them from one campus location to another. 
Monday, April 23rd
Launched in January, the Wellness at Penn initiative offers a comprehensive website that brings together resources, events, and programs to support wellness across the University. 
Penn Rec is hosting Spring into Wellness Week April 23 through April 27 with free activities, like exercise classes, the climbing wall, a health expo, and more. 
"For the first time ever, we are opening our Wellness Week to the entire Penn community," says Janna Rothschild, the assistant director of fitness and wellness at Penn Rec. "Any Penn Card holder will have access to the Pottruck Health and Fitness Center and any program associated with Wellness Week."
Student Health Service will offer a guided meditation session from noon to 1p.m. in Room 236 of Houston Hall.
At the Weingarten Learning Resources Center, in Stouffer Commons, students can meet individually with learning instructors to develop tailored strategies for studying when it comes to all kinds of exams: from essays to problem-solving. All of these meetings are free and confidential.
In addition, Weingarten offers a series of popular end-of-semester workshops that can guide students in staying on task, utilizing time management techniques, and minimizing distractions. These interactive workshops, called Study Hacks for Reading Days, offer tips for students on how to make a realistic schedule and create an effective study plan. Other "hacks" include retention and how to be more efficient in studying, along with ways to clarify an instructor's expectations and priorities.
The first session runs from 5 to 6 p.m. at the Weingarten Center.
Tuesday, April 24th
From 4 to 6 p.m., in Pottruck's atrium, Penn Rec welcomes all students to Build Your Own Brain Food.
To help undergraduate and graduate students prepare for finals, Counseling and Psychological Services (CAPS) is offering stress-management tips, snacks, and support from Oso, a therapy dog, during a Dog Therapy & Stress Management session from 5 to 6:30 p.m. on the first floor at 3624 Market St. 
The second session of the Weingarten Center's Study Hacks for Reading Days is from 5 to 6 p.m. in Rom 110 of the ARCH.
Wednesday, April 25th
Pals for Life Pet Therapy dogs will visit the Platt Student Performing Arts House from 11 a.m. to 1 p.m., to provide students with a way to take their mind off academics, along with arts and crafts, stress-relief toys, and games.
Open to anyone with a Penn Card, Penn Rec is hosting a Wellness Expo from 3:30 to 5:30 p.m. in Pottruck. It offers stress relief, coping strategies, and study tips.  
Penn Rec, Campus Health, and Human Resources, along with PNC Bank, are hosting An Evening of Vinyasa Flow Yoga and North Indian Sitar from 6 to 7:30 p.m. in the Heyer Sky Lounge of Harrison College House. Admission is free for Penn students, faculty, and staff. 
Thursday, April 26th
The Weingarten Learning Resources Center is offering a Final Sprint for science math, and economics exams in Stouffer Commons. Consisting of two workshops, one from noon to 1:30 p.m. and the other from 3 to 4 p.m., the sessions include five take-aways for exam preparation, a sample study schedule, and tips on effectively using practice exams. They also will have snacks.
The first of two guided meditation sessions scheduled runs from noon to 1p.m. in Room 305 of the Graduate Student Center.
Inside Pottruck's atrium, free chair massages are available for anyone with a Penn Card from 4 to 6 p.m. Spaces fill quickly, and advance sign-ups are not available, so Penn Rec insiders recommend arriving early.
The second guided mediation is from 6 to 7 p.m. in Room M30 of Rodin College House.
Friday, April 27th
As the close of Reading Days approaches, everyone is welcome to take a Study Break with Pan-Asian American Community House, Makuu, and La Casa Latina from noon to  2 p.m. on the ground floor at the ARCH at 3601 Locust Walk, where they'll have plenty of food. 
From 4 to 4:45 p.m. in Pottruck's Studio 409, a guided meditation session is available for anyone with a Penn Card. 
Finally Finals!
To kick off Finals Week on Monday, April 30, Student Health Service will host a guided meditation from noon to 1 p.m. in Room 236 of Houston Hall.
From Monday, April 30, to Friday, May 4, the Graduate School of Education's Student Affairs team is hosting a "grab and go" station in the first-floor lounge with tips and treats. 
Tuesday, May 1st
CAPS welcomes international undergraduate and graduate students for International Student Play Day at Perry World House from noon to 2 p.m.. 
Wednesday, May 2nd
The Arthur Ross Gallery invites students taking a break during finals to attend 12@12, an inspirational gallery tour in 12 minutes. Its current exhibit is "The World on View," nearly 100 objects displayed at world's fairs from 1851 to 1915 that were borrowed from the University's collection, as well as other collections housed in museums across Philadelphia.
Thursday, May 3rd
Student Health Services will offer two guided meditation sessions on Thursday, May 3, in the middle of Finals Week. The first is from noon to 1 p.m. in Room 305 of the Graduate Student Center, the second from 6 to 7 p.m. in Room M30 of Rodin College House.
On top of its weekly study groups focused on chemistry and economics, the Greenfield Intercultural Center offers extended study hours during Reading Days and Final Exams, along with CAPS counseling support on Wednesdays at 6 p.m. One of the GIC's study breaks invites seniors to stop by, create messages, and decorate their graduation caps. It will also host pop-up sessions with Student Financial Services and the Center for Undergraduate Research and Fellowships. In addition, GIC teams up with the United Minorities Council to host an end-of-the-year barbecue for all GIC-affiliates, including members of the first-generation, low-income community.