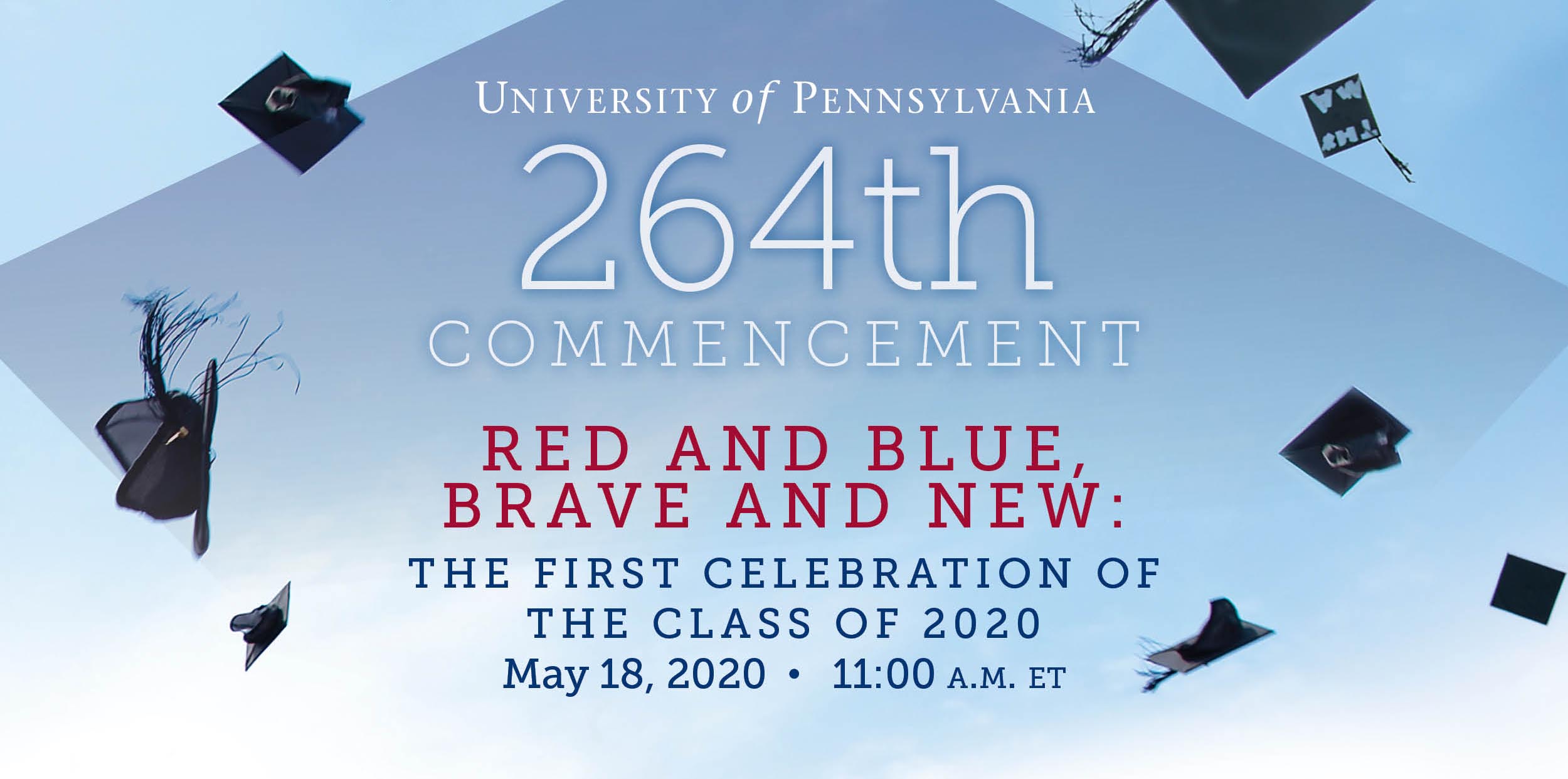 The University of Pennsylvania will laud the Class of 2020 with a virtual live online celebration Monday, May 18 at 11 a.m. (EDT) marking the first 264th Commencement. Viewers are invited to gather online at 10:45 a.m. by logging onto the University Commencement webpage at https://commencement.upenn.edu. There guests may download a program and join in the festivities via social media by chatting and posting photos and congratulatory messages to fellow classmates.
The hourlong tribute to the graduating class will include remarks from Penn President Amy Gutmann, Provost Wendell Pritchett, Chaplain Charles "Chaz" Howard, and other special guests. Student performances will include the Penn Marching Band, the National Anthem sung by senior Duval Courteau, and a special performance of "The Red and Blue." President Gutmann will be joined by the Deans of Penn's 12 Schools in conferring degrees on the 7,564 members of the Class of 2020.
"The Class of 2020 holds a special place at Penn, and we are so very pleased to honor their hard work, academic and personal achievements with this virtual event," said Penn President Amy Gutmann. "In addition to the virtual celebration, we are delighted to also announce that we will hold an in-person Commencement ceremony on Penn's campus for the Class of 2020 on the weekend of May 22-23, 2021. Until then, we hope everyone will join us for this special celebration now.
"We want graduates, family, and friends to celebrate this moment. We hope they will engage via social media to share experiences and memories, cheer on friends and fellow graduates, and post photos. When the degrees are conferred each student joins an amazingly accomplished and wonderfully spirited Penn alumni community worldwide. We want it to be a moment everyone will always remember and cherish."
Audience members can participate by sending messages of congratulations to the Class of 2020 with #PennGrad on Twitter, Facebook, and Instagram. Custom selfie filters and backdrops for graduates have been designed and are available on Instagram @UofPenn's profile.
The ceremony will be archived immediately following the event for students and families who are in different time zones—available to view on Penn's Commencement, and Facebook page, and to share over social media.