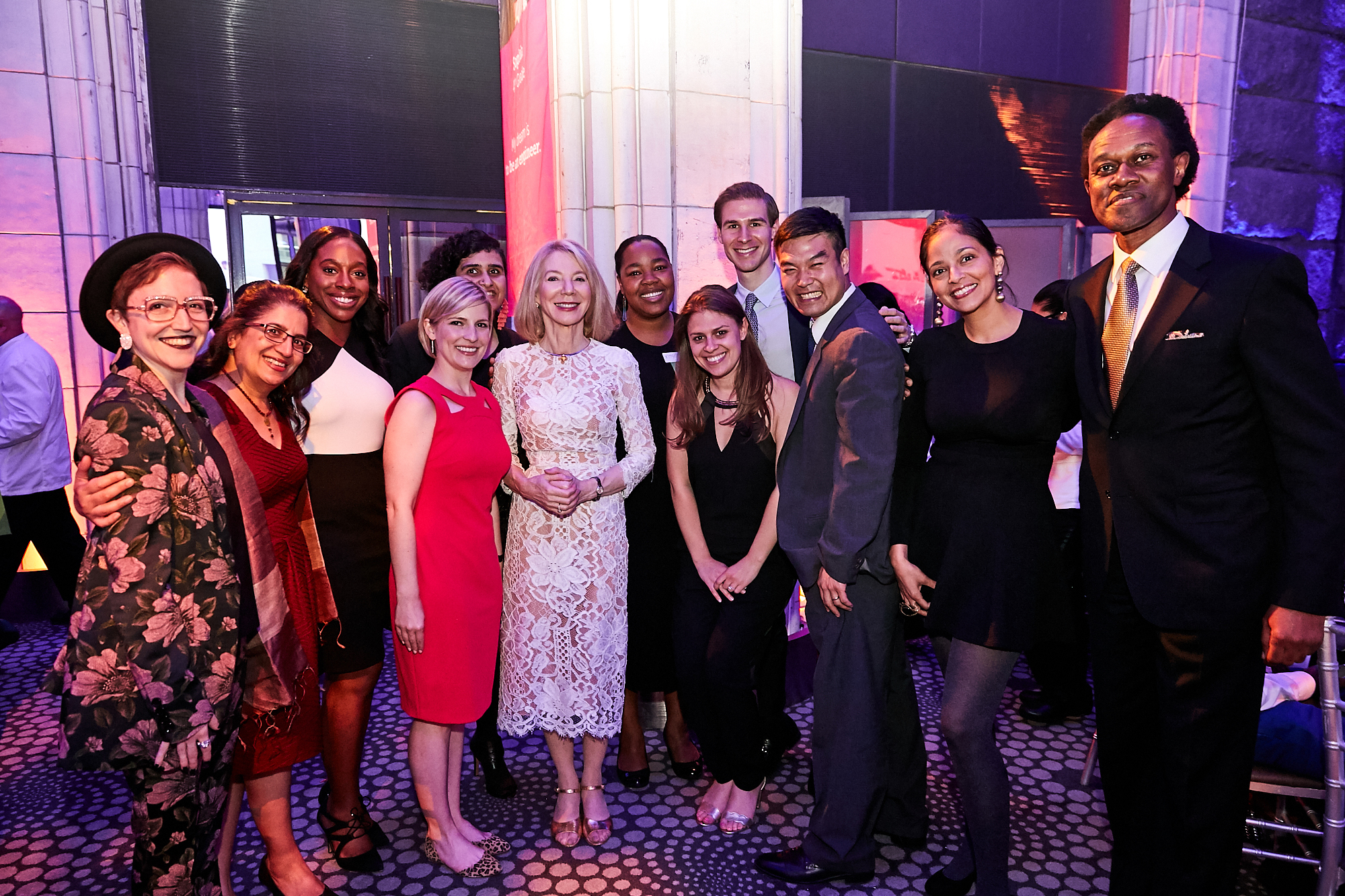 When Amy Gutmann was young, she believed her life's "script" may have been written for her at birth.
"I was supposed to, if I was lucky, go to a local college," she said. "It would be the safe choice, and inexpensive, and close to home."
After Gutmann's father—a Jewish immigrant who fled Nazi Germany—died, her family's income consisted of Social Security survivors benefits, the income her mother made as a high school secretary, and odd jobs Gutmann, a teenager, could find—"and believe me, they were odd," she joked.
"I grew up thinking few options were available to me," she said. "I was mighty proud of how well we lived on our income, but I had no idea what I could aspire to. I had no idea how high it was possible to aim."
Gutmann, Penn's president since 2004, and the first in her family to earn a college degree, detailed her personal story in front of a sold-out crowd at this year's "Spirit of the Dream" Gala. The evening event, on Tuesday, June 5, at Guastavino's in New York City, brought together hundreds of the "I Have a Dream" Foundation sponsors, volunteers, and supporters, as well as current "dreamers" and "dreamer" alumni—young students whose courses in life have changed for the better thanks to the nonprofit. 
At the end of the evening, Gutmann was honored with the Eugene M. Lang Lifetime Achievement Award, something she said she was "honored, humbled, and absolutely delighted to accept."
Lang, who founded the "I Have a Dream" Foundation in 1981, was a first-generation college graduate himself. A self-made businessman, Lang, who passed away last year, is famously remembered for one specific, impulsive decision, when he'd set aside his prepared speech he planned to give to students at P.S. 121, his old elementary school in East Harlem, and instead promised college tuition to each sixth grader who stayed in high school and graduated.
"He went off script," Gutmann said. "He promised that day that he would do all he could to help those students achieve their dreams."
Lang told the class about Martin Luther King Jr.'s famous "I Have a Dream" speech (which, coincidentally, King also went "off script" for), urging the students to dream their own dreams. As the years progressed and his dedication flourished, Lang's foundation was born—and is still thriving today, having worked with more than 18,000 young people.
"As I have learned so often, and I bet everyone in this room has learned or will learn this lesson, it's when you go off script that the greatest things happen to you in life," Gutmann says. "And that's what this 'I Have a Dream' Foundation makes possible."
The mission and vision of the "I Have a Dream" Foundation—which insists that all children should have the opportunity to pursue higher education—align perfectly with Penn's highest priorities. When Gutmann first joined Penn, one in 20 students were first-generation. In the Class of 2022 that was just admitted, one in seven soon-to-be arriving students are first generation. 
Today, Penn is the largest university—and one of just 13 schools in the entire country—to provide grant-based financial aid to students. Since this program was initiated in 2008, Penn has awarded nearly $1.5 billion in financial grants to students in need. 
"For all-grant students from low-income families, Penn's financial aid package provides several thousand dollars more than full tuition, room, and board," Gutmann said. As a result, more than two-thirds of Penn students graduate debt free.
"Starting life with a large level of debt for someone whose family makes a decent amount of money, compared to someone whose family makes almost nothing, it kind of shackles you in a way; the education doesn't free you," said Valerie De Cruz, Penn's Greenfield Intercultural Center (GIC) director. "So for Penn to say it's going to do whatever it can to make sure [these students] graduate with as little debt as possible is tremendous."
De Cruz, who has led GIC for 21 years, attended the gala, sitting at a table with many first-generation Penn students and alumni. Chatting after the event, De Cruz recalled fondly her memories mentoring Eugena Oh, the current president and CEO of the "I Have a Dream" Foundation. While studying political science at Penn for her undergraduate degree, Oh, a first-generation American college student of Korean immigrants, was involved with GIC as well as PAACH, the Pan-Asian American Community House.
"At Penn, we provide support and nurture leadership," said De Cruz. "Now Eugena is using many of the skills she learned at Penn to make a difference in the lives of young people like her."
"Every family has its first-generation college student, whether past, present, or future," Oh, who graduated from Penn in 2003, and later attended Temple to study law, told the crowd at the gala. "Higher education will change the trajectory of your life."
Anea Moore, a rising Penn senior from Philadelphia studying sociology and urban studies, was proud to be in attendance, emphasizing how important it was for her to have been there, supporting the foundation as well as her University's passionate leader. 
"I want a lot of people to know what Penn and what Penn's leadership is doing for first-generation, low-income (FGLI) students," said Moore, a recent Truman Scholar who also co-chaired this year's 1vyG conference. "Every university should be striving to treat its FGLI students like Penn treats its FGLI students, and every university president should be striving to be a first-generation, low-income student advocate like President Gutmann is, if they really care about the true purpose of higher education."
A night of inspiration, also honored at the gala were Maria Hinojosa, CEO of Futuro Media Group, and anchor and executive producer of NPR's Latino USA, with the David N. Dinkins Social Justice Award; Chieh Huang, CEO of Boxed, with the Corporate Sponsorship Award; and Lowell K. Davis, assistant vice chancellor for student success at Western Carolina University, with the "Spirit of the Dream" Award.
Davis, the epitome of success, joined the "I Have a Dream" Foundation as a fourth grader in Dallas, Texas.
"I could've never imagined that as a kid who was told in life that he would not be successful, that I'd share the night with the president of an Ivy League institution, a CEO of a major corporation, and a drum major for justice," he told the crowd at the gala, later adding, "The potential contributions of any young mind are unknown and limitless."
Gutmann echoed that sentiment, adding that no one should be limited because of where they were born, or whether they were born disadvantaged. 
"No one should be limited by their income," she said. "No one's future should be decided because of that. There's not a script given to us at birth that we have to follow, and that is true for each and every one of us. We can write our own script as long as we have the education that no one can take away from us."
Photos courtesy of Paul Quitoriano Photography.