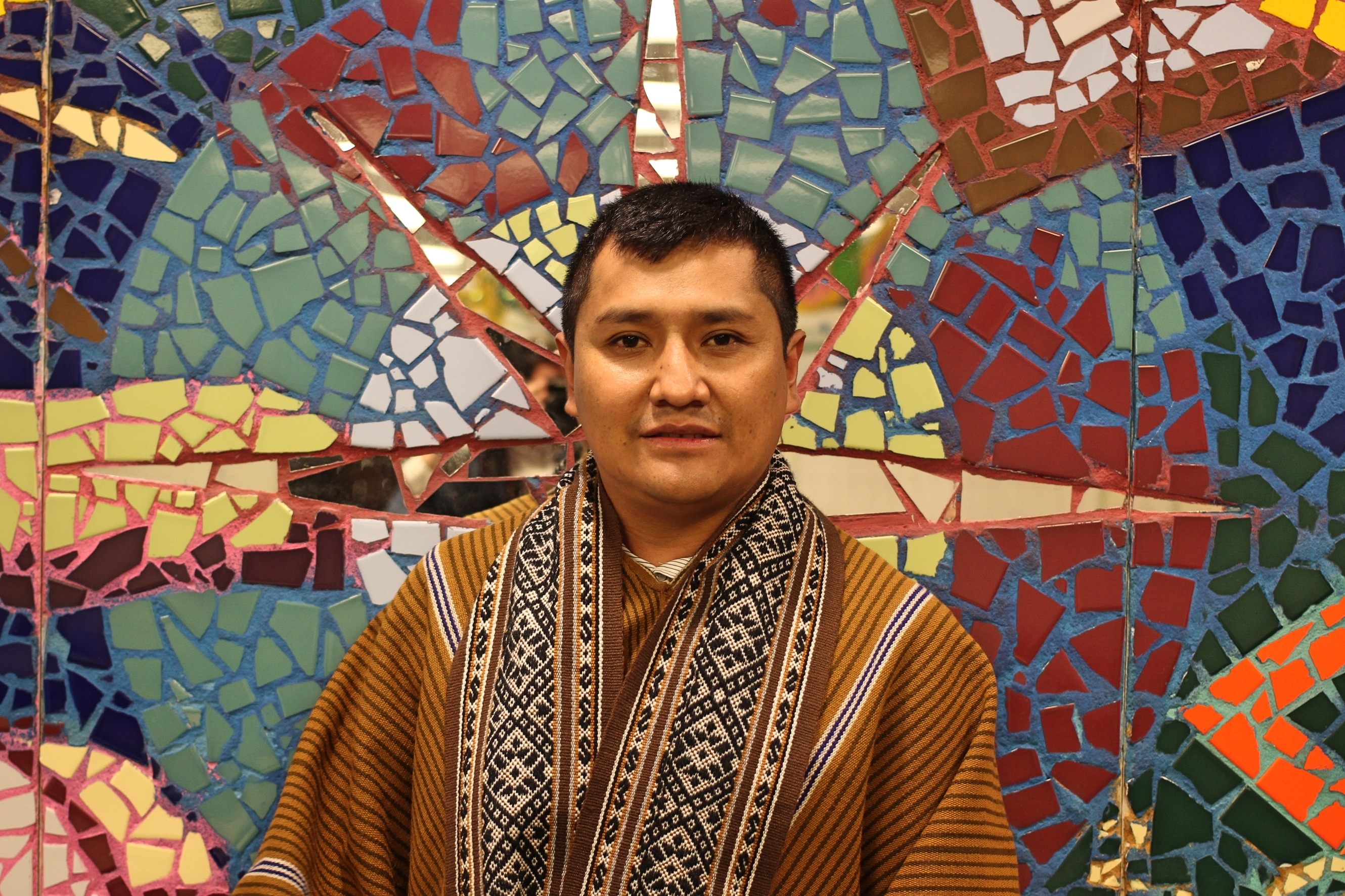 They'll burn fingers if you're not careful, but the potatoes are delicious, especially with ají, a yellow sauce made from a mild pepper unique to South America. The potatoes are different colors—purple, cream, café con leche—nubby, finger-length tubers with tender skin. After being buried in the soil, a fire is lit. Farmers gather in a circle at the end of the day, warming their hands over flames as the potatoes slowly roast beneath the earth. This is called a watya in Quechua (or la huatia in Spanish), a tribute to Pachamama, or Mother Earth, and a meal traditional to the Andes mountains where Nico Suárez-Guerrero grew up. Now a Fulbright Foreign Language Teaching Assistant (FLTA), Suárez-Guerrero is the first Quechua Fulbright scholar in the Ivy League, and the only one currently in the United States. While at Penn, Suárez-Guerrero is working with Américo Mendoza-Mori through the Quechua Language Program at Penn, which celebrates its fifth anniversary in 2020. 
The Quechua at Penn Program was founded in 2015 as part of the Penn Language Center in a student-led effort to elevate the profile of indigeneity on campus, Mendoza-Mori says. The students and scholars within the program are working to make Indigenous culture a core part of contemporary campus life, with lectures, cultural events, and activism. They celebrated Indigenous Languages Week, hosted a conference in Andean studies, and joined Natives at Penn's walk-in on Indigenous People's Day. "Penn is giving Quechua the respect and space it deserves," Mendoza-Mori says.
The program currently hosts four graduate students and offers one to two courses per semester as interdisciplinary offerings with the Department of Linguistics, Latin American and Latino Studies Program, and Native American and Indigenous Studies minor. Quechua is the most widely spoken Indigenous language in the Americas, with eight to ten million fluent speakers. Yet the language has only recently begun to be taught at the university level in a way that celebrates the culture and people, Mendoza-Mori says, and there are just six other programs in the U.S.
"The notion of indigeneity," Mendoza-Mori says, "is often thought of as something from the past, an aspect just to research. But the narrative has been changing." At San Marcos University in Lima, Roxana Quispe Collantes made international news in October as the first person to defend a dissertation entirely in Quechua, while Renata Flores went viral on YouTube singing Quechua pop tunes. Mendoza-Mori himself has been in the news as a Andean cultural consultant for the Dora the Explorer movie, "Dora and the Lost City of Gold," which included Quechua dialogue. 
The Fulbright FTLA program is part of this wider resurgence. Sponsored by the Department of State's Bureau of Educational and Cultural Affairs, the Fulbright FTLA program hosts scholars from more than 50 countries who speak more than 30 languages. Quechua became part of the FTLA program only in 2017, Mendoza-Mori says. He expects to see continued growth and support for Indigenous languages and culture.
This especially pertains to sustainable living in an era of climate change and resource scarcity. For this knowledge, "we look at what Indigenous people across the world have been doing. They have been the keeper of these traditions," Mendoza-Mori says. "At Penn, we have the power of having a platform; we can recognize this and call it knowledge, to give that right framing. By doing that, we recognize the relevance of today's Indigenous people." 
Suárez-Guerrero has been honoring this relevance within the context of agritourism. He was born in Mollebamba, a small community of 300 located in the mountainous Apurímac region just southwest of Cusco, Peru, where his family farmed and raised animals. After continuing his studies in Lima, Suárez-Guerrero earned his bachelor's degree from Cusco's Universidad Andina and was selected for a Diversity Internship Program for Afro-descendants and Indigenous peoples by the Inter-American Development Bank at Georgetown University. Before coming to Penn, Suárez-Guerrero worked as a consultant for Peru's Ministry of Culture, developing opportunities for rural and agrarian tourism.
Suárez-Guerrero gravitated to agritourism "because peasant communities like mine were involved in this practice, sharing their ways of life," he says. He sees the potential for tourism to empower rural communities as it honors their cultural heritage. By using the right framework and training from both sides, this interaction enriches the visitor experience while providing a new source of income for Andean families. "I think we're in a great moment of opportunity for the recognition of Indigenous cultures," says Suárez-Guerrero.
At Penn, Suárez-Guerrero is serving as a teaching assistant, taking classes in teaching methodologies and Spanish literature, and sharing his culture. He has been impressed by the respect for diversity on campus. "I've found that whatever people bring is shared and respected," he says. When he returns to Peru at the end of the academic year, he would like to continue to be involved with Quechua speaking communities and explore opportunities to teach in his home country. "Quechua will be my life," he says. 
Suárez-Guerrero encourages students to take Quechua classes and to learn more about their way of life. "In learning a word or phrase," he says, "people will find a new way of thinking and an entire community of people. Behind every language, there is a new culture to discover."