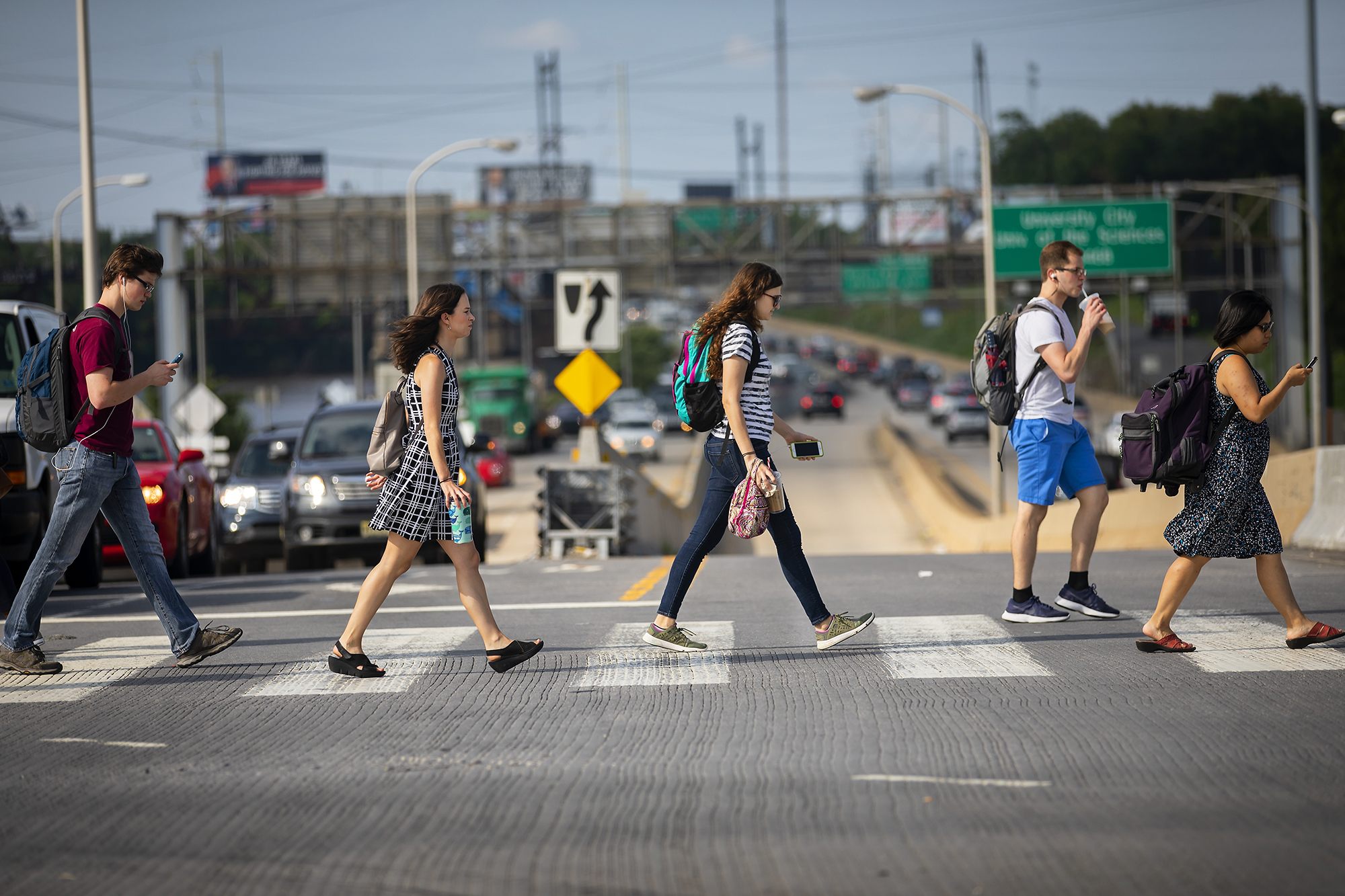 For the past two years, Sarah Deak, the administrative coordinator for the Jerome Fisher Program in Management and Technology, has ridden her bike to and from campus. A 20-minute commute from her home in Fairmount, she says it not only energizes her in the morning, but is also a great way to decompress after work.
"It's something that's a lot less expensive day to day, and it doesn't take that much effort," she says. "It's also good for the environment."
Deak is among the thousands of employees who commute to work at Penn every day—whether via bike, foot, train, bus, trolley, subway, car—or an entirely different type of wheels. 
Fitler Square duo Konrad Kording, a Penn Integrates Knowledge Professor, and Ioana Marinescu, an assistant professor at the School of Social Policy & Practice, travel to campus by skateboard and scooter, respectively.
"A scooter is faster than walking," says Marinescu, noting that her scooter commute is about 15 minutes. "It's less fast than biking, but you gain time by not having to lock your bike up on both sides of the commute. Also, you can wear long coats and skirts that would not work on a bike."
Also, Marinescu says, it's practical when dropping her kids, who also use scooters, off at school.
Penn's Business Services Division, in partnership with Facilities and Real Estate Services, has made it a goal throughout the years to implement incentives that encourage University faculty and staff to utilize sustainable ways of getting to and from campus. These efforts, such as the Bike Commuter Expense Reimbursement Program and its growing Indego Bike Share stations on campus, have earned Penn praise.
Last year, for instance, the University received the "Bike-Friendly Business Award" from the Bicycle Coalition of Greater Philadelphia, and was named the "Clean Air Commute Employer of the Year" by Philadelphia's Clean Air Council. Penn was also one of five organizations to receive an "Air Quality Partnership Excellence Award" from the Delaware Valley Regional Planning Commission, and was ranked No. 1 on a list by D.C.-based software company TransitScreen of the country's most transportation-friendly college campuses.
"What we see with this recognition," says Brian Manthe, "is that it validates all the hard work Penn is doing by supporting a range of commuting options, which encourage people to get out of their cars."
Manthe, director of Business Services, oversees parking, transit, and commuter programs at Penn. Like many at the University, he takes SEPTA Regional Rail from his home in Chester Springs, and then walks west to campus from 30th Street Station. 
For those who use mass transit, Penn's compact, urban campus is well-served by a network of subway, bus, train, and trolley lines. As noted on the Penn Transportation and Parking website, public transit stops are never more than a five-minute walk to any part of campus. Convenience aside, the University offers discounted travel with SEPTA, PATCO, and NJ Transit. All discounts for full-time faculty and staff are provided via payroll deduction, and are pre-taxed up to $260 per month. (There's also a SEPTA Travel Center in the Penn Bookstore, for people new—or rusty—to the public transit game.)
Both Srinivas Denduluri, a senior clinical informaticist at Penn Medicine's Division of Cardiovascular Medicine, who lives in Exton, and Heidi Franz, a temporary worker in finance at the Annenberg Center for the Performing Arts, who lives in Yardley, use SEPTA Regional Rail to get into the city. They then take the SEPTA-operated LUCY Loop—managed by the University City District, and funded in part by Penn—from 30th Street Station to Penn. The bus service is free for students, faculty, and staff.
Other free bus options for University employees include Penn Buses East and West, which each run within defined boundaries off campus, and operate on a schedule (pickups are every 20 minutes) after 5 p.m. There's also the Penn-Drexel Bus Share, with its three fixed routes. 
The Penn Shuttles East and West offer on-demand service to faculty and staff with a need to be taken directly to their door, as long as they're living within a particular footprint in the city. Currently, in order to use these specific shuttles, faculty, staff, and students should call 215-898-RIDE to schedule a pick up and drop off. Soon, Manthe says, Business Services will roll out an "Uber-type" application for Penn shuttle and accessible transit requests. 
"It'll be the similar functionality you get with Uber or Lyft, telling you the time we'll arrive and what vehicle we're in," says Manthe. "It's an enhancement for the shuttle service that we'll start piloting this fall."
There's also the Pennovation Works Shuttle and the FMC Shuttle, with the latter being adapted when the new building on the Schuylkill was completed last year. Penn is a major tenant of the FMC Tower, claiming 100,000 square feet of space, and housing Penn's Office of Investments, central Office of Development and Alumni Relations, Office of the General Counsel, and Office of Risk Management.
"There's so many staff in FMC," notes Manthe, "just by virtue it demanded a fixed route."
The FMC Tower also maintains residential apartments, where Omar Choudhri, a neurosurgeon at the Hospital of the University of Pennsylvania, lives. Choudhri, at Penn for one year, says he usually walks to work.
"It incorporates a little bit of a workout in the morning, and if the weather is tolerable, it's the way to go," he says, adding that walking is suitable for his unpredictable schedule. "It's a nine-minute walk, about 0.5 miles to the hospital."
Some employees at Penn prefer to use a car, such as Manuela Roggiani, a research specialist in the Department of Biology.
"I don't live convenient to public transportation," says Roggiani, of South Philadelphia. "The bus commute would require long walks, as well as two buses. It takes about 40 minutes to drive because of traffic, but I listen to music; classical in the morning and jazz in the evenings."
She parks in the Walnut 38 Garage, which offers parking permit holders various annual, monthly, weekly, and bi-weekly pay options. 
Business Services also offers several programs, such as car and vanpooling discounts, as well as car-sharing perks, for those who prefer to get to campus via car. 
Those who carpool, for example, are eligible for discounts, such as 25 percent off permit parking for a two-person carpool, 50 percent for a three-person carpool, and 75 percent for a four-person carpool. A partnership with Enterprise Rideshare offers vanpooling options for Penn faculty and staff, where riders meet at a convenient spot near their residences and are brought directly to campus. On average, the cost of participating in a vanpool is between $100 and $150 monthly, which, like other commuter benefits, can be a pre-tax deduction from an employee's paycheck. 
Also, for those who use public transit to commute to Penn, but occasionally have to drive in, they're encouraged, says Manthe, to participate in the Occasional Parking Program. On an annual basis, employees may purchase 10 single-use parking passes for $60, reflecting a discount of more than 50 percent off the standard daily parking rate.
"Now, needing your car to get to work sometimes, isn't an excuse to not use public transit," says Manthe. 
Franz, from Yardley, says her commute to and from work is two hours each. But, it's still worth it to take public transit, she says.
"If I'm lucky, I sleep on the train, or else I read," she says. "It's worth it because I love working in the city; there's such a good energy.
"I also love the restaurants," she says.
For more information on Penn Transportation and Parking, visit its new and improved, user-friendly website.