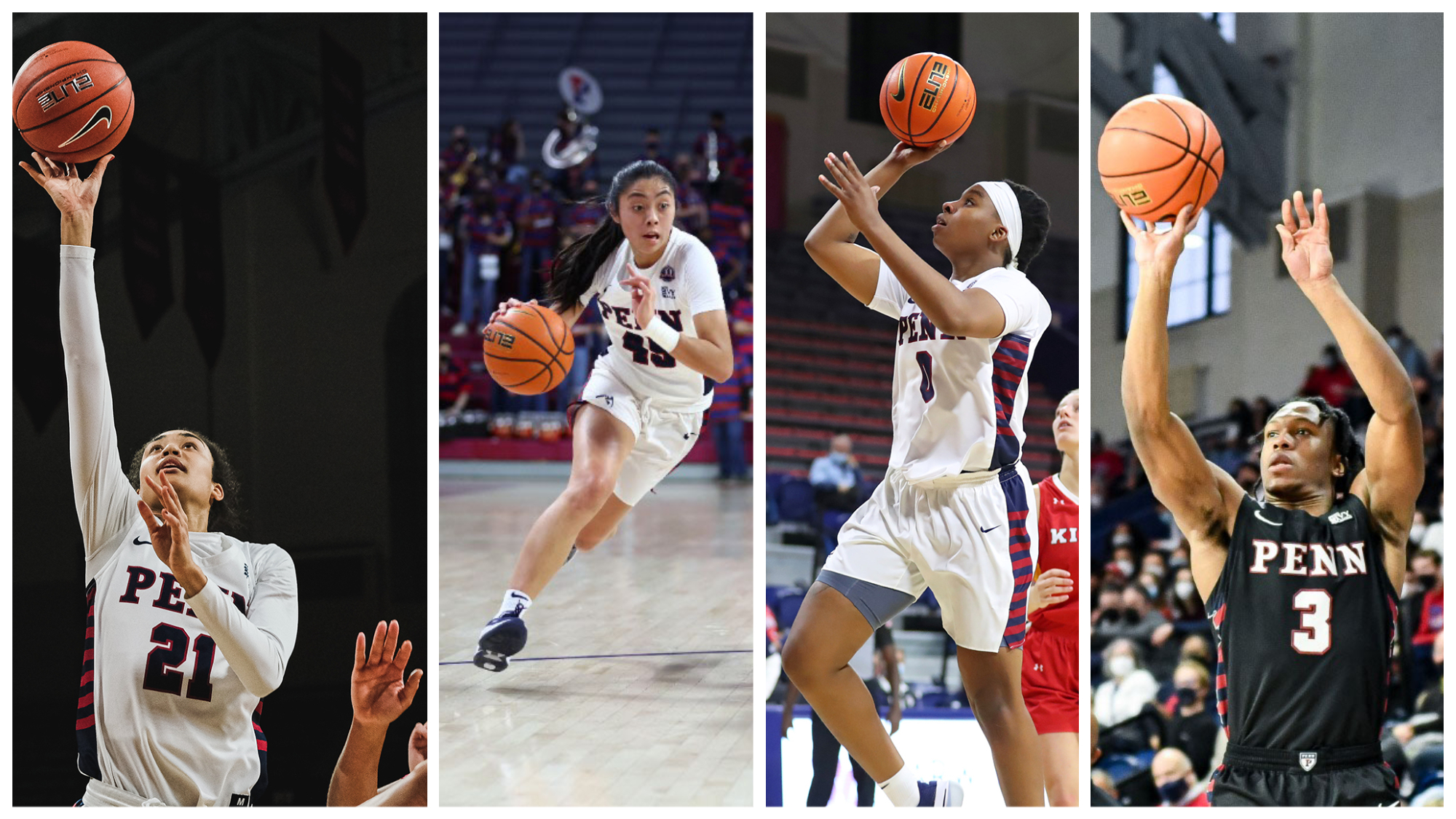 A quartet of Quakers has earned postseason recognition from the Big 5, as voted on by city coaches.
Guard Mia Lakstigala of the women's basketball team has been named Big 5 Most Improved Player. The senior captain from Naperville, Illinois, averaged 29.9 minutes, 10.9 points, and 5.5 rebounds per game, a quantum leap from her 2019-20 stat line of 6.1 minutes, 3.5 points, and 0.9 rebounds per contest. Lakstigala also ranked second on the team in assists (45) and fourth in the Ivy League in three-point field goal percentage (.364).
Junior captain Kayla Padilla of the women's basketball team, a guard from Torrance, California, picked up her second First-Team All-Big 5 accolade. She led the Ivy League in points per game (18.5), minutes per game (37.6), free throw percentage (.789), and assist-to-turnover ratio (2.0), and ranked third in assists per game (4.2) and three-point field goal percentage (.368).
In Los Angeles against Memphis on Nov. 27, she scored a career-high 36 points, including a school-record nine three-pointers, in Penn's 73-68 overtime loss. 
Jordan Obi, a sophomore forward on the women's basketball team, received Second-Team All-Big 5 recognition. Obi, from Cupertino, California, ranked second on the team in minutes per game (32.9), points per game (14.0), and rebounds per game (7.5), and led the team with 30 blocks.
The reigning city scoring champion is sophomore guard Jordan Dingle of the men's basketball team, whose 20.8 points per contest led the Ivy League and Big 5. Dingle, from Valley Stream, New York, joins 2012 alumnus Zack Rosen as only the second Quaker in history to lead the Big 5 in scoring, and he is the first Quaker in 44 years to average more than 20 points per game.
Dingle scored in double figures in 23 of his 26 games, including six games with more than 30.