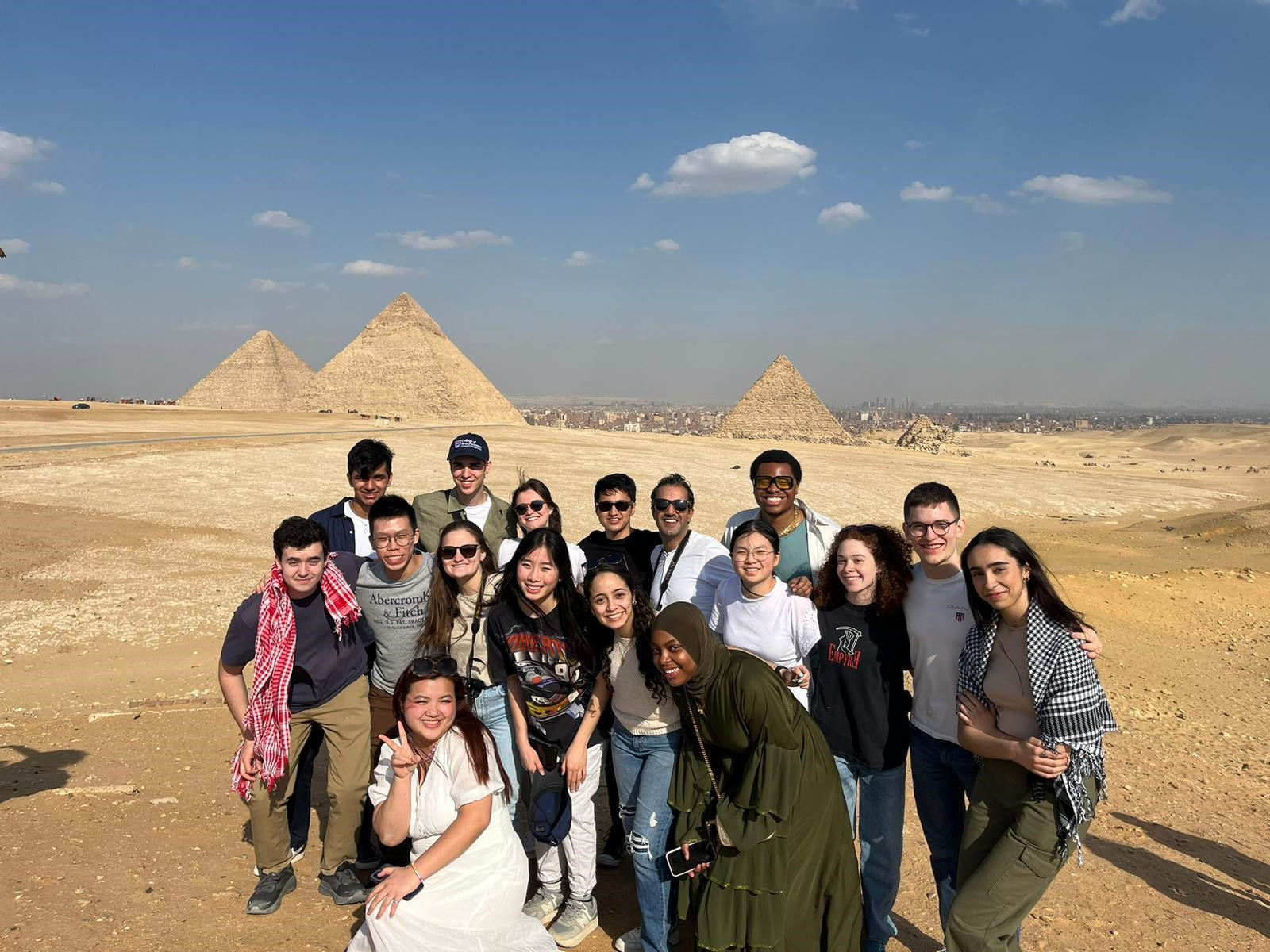 There's more to Egypt than pyramids and camels. But how does one access an 8,000-year-old country with more than 100 million people? For 16 Penn students, one answer was to take Fayyaz Vellani's Cairo as Palimpsest, a Penn Global seminar that included a week-long trip to Egypt this spring, where students explored the city, visited historic mosques, walked in the walled old city, and, yes, rode camels by the pyramids. 
Vellani, a lecturer in critical writing at the Marks Family Center for Excellence in Writing, has a background in geography and chose to base the course on the concept of the palimpsest in urban studies, where changes in cultural and political dynamics are played out in layers of time and space. Founded by the Fatimid Caliphate in 969, Cairo has been a seat of power for empires including the Ayyubids, Mamluks, Ottomans, French, and British, each leaving an indelible mark on Cairo and suffusing the city with a richly cosmopolitan flavor, Vellani says. 
"It's really a unique place that's got layer upon layer of history," Vellani says. "You feel that you're in a place that's very ancient. It has all this rich cultural texture and heritage that just is observable every day."
Vellani structured the trip in historical layers, starting with Memphis-Saqqara and the pyramids on the first full day and ending with the Unknown Soldier Memorial, honoring Egyptians and Arabs who lost their lives in the 1973 October War, on the last. 
Michael Griego, the senior global programs manager for Penn Abroad, accompanied the class on the trip. "The way that Fayyaz had built out the itinerary we sort of progressed through history," he says. "Each day it was like adding a layer of history."
Glynn Boltman, a rising second-year from Reno, Nevada, majoring in political science and international relations, says that the trip gave her insight into Cairo's history. "You kept moving on through time, and every day felt like moving to a new period. That helped in a lot of ways to create that feeling of being conscious about history, even if you're someplace more modern," she says. 
Boltman's favorite day included excursions to Old Cairo, mosques, and Al-Azhar University, one of the world's oldest institutions for higher education, with a break for tea at a local café and a whirling dervish performance at an arts center. 
And instead of snapping tourist shots, Boltman chose to leave her camera behind. "I wanted to focus on my experience," she says. "Everything was taken care of, and we were safe all the time."
When the students returned, they met with Mark Peterson, author of "Connected in Cairo," a text the class read prior to their trip. The book is about the cosmopolitan city and the global identity of mobile Cairenes, an identity that the Penn students could relate to as well, Vellani says. "It's about understanding the city through understanding its global cosmopolitan class: people who go to these cafes, who travel, are worldly, who kind of weave in and out of different cultures in different contexts."
The students also compiled reflections and photo essays about what they learned and experienced and about how they intend to use their knowledge, Vellani says. Many of them had a new understanding of themselves and the way they fit into the world, he says.
The context of the visit and the class was both historical and contemporary. "There were a lot of reflections on the global economy, the political economy, and how these institutions like the World Bank and IMF function," Vellani says. 
During the course, the Egyptian pound took a dive and students discussed what that would mean for jobs and the price of bread, he says. "This is a really nuanced understanding. The next time they think about economic policy, they will have this very specific knowledge that they gleaned from being there and having been part of those conversations," Vellani says. "You couldn't get that from a textbook."