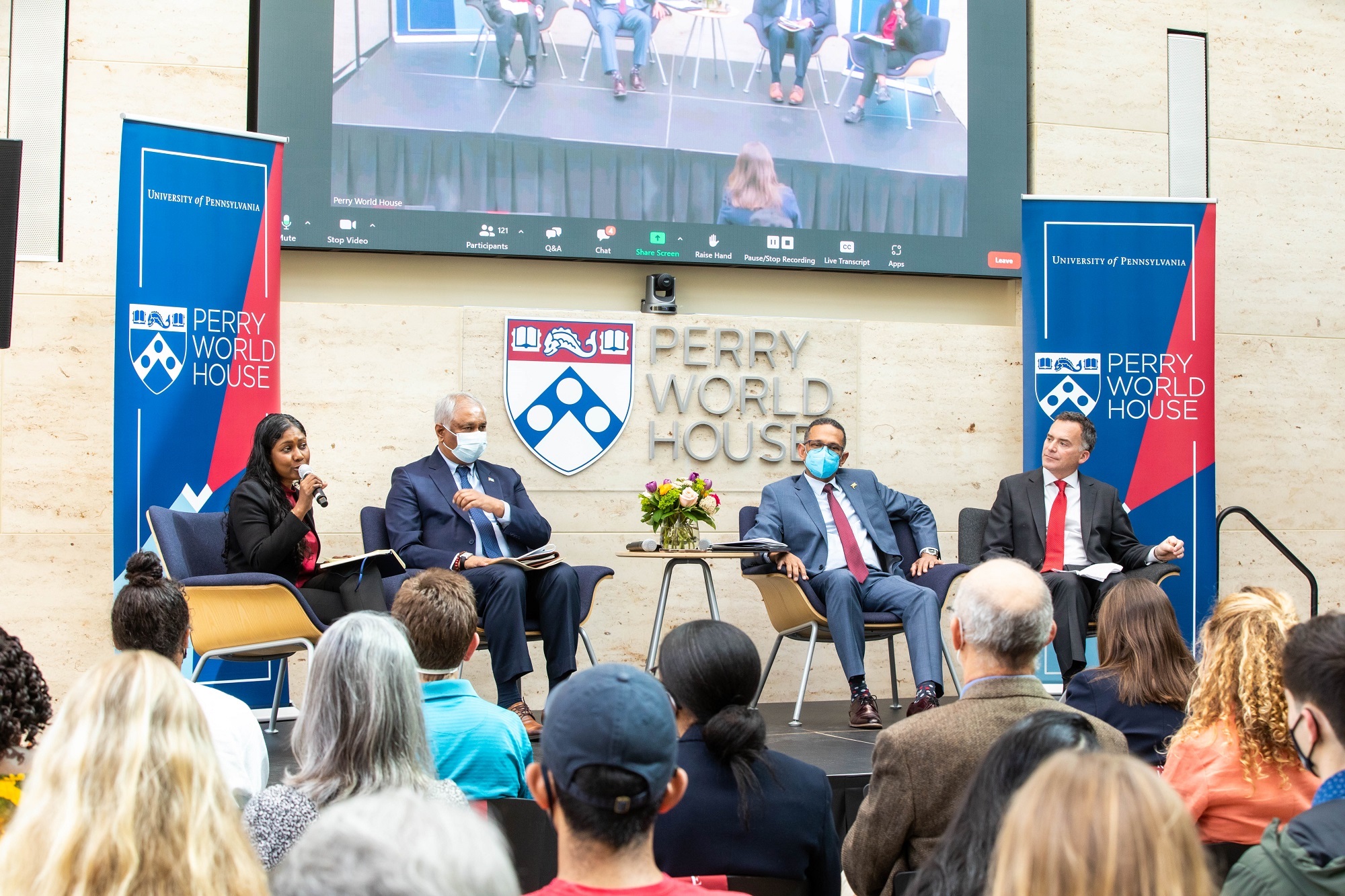 Small, remote, and with limited resources, island nations are among the world's most vulnerable places and, as bellwethers of the climate crisis, have have taken center stage in global policy discourse around this. 
How can these islands protect their people, build resilient communities, and safeguard their environment, and what policies can be wrought from their example for the rest of the globe?
Perry World House explored these questions and more at its Global Shifts Colloquium, "Islands on the Climate Front Line: Risk and Resilience." The daylong public event featured roundtable discussions with island ambassadors to the United Nations, a chat with ocean explorer Fabien Cousteau, and a conversation with activist, poet, and climate envoy Kathy Jetn̄il-Kijiner of the Marshall Islands.
"It's like we're building a boat as it's sinking," Jetn̄il-Kijiner said of her people's efforts to keep on top of the latest climate change science. "We're losing parts of our islands already. It constantly feels like we are just trying to keep up."
The day started with a keynote conversation, "Imagining a Resilient Future," featuring four island ambassadors to the United Nations: Thilmeeza Hussain of Maldives, Satyendra Prasad of Fiji, Brian Christopher Manley Wallace of Jamaica, and Walton A. Webson of Antigua and Barbuda, chair of the Alliance of Small Island States. 
Michael Weisberg, the Bess W. Heyman President's Distinguished Professor of Philosophy in the School of Arts & Sciences, moderated the conversation. Weisberg has been involved in research and activism in the Galápagos Islands for much of his career.
The ambassadors spoke about climate change from the perspective of their countries: challenges they face, actions they are already taking, and what they need from the world at large. They agree that climate justice is an issue of reparative justice.
Hussain said island nations have been sounding the alarm about rising seas for decades. The Maldives has 200 inhabited islands out of 1,200 total, where people have lived for more than 5,000 years, speaking their own language, with their own specific cultures. It's impossible to put a dollar value on not acting, she said. "You're talking about languages, cultures, traditions, and ecosystems that would also disappear. The cost of inaction is truly immeasurable."
Prasad compared the back-to-back catastrophes in Fiji and people having to flee their homes to living in a conflict zone. "The feeling of climate change is a feeling of war," he said. Climate change is not some distant challenge for Fiji, but one it faces right now, and, he said, wealthy nations need to know that it feels as if they have declared war on these small islands. He urged the students in the audience to work to ensure that policymakers at every level make it a priority to keep warming below 1.5° Celsius.
Wallace told the audience people must start seeing themselves not as different nationalities but as human beings who occupy Earth, first and foremost. "We have artificial boundaries that separate us, but at the end of the day this planet is home to all of us. It is our global living space, so we have to take ownership of it. Climate change is not a small island, developing-state problem; it's a global problem. Global problems require global solutions," he said.
Wallace noted that Jamaica is celebrating 60 years of independence but is still trying to recover from 400 years of enslavement and exploitation. His nation never profited from industrialization but is now paying the price for its damage to the environment, he said, and wealthy countries have a responsibility to help these nations most affected by climate change.
Webson talked about how, after Hurricane Irma blew through the island of Barbuda in 2017, every single resident was evacuated and forced to resettle far from home. "We want a global regime that externalizes the cost of these catastrophic storms and the pollution we face," he said. "Our parents' sweat built industrialization, and their great-grandchildren are the ones now suffering."
The international community must preserve and protect island nations from the existential threat they face, he said, adding that "Island states can no longer absorb the cost of pollution from others." The 'loss and damage' concept should be enacted," he said, which would involve compensation by the major emitters for climate-induced impacts.
The day's second chat was a discussion between Fabien Cousteau and The New York Times climate reporter Lisa Friedman.
Cousteau discussed his new ocean lab called "Proteus," changes he has witnessed spending his lifetime on the ocean, and how his grandfather Jacques Cousteau was talking about climate change as far back as the 1960s.
"At the end of the day, the climate doesn't care. It would regenerate after we were gone. It's up to us to decide if we still want to be here. I believe in human beings and that we can make a difference, but it's up to all of us, and we have a lot of decisions to make," he said.
He also addressed deep sea mining, drug discoveries from the ocean, the damage caused by shipwrecks and munitions, and the possible answers the ocean offers, from thermal energy to using kelp forests for nutrition.
"It's just a matter of implementing the great solutions out there," he said.
For the colloquium's final event, author-activist Bill McKibben and Marshallese poet, climate envoy, and educator Kathy Jetn̄il-Kijiner discussed king tides and the psychological toll of climate change. McKibben is the founder of Third Act, which organizes people older than 60 for action on climate and justice. 
Jetn̄il-Kijiner described the U.S. involvement in the Marshall Islands post World War II and how the nuclear waste site left by the Americans had rendered islands in her nation uninhabitable even before the climate crisis. "There's also a nuclear waste site capped with a concrete dome, which is now leaking into the Pacific, and it will get even worse as sea levels rise," she said. "The nuclear legacy informs our plans for the future because we've already lost islands."
The two also talked about her work with Greenland poet Aka Niviâna. A video showed them reciting their poem "Rise" from atop a glacier which, if it melts away, would devastate Jetn̄il-Kijiner's homeland.
She noted that technical experts on the ground in the Pacific are communicating with locals and developing nature-based solutions to the warming climate. "There's still so much knowledge out here, and people forget that. We're not waiting for someone to come in and save us," she said.
She urged the international community to provide small islands with funds and to let the locals determine how they act on the issue of climate change.
"Our carbon footprint is almost nothing, so we hardly contributed to climate change, and we shouldn't have to pay for the changes we need to make for our land to survive," she said.
The conversations with the island ambassadors, Fabien Cousteau, and Kathy Jetn̄il-Kijiner can be viewed on Perry World House's YouTube channel.