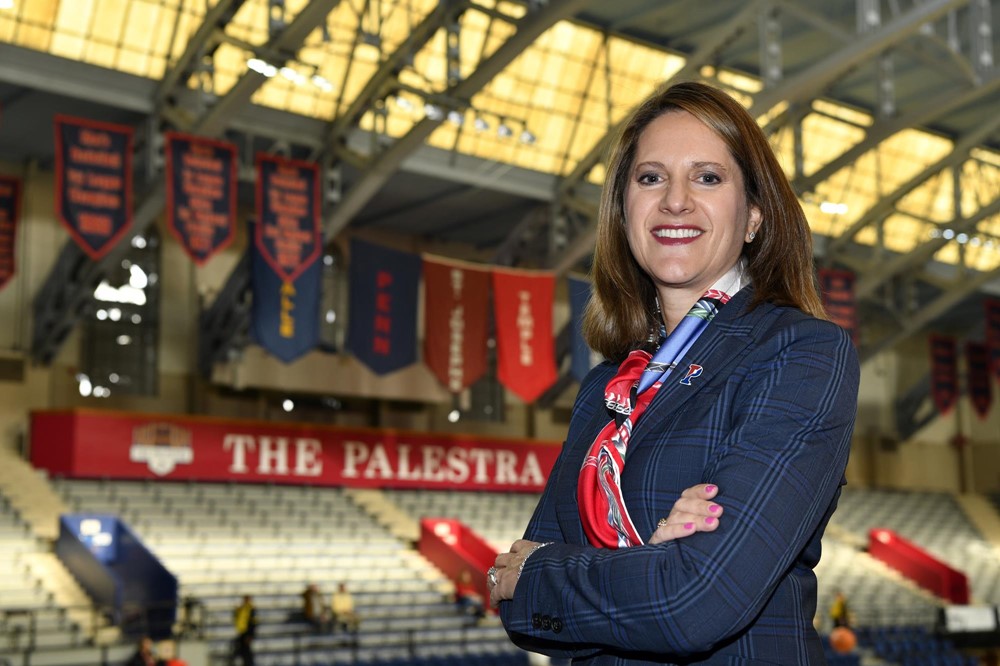 M. Grace Calhoun, the T. Gibbs Kane, Jr. W'69 Director of Athletics and Recreation at Penn, has been named to the 2020 class of "Game Changers: Women in Sports Business" by the Sports Business Journal. Honorees represent every sector across sports business, from teams and leagues, to agencies and sponsors, to technology companies and media outlets. Calhoun will be profiled in the Sports Business Journal on Oct. 19 and recognized during a virtual conference on Oct. 27. 
"It is a true honor to be recognized as a Game Changer in sports business, made all the more special being selected with a small handful of women in the college sports sector whom I have respected and admired for decades," Calhoun says. "Chairing the NCAA Division I Council during the coronavirus pandemic has been the most difficult and complex challenge of my career, but also the most heartening one, as I have watched leaders set aside differences and work together to best support the well-being of student-athletes. It is humbling to be recognized for this work and to be a part of a devoted team of athletics administrators working to lead the NCAA through this unprecedented period."
Calhoun is in her seventh year at Penn leading the University's 33 varsity athletics programs, 35 club programs, and broad-based intramural and recreational offerings for students, faculty, and staff.
In her first year as the chair of the NCAA Division I Council in 2019-20, Calhoun guided the organization through one of the most complex and challenging times in its history. While steady progress was made around student-athlete Name, Image and Likeness (NIL), and other top priorities such as transfer issues and financial aid, Calhoun has played a critical role in leading the Division I membership through the coronavirus pandemic. This has included weekly work to accommodate issues arising from the cancellation of winter championships and spring seasons. The work currently continues around the postponement of fall championships, and designing solutions that prioritize student-athlete safety and well-being while providing maximum membership flexibility as the Association endeavors to return to sports participation and competition.
As the chair of the NCAA Division I Council, Calhoun also serves on the NCAA Division I Board of Directors and NCAA Association-wide Board of Governors, where she has played an important role representing membership perspectives on the key issues confronting college athletics. Calhoun recently completed a two-year term as the chair of the Ivy League Directors of Athletics where she guided a "21st Century Review" of Ivy League athletics, and she is the current chair of the Philadelphia Big 5 ADs. She is also the vice-chair of PHL Sports Advisory Board, which brings together the area sports community to attract major sporting events to Philadelphia.
Calhoun's strong national and local leadership was previously recognized with the 2019 Under Armour Division I FCS Administrator of the Year Award by the National Association of Collegiate Directors of Athletics and the 2017 Division I FCS Administrator of the Year Award by Women Leaders in College Sports.