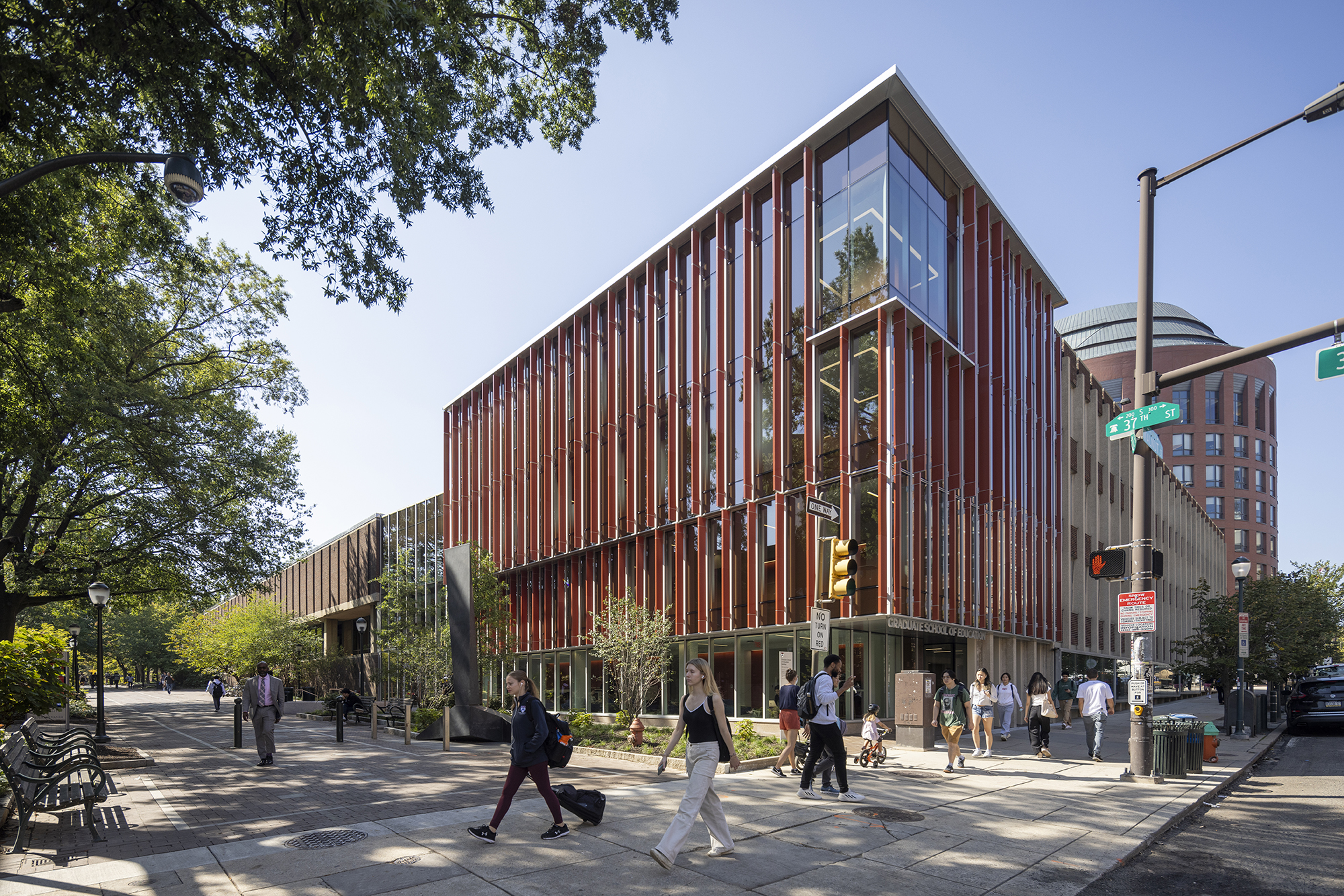 With the ceremonial cutting of a red ribbon at a new entrance on Benjamin Franklin's Way,  nearly 200 people gathered to celebrate the expanded and renovated University of Pennsylvania Graduate School of Education building on Walnut Street.
Designed to consolidate GSE's degree programs in one location, the $35.6 million expansion adds 16,200 square feet and includes 16,900 square feet of renovated and reconfigured space. The project connects two adjacent 1960s-era buildings: 3700 Walnut Street built in 1962 and last renovated in 2001; and Stiteler Hall, built in 1966 and last renovated in 1980.
"At Penn, having an outward-facing perspective is a pretty big part of our culture. For GSE, it is essential. You may notice the expansive use of glass in these buildings. This is by design. The people within these walls are always looking outside of them. Educators know that learning helps us understand others. It fosters empathy. It ignites imagination. And it helps us discover new ways to make the world a better place," Penn President Liz Magill said in front of the two-story windowed atrium.
"There is intention behind every single inch of this space. It was designed to encourage engagement far beyond Penn. GSE will bring people together from other Penn Schools, from the city of Philadelphia and beyond—all with the aim of imagining new ways of thinking and learning."
The groundbreaking ceremony was held in April 2022, and the 18-month construction was completed in August.
"Penn has the best graduate school preparing professionals across the wide expanse of education, which is the most vital element of society's growth and sustainability, and all of that magic happens in the brand-new building behind me," said Jeffrey McKibben, a 1993 Wharton School graduate, and chair of the GSE Board of Advisors.
The new spaces are "fostering collaboration and the sense of togetherness that is the core of Penn GSE's values," and "will not only enhance our teaching and learning, but also encourage creativity, exploration, and interdisciplinary collaboration," said GSE Dean Katharine Strunk.
"This new space isn't just drywall and glass and steel, rather it's the culmination of a vision that has been years in the making," Strunk said. "It is our response to the incredible growth we've experienced as a School over the last two decades and the evolving needs of our students, faculty, staff, and the wider Penn GSE community, both on campus and beyond."
GSE's student population has more than doubled to 1,600-plus since 3700 Walnut St. was remodeled 22 years ago. As a result, the workspaces for the GSE community were scattered across and beyond campus.
Former GSE Dean Pam Grossman, who stepped down in June, set her sights on an expansion and renovation when she came to Penn in 2015, starting the planning and fundraising for the project in 2017. It was her vision to create "One Penn GSE" by bringing the community together in a single building in the heart of campus.
"And that vision has today come officially to fruition," Magill said. "A unified, inspiring place for collaboration and for creativity. It's here that tomorrow's education leaders will help define new ways of teaching and of learning."
Previously there was very little space for students to gather, and it was Grossman's goal to improve the student and faculty experience. The project was designed by Annum Architects, formerly Ann Beha Architects, of Boston. 
"It came out even better than we could have imagined, really. This vision of bringing together the buildings, how it has created this entry into GSE, which is so different and so welcoming, it's really remarkable," said Grossman in an interview.
"Part of what makes me so happy is that it creates a space where people are all under the same roof," she continued. "There are so many spaces for people to get together and to run into each other and meet and talk and dream and plan. It fulfilled that dream of having a building that would bring our community together."
The project also creates a new home for Catalyst @ Penn GSE, the center for global education and innovation, and the new McGraw Center for Educational Leadership. 
The new connector adds the two-story glass entrance, a green roof, and makes the buildings accessible. It provides additional collaboration spaces that allow students to gain hands-on experience with new technologies and mediums, including an innovation studio, a makerspace, and a multimedia virtual reality lab.
New and renovated spaces include various student lounges, designated areas for doctoral students, and executive-format program students. Also included is a new faculty/staff lounge, new offices, and expansive event spaces.
A revitalized outdoor courtyard with new planter boxes and a long wooden bench is designed to serve as a social and academic hub as well as a quiet reprieve. Named for the late Edward M. Yorke, formerly a member of GSE's board and a 1981 Wharton graduate, the courtyard was also dedicated on Wednesday afternoon.
Strunk described seeing students sitting on that courtyard bench, and throughout new spaces inside the building, including in clusters of chairs that line the windowed walls looking over Franklin Walk, in the bright new study rooms, and in seating in the expansive atrium.
"You'll see our students laughing, discussing new ideas learned in class, and making plans together. You'll see them in community in a shared space that inspires them to think big and to dream big," Strunk said. "It's truly joyful and it's truly inspiring."