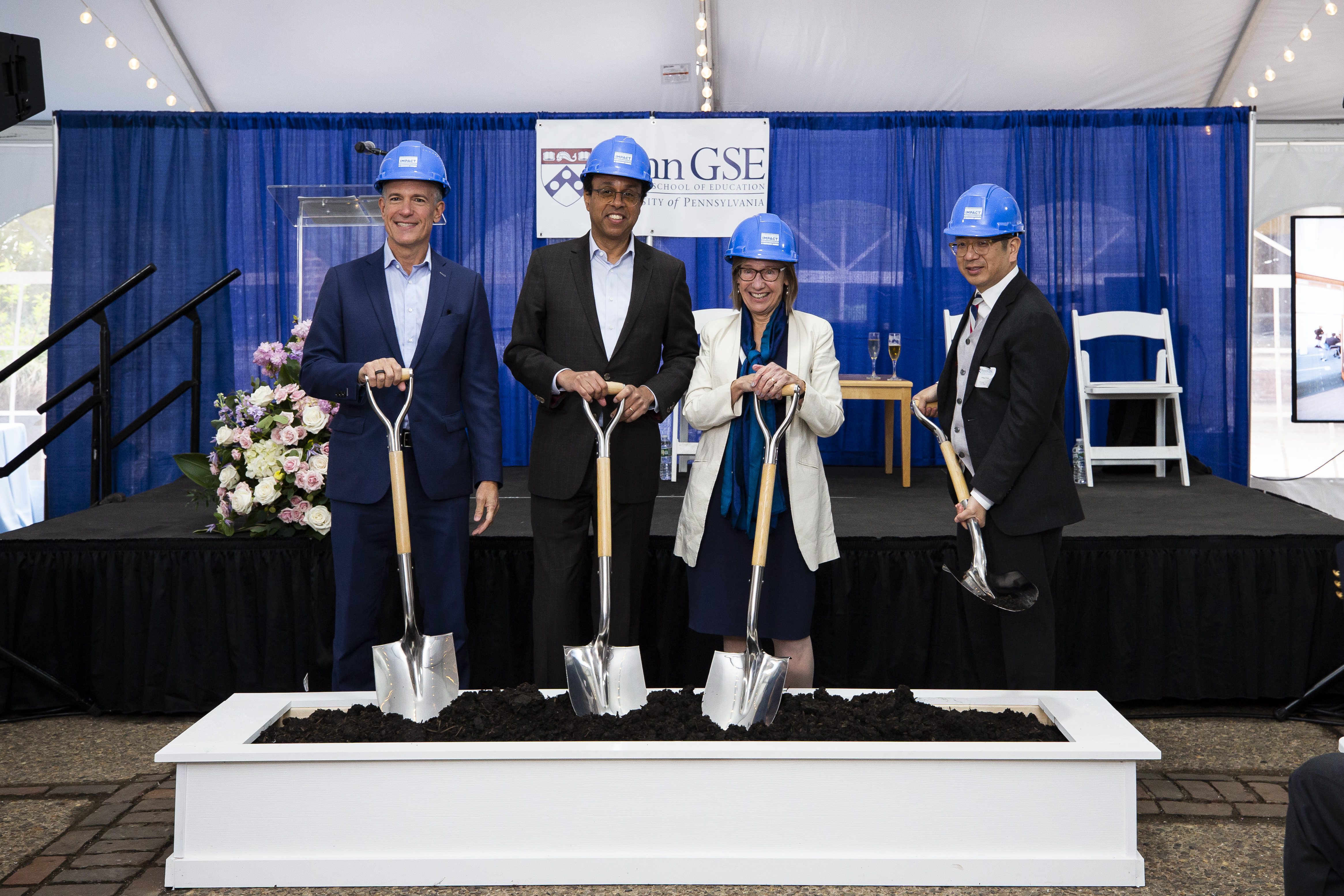 A major Graduate School of Education (GSE) construction project will connect and expand two adjacent 1965 buildings, significantly increasing the square footage and substantially reconfiguring the existing space. A groundbreaking ceremony this week officially launched the construction phase of the project. 
About 100 people attended the April 19 event, held in a tent in the courtyard next to the buildings at Walnut and 37th streets, just off Locust Walk. 
Heralding a "groundbreaking future for groundbreaking educators," Interim President Wendell Pritchett noted that this is the first major expansion since GSE moved into the building at 3700 Walnut St. in 1966. "The world has changed drastically in that time and so have our approaches to education."
When Pam Grossman became GSE dean in 2015, the school was already "bursting at the seams," she says, and she set her sights on an expansion and renovation, starting the planning and fundraising in 2017. The school's student population has doubled to 1,400 in the two decades since 3700 Walnut St. was remodeled in 2001. As a result, the workspaces for the GSE community have been scattered across and beyond campus. 
"It was clear that our 1965 building with its small classrooms and limited student space no longer matched the great ambitions of Penn GSE," Grossman said. "The expansion is going to create cutting-edge learning spaces for our students -- and fulfills our vision of a 'One Penn GSE' by bringing our community together in a single building here in the heart of the University of Pennsylvania campus, where our students, faculty, and staff can collaborate in new ways." 
The building expansion is coming at a critical time for educators and education, Grossman said, and also for Penn GSE, which was ranked as the top graduate school of education in the nation for 2023 by U.S. News and World Report. 
"We stand here today in a world we could not have imagined when this project began. At this moment, I would argue that preparing educators for what lies ahead is one of the most important undertakings facing higher education," Grossman said. 
"I think we're only beginning to realize the full impact of the past two years on our educational landscape. Young people are struggling. Teachers are struggling, leaders are struggling, and the very future of public education feels like it's at stake," she said. "So now is the time to reimagine education and reinvest in educators."
Construction for the $35.6 million project will start in May and is expected to be completed in August 2023, for fall occupancy. The central four-story building at 3700 Walnut St. will be linked with nearby Stiteler Hall, former home of the political science department. The new construction will be 16,200 square feet, including an expansion into a portion of the courtyard, and the renovated area 16,900 square feet, for a total of 33,100 square feet.
In addition to consolidating the two buildings, the project will create a new two-story glass entrance, provide additional collaboration space, make the buildings accessible, and create a new home for Catalyst @ Penn GSE, the center for global education and innovation now at 3440 Walnut St. The buildings also will house instructional laboratories, mixed-use classrooms, and offices.
Young people are facing a complex future that will require lifelong learning to keep up with an accelerated pace of change, Grossman said. Students and teachers will need support to navigate the impacts of racial injustice and political polarization, and to develop tools to foster inclusion and civic dialogue, she said, and educational leaders need to be innovative and entrepreneurial and work across boundaries to get students what they need. 
"At Penn GSE, we prepare the educators for the future," said Grossman. "Our expanded building will bring together the future teachers, leaders, researchers, policy makers, counselors, and innovators who have to work together as they prepare to reinvent education and change the lives and trajectories of learners of all ages."
Doug Korn, chair of the Penn GSE Board of Advisors, said this is a "pivotal moment" for GSE, founded in 1914, which will impact learners for generations to come. 
"The building expansion will provide a beautiful home for Penn GSE in its second century and position the School to continue to play an important role in changing the lives of millions of people for the better through education," said Korn, who graduated from the Wharton School in 1984.
During this period of construction, some class schedules will shift and faculty and staff will be accommodated through flexible scheduling, hoteling, and hybrid work as needed. 
Change and evolution are fundamental in education, Pritchett said, and require new tools, new technologies, and new social climates. The building expansion and renovation will ensure students are immersed in educational innovation, he said, allowing GSE to better prepare students who will catalyze policy and practice. 
Pritchett noted that the new structure features many windows, recalling a quote by journalist Sydney Harris: "The whole purpose of education is to turn mirrors into windows."
"Education should not merely just reflect our own beliefs and the current state of society back at us. Education must bring light to the dark corners of our world. It should illuminate our minds and help us envision new ways to create better societies for all," said Pritchett, who is on GSE's faculty as the James S. Riepe Presidential Professor of Law and Education. 
"That's why we have a lot of windows. This building is going to embody that idea in form and function. It's going be a landmark of learning, a launchpad for passionate educators who create windows to a better future."
Philip Chen, principal and president of Ann Beha Architects in Boston, said the entrances to the existing buildings currently face inward to the courtyard and the new design intentionally changes that perspective. 
"The GSE mission is the exact opposite of that posture. It's a school that's passionate about engaging in the campus, about engaging other schools, about engaging the city, and extending their influence through Philadelphia and really throughout the world," Chen said. "This building, this project, not only reflects that engagement, but it brings everybody together here in one facility, into a new home, that's accessible, sustainable, flexible, connective, and collaborative." 
Pam Grossman is the dean of the Graduate School of Education and the George & Diane Weiss Professor of Education at the University of Pennsylvania. 
Wendell Pritchett is the interim president and the James S. Riepe Presidential Professor of Law and Education at the University of Pennsylvania.