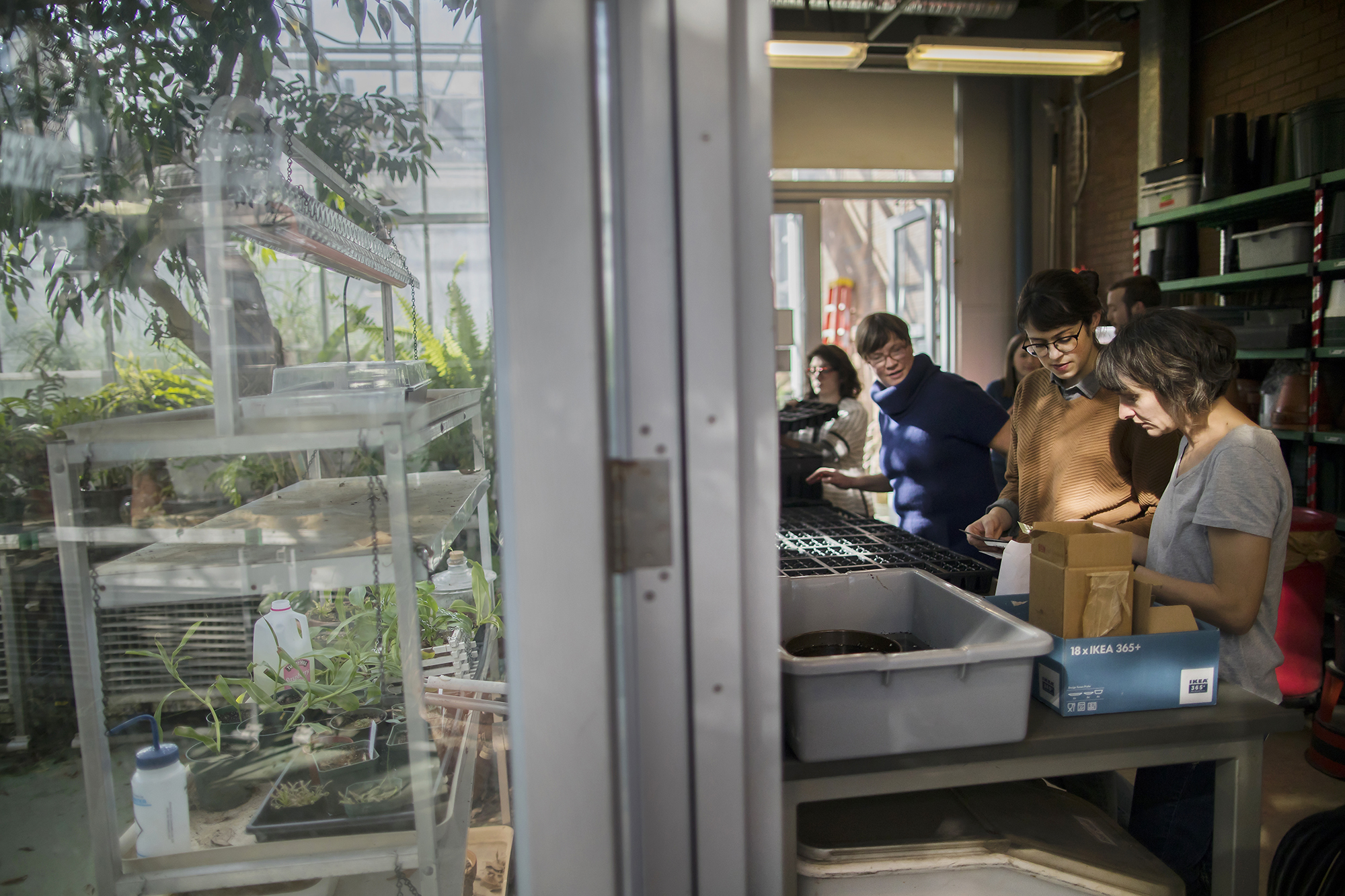 Up until 1936, when 38th Street was constructed, Penn's James G. Kaskey Memorial Park was connected to the Woodlands by a ravine, a grove of trees, and greenery. Both plots of land had once been part of the estate of William Hamilton, an influential botanist and plant collector for whom Hamilton Walk is named.
Today, staff from Kaskey Park, well known as the BioPond, and the Woodlands, a 54-acre park and cemetery just across University Avenue, are again connecting the two sites with plants—albeit on a smaller scale.
On a chilly, sunny day last week, staff from the Woodlands visited Penn's greenhouse in Lynch Labs for a tour and to start seeds of Victorian-era heirloom plants. In a few short months, these seeds will swell into blooms of snapdragons, sweet peas, pansies, foxgloves, and more, gracing the cemetery's 19th-century grave sites.
The Woodlands Grave Gardeners program, now in its third season, pairs volunteer gardeners with the park's cradle graves—tombstones with a bathtub-like extension—to plant them with lush flowers, as the makers had intended. In a new partnership with Penn, Greenhouse and Garden Manager Joshua Darfler and Greenhouse Coordinator Samara Gray will house and help care for the seedlings until temperatures have warmed enough for planting.
Darfler, appreciating the historic connection between the BioPond and the Woodlands, reached out to Jessica Baumert, executive director of the Woodlands, early in 2016, a few months after he started at Penn. After the Grave Gardeners program got off the ground later that year, Darfler gave lectures to the participating volunteers on seed starting and propagating woody plants and succulents.
"We developed a good working relationship," Darfler says.
When he got a call last fall from Starr Herr-Cardillo, the Grave Gardeners program manager, asking if the greenhouse could spare some space to help them get their plants started, he gladly agreed.
Herr-Cardillo earned her master's in historic preservation from Penn and, in addition to her role at the Woodlands, is a research fellow working with the School of Design's Laura Keim and Pamela Hawkes. Baumert floated the idea of launching the Grave Gardeners program to Herr-Cardillo when she was an intern at the Woodlands, and she took charge.
"I just loved the idea," she says.
In the first year, program managers anticipated roughly 20 volunteer gardeners, but received 75 enthusiastic applications, and welcomed them all. Last year, the numbers swelled to 150 volunteers. They receive training through a series of workshops on everything from designing and planning the garden to basic upkeep skills. At bimonthly planting days through the growing season, volunteers come to tend to their gardens and learn from one another.
To remain period-appropriate, the Woodlands staff worked with heirloom plant experts like Joel Fry of Bartram's Garden and Nicole Juday of the Pennsylvania Horticultural Society to select plant varieties that people visiting the cemetery in the 1800s may have planted at their families' grave sites.
"We're using plants that would have been available and fairly common during the Victorian period, which is a lot of old-fashioned cottage garden plants and, of course, roses and ferns and things like that," Herr-Cardillo says.
Back in the 19th century, the Woodlands served as a green oasis away from the dingy bustle of the city. By returning the Woodlands' cradle graves back to their former glory, the Grave Gardeners are doing their part to keep it as a peaceful and pleasing place of respite for city dwellers today.