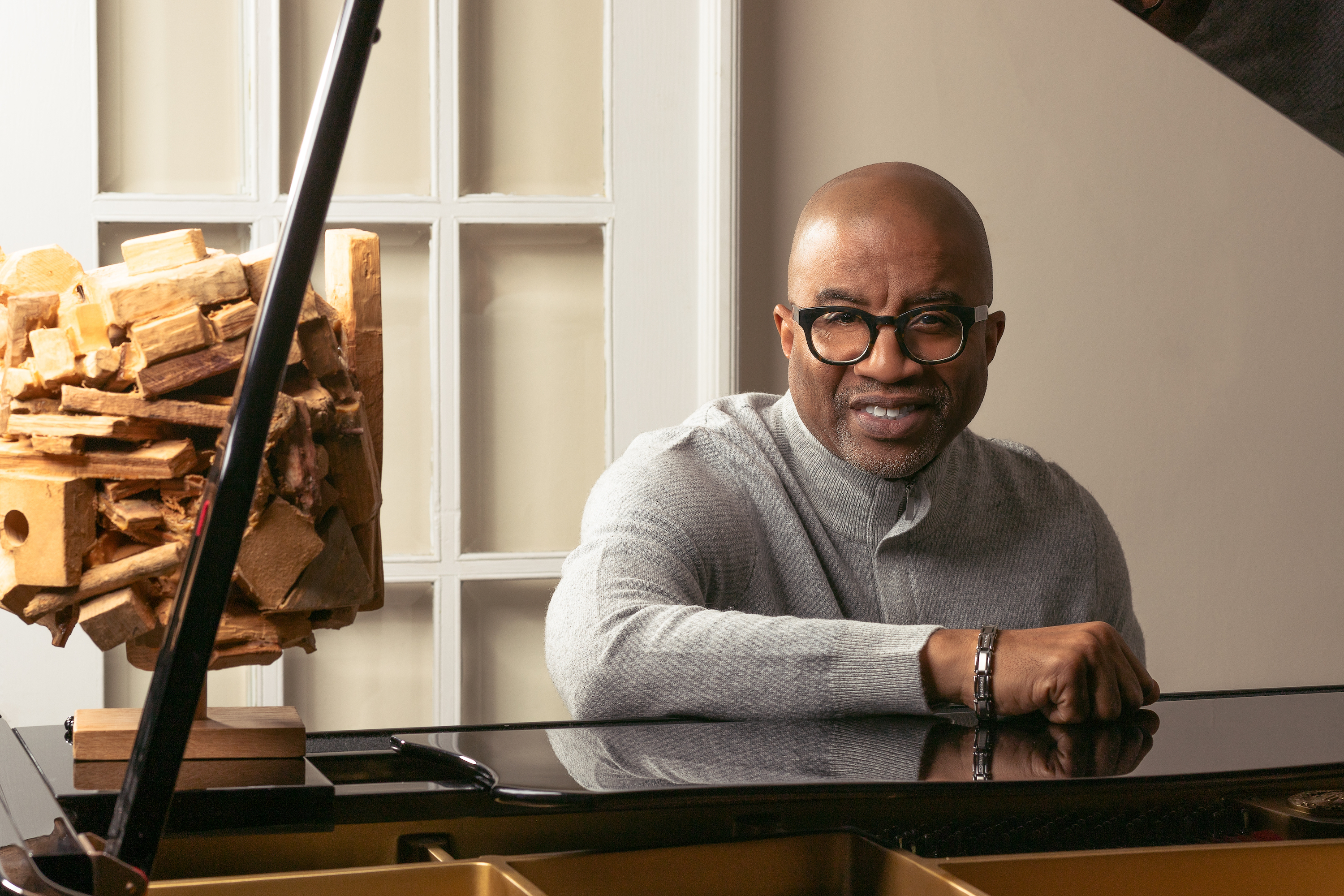 Diagnosed with cancer last year, Professor Guthrie Ramsey instinctively knew that creating music would be important to his healing. What he didn't know is that his composing and recording project would unfold during a global pandemic and an uprising against racial injustice. 
"Everything I'm working on right now is so pertinent to what we are all feeling right now," says Ramsey, the Edmund J. and Louise W. Kahn Term Professor of Music in the School of Arts & Sciences. 
Ramsey's new album, "A Spiritual Vibe, Vol. 1," is filled with songs that pay homage to musical partnerships throughout his career, from interpretations of hymns and spirituals he has sung since he was a child to a new original composition. 
And publishing this month is a book he edited and wrote the forward for, "The Heart of a Woman: The Live and Music of Florence B. Price," a first-ever biography of a pioneering African American composer. The book was researched and written by Rae Linda Brown, a mentor and friend of Ramsey's who died before completing the work, so he managed the publication.
The album and book are the latest in Ramsey's body of work, which includes previous music albums, music videos, books and articles, art exhibitions, as well as a podcast series that is part of the Musiqology blog he founded.  
"More and more what this moment is about for me is legacy, recovering the American Black histories that have not been told. This goes for the book and for the spirituals that have managed to be so durable through the years," he says. 
Music as education
This year, Ramsey, a professor at Penn since 1998, was elected to the American Academy of Arts and Letters. That election is "perhaps no better measure of his stellar career," says Timothy Rommen, chair of Penn's Department of Music. "We are all so fortunate to have been able to work, think, and teach alongside him these past years.
"Guy's career at Penn has seen him establish himself within the broadest possible range of music studies. He has also been a consistently supportive colleague and interlocutor across multiple departments here at Penn." 
Ramsey often teaches the American music history course he taught in the spring semester, although it wasn't until the last meeting that he shared with the 17 students that he was going through a cancer treatment. 
"A lot of what we talk about is what music means and how it expresses sentiments for us when words fail," says Ramsey. "So, for them to be in the midst of a pandemic—the entire semester moved online—they could really relate to the role of music in keeping their souls together, keeping their minds together, keeping them connected to one another because of the music we share."
Music as healing
"A Spiritual Vibe" brought Ramsey, a pianist and a baritone, back to his roots as a performer. He threw himself a birthday party at a recording studio two days before surgery last August. Family, friends, musical partners were all there, and he started laying some tracks. 
The period of radiation treatment and recovery he decided would be the perfect time to think about the music. 
"I know my process. I knew I would be listening to things and figuring out what to add while I was down. It was a gift to occupy myself," he says. "If I couldn't be teaching or writing a book, I would write my own music." 
Although he was also gathering material for an eventual book about the experience. Every time he went for one of his 39 radiation treatments, he kept a log, listening to the random Pandora playlist piped into the room. He already has a working title: "39 Days of Black Radio."
The course of treatment ended in February, and just as he was gearing up to finish the album the pandemic restrictions went into place, followed by the Black Lives Matter protests. With social distancing required, he had to take a new approach to the unfinished tracks. 
He reworked the song "Motherless Child" as a solo piece instead of the planned performance by four singers and a full band. He created the piano accompaniment on his home computer with music software. A solo vocalist, Vince Anthony, who has been a main musical collaborator and is featured in several songs on the album, laid his track in a recording studio. A sound engineer pulled it all together. 
"The traces of the pandemic are in that piece. It was one of the last I was going to record, and when we shut down I could no longer do that," he says. "We worked out a way in real time for me to hear what they were doing. They sent the final track back, and I loved it." 
Music as relationships
The album is deeply personal. "I wanted to document my musical partnerships," Ramsey says. "Music is about our human desire to feel social relationships, and music is one of the ways we experience that." 
His relationship with his daughter Bridget, a trained classical soprano, is central to a signature piece on the album, "Oh, What a Beautiful City," a song Ramsey says is special to him because "it was the first song I heard as a child that made we want to go to heaven." 
And the song also includes his son Robert, a tenor. "I've done music with my family from day one. Even now I direct my granddaughter's choir at church. It is a family and relational thing with me," Ramsey says. "It's very spiritual. It's who I am and who we are as a family."
The music video features Ramsey wearing a mask, driving alone in his car and stopping to take photos of historic locations throughout Philadelphia—Girard College, Uptown Theater, Temple University's McGonigle Hall—and juxtaposing photos from protests in the 1960s and 1970s. "I wasn't comfortable being the only one in front of the camera, and it wasn't my first choice, but it is a pandemic, and we had to do a socially distanced video," he says. 
His original composition, "Think on These Things," featuring vocals by his daughter with him on the keyboard, is a musical response to a line of scripture, Philippians 4:8, sent to him from a friend who knew about his health challenges. "Everything becomes significant," he says. "So, I set it to music." 
The track "Wade in the Water" he describes as "my favorite Negro spiritual, one I heard as a child as a choir student in high school." The 12-performer arrangement is based on a live performance featuring singers, poets, and dancers interpreting the first three chapters of a book he is writing about the history of Black music in America titled "Soundproof: Black Music, Magic, and Racial Intimacies." He created the performance as the Provost's Lecture on Diversity he gave at Penn in 2018.
St. Paul's Baptist Church in North Philadelphia is a community central to Ramsey's life, led by Pastor Leslie Callahan, a former assistant professor of religion at Penn. While putting together a virtual church service during the pandemic, Ramsey reached out to several musicians, including his roommate from Northeastern Illinois University, Rod McGaha, a trumpeter who has been his friend for 40 years. The solo of "Amazing Grace" is the centerpiece of Ramsey's interpretation.
Music as inspiration
The "Spiritual Vibe" album, Ramsey says, represents persistence. And Volume 2 is already in the works. "It represents that I am as of March cancer free. It represents total victory for me," he says. 
"I love that it is speaking to people at a moment where nerves are frayed, and people feel hopeless, and people need reasons to fight for freedom, and they are listening to my music and looking at the videos and getting strength and inspiration. It is all I could have asked for and more."