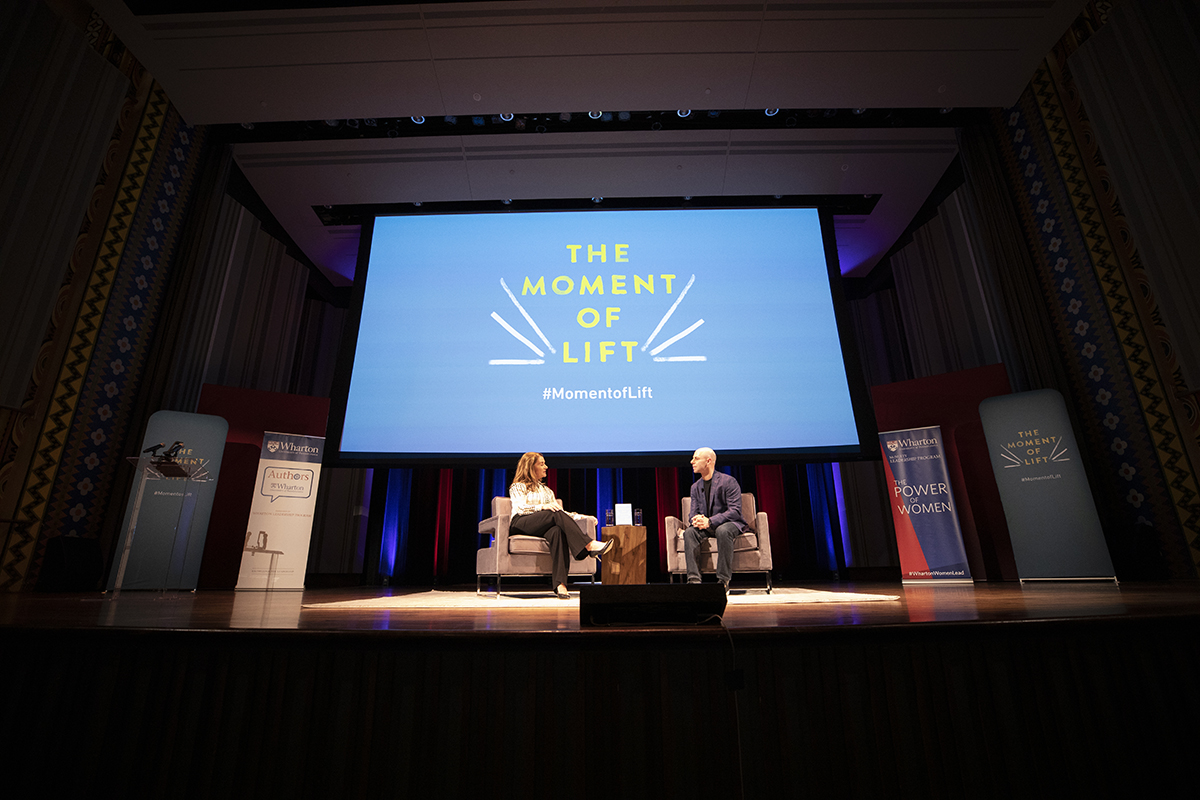 During a trip to Malawi a few years ago, philanthropist Melinda Gates watched as villagers sorted through cards detailing different jobs—cutting wood, fixing the roof, cleaning the house, working in the fields, making meals—and divided them by gender. Which jobs did husbands and sons do? Which jobs did mothers and daughters perform?
When the deck was completely separated, there were three or four cards in the men's pile. The women's had more than 30.
"Oh my God. I thought we were going to have a riot," Gates said on April 25 during a public conversation with Professor Adam Grant at Irvine Auditorium, as part of the Authors@Wharton Speaker Series. "It opened the women's eyes to all they do and their daughters do. And we started to have a discussion of what the men do in their free time and the more the women talked, the angrier they got."
Gates began thinking of ways The Bill and Melinda Gates Foundation—the global charity founded by her and her husband/Microsoft principal founder Bill in 2000—could help empower those women. After all, she thought, women in the U.S. were already empowered. 
Then she thought, were they?
Less than 24% of Congress are women. Less than 5% of Fortune 500 CEOs are women. Less than 2% of women can get their business funded by venture capitalists. Less than 1% of women of color can get their business funded by venture capitalists," she said. "I started to look at all the systematic barriers to the women in the developing world—we can see our cultural barriers—but sometimes we can't see our own."
In her first book, "The Moment of Lift: How Empowering Women Can Change the World," Gates shares her experiences helping women from around the world better their circumstances and suggests ways others can follow her lead. Long-term, positive change doesn't require giving away millions of dollars. Instead, people should look in their homes, workplaces, and communities to find ways to lift women and to provide equal work, education, and life opportunities.
"If we expect more," Gates said, "and look back at where we've been and where we'd like to go, I think we'll all change and create what we want in our society in the United States."
Introducing Gates, Penn President Amy Gutmann called her "a woman who is devoting her life to making our world healthier, safer, and more sustainable." She also urged the audience of Penn community members to take Gates' message—that when you lift up women, you lift up humanity—to heart. 
"I want all of us at Penn to consider committing to the lift," Gutmann said. "We are honored, we are privileged, and we are uplifted by having Melinda Gates, champion of the power of women and the power of giving, to men and women alike across the globe."
During their hourlong conversation, Grant asked Gates how she became interested in computers (Her first coding project, in high school, involved a square smiley face that moved around the computer screen to the tune of "It's a Small World"); choosing a job at startup Microsoft instead of established IBM (A recruiter told her she'd be able to advance more quickly at a newer company); and impressing her then-boyfriend, Microsoft principal founder Bill Gates, by beating him at two games of "Clue" ("He said, 'What's your strategy?' I said, 'I don't know. I just know how to play.'"). 
Gates also shared stories from her personal life that showed the small ways she and her family divide work. Studies show that while 47% of the workforce is women, women still put in 90 more minutes of extra unpaid labor—cleaning, caretaking, and grocery shopping, for example—than men.
"Unless we all look at that and recognize it and say, 'Yes, there are tasks to be done at home and tasks to be done in the workforce … but why do we have these biased assumptions of who takes the garbage out? We tend to think of women doing the laundry. What do our TV commercials tell us?" Gates said. "We need to recognize it and then we have to figure out how to reduce it and redistribute it in our homes so the burden of labor is done by both people."
When the Gates' oldest daughter was preparing to attend kindergarten, Melinda Gates said she wasn't excited about spending so much time driving her back and forth. Bill Gates began doing the drop-offs and pickups twice a week even though it doubled his commute time to his office.
"Once he started doing it, a few weeks in, one of the moms kind of sidled up to me and said, 'You notice anything different in the last couple of weeks?'" Melinda Gates recalled. "I said, 'Yes. So many dads are coming to drop off their kids.' And she said, 'Yeah, we went home and said, "If Bill Gates could drive …" 
The rest of her response was drowned out by the audience's applause.
Another example from the Gates' home life: Every family member who enjoys dinner helps do the dishes. The Gates' have three children, the youngest of whom is 16.
"We do dishes together," she said. "Bill's a great dish washer."
Then Gates noticed that, after the dishes were washed, her family disappeared and she was left with other tidying jobs. One day, she decided that had to end.
She said, "Nobody leaves the kitchen until mom leaves the kitchen."
"They started figuring out what had to be done. So what used to take me an extra 15 or, 20 minutes and I'd come upstairs, exhausted, turned out to be something we could all do it in five minutes and boom! Everybody could go upstairs," she said. "Sometimes you just have to name what you need."
The conversation wrapped up with Gates urging the audience to reexamine their home, work and community lives. The message resonated with attendees like Wharton MBA student Amritanshu Mishra.
"It's important to hear things like this from people like her because it makes you more cognizant of them in your day-to-day life," Mishra said, noting he planned to go forth and try to "be more respectful of those differences, be more respectful of where the gaps are, and make a conscious choice or decision to erase those gaps.
"Like she said in the end, it's the small steps you take, in your home, at your job, in your community, that will leave us in a better place."
Adam Grant is The Saul P. Steinberg Professor of Management and professor of psychology in the Wharton School.
Story by Natalie Pompilio. Photos by Philip Flynn.