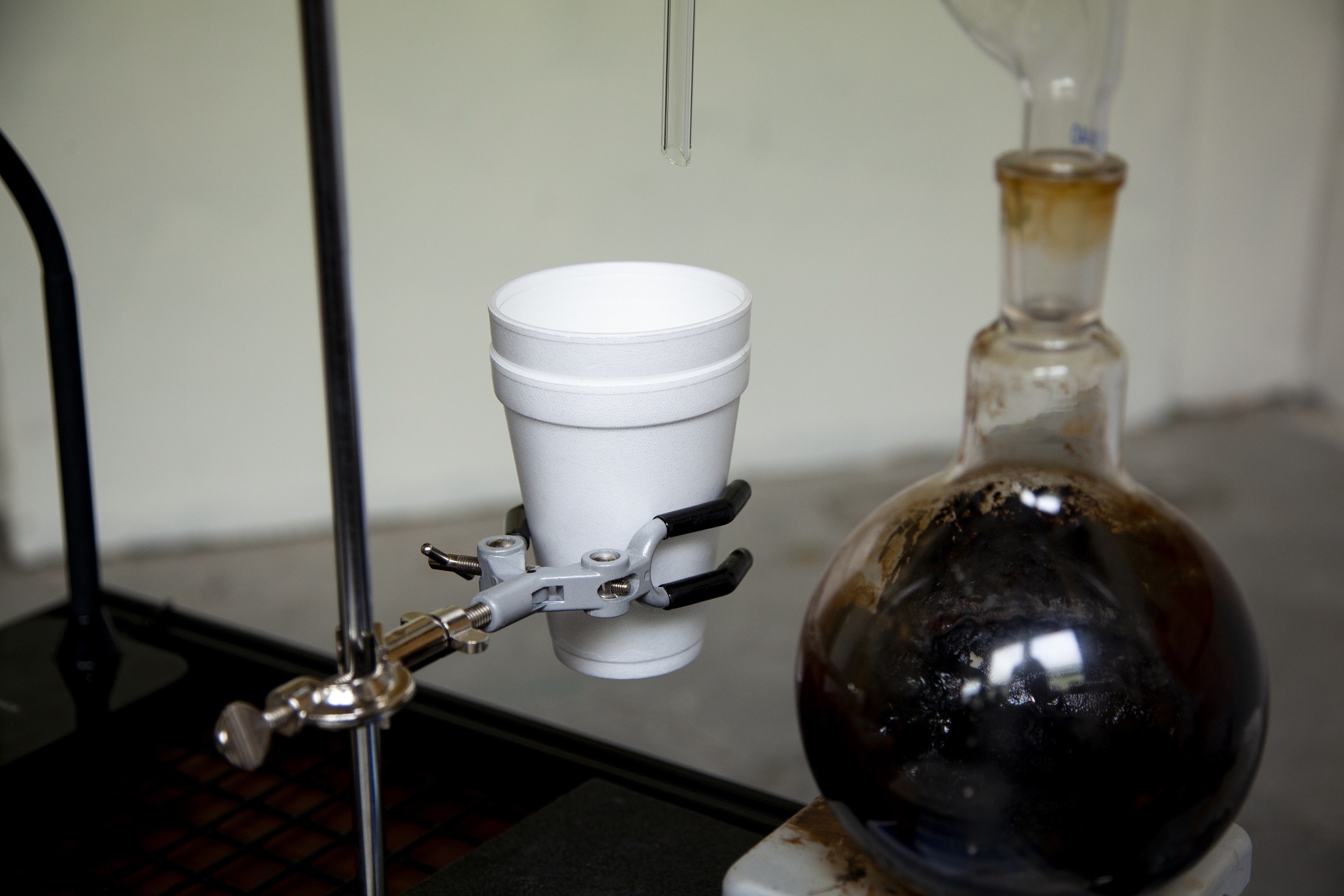 Graduating from any program comes with celebration of accomplishments and excitement for the future, but also tends to be followed by a period of stasis—a stage of "What's next?"
Or, as a group of recent Master of Fine Arts graduates coin it for their group exhibition in Brooklyn, New York City, opening this Friday, July 26, it is a "holding pattern." 
"We're a bunch of artists in a similar moment," says Fred Schmidt-Arenales, a recent MFA graduate and participant in the exhibition. "That's a contextual theme of the show; it's not a theme based on the content of the work. And I think the title, 'Holding Pattern,' speaks to that a little. We were thinking of a tongue-in-cheek way to reference the period after school and the summer after you graduate when you kind of look at if you're going to move, job prospects, or finding a studio, these kinds of things."
"Holding Pattern," on display at Studio 10 through Aug. 9, is an exhibition featuring 11 recent graduates of the Stuart Weitzman School of Design's MFA program and partly supported through funds from the MFA program of the Department of Fine Arts and The Sachs Program for Arts Innovation. The exhibit is curated by Ken Lum, a professor and chair of the Fine Arts Department. The students collaboratively decided to put on the exhibit together—eying it as a New York debut for some of them—and proposed the idea to the Fine Arts Department and Sachs in hopes of securing funding. 
They ultimately did, and were also lent outreach and planning support from Lum, who emphatically says he's "proud of showcasing Penn graduates."
"This is a kind of debut as a post-graduate," Lum says of the exhibit, which is additionally curated by Matt Freedman, a senior lecturer in the Department of Fine Arts. "I think the work is exciting; it has a real energy to it and they display a lot of the results of working hard over two years at Penn."
The pieces in the show are largely video, floor sculptures, or hanging pieces, says Schmidt-Arenales. 
"We don't have a lot of painters or more traditional mediums [in our group]," he explains. "We have media work or conceptual work."
For example, Schmidt-Arenales will show a video titled "B-29, you are my sunshine," which features two interviews he conducted in the past few years. One is with his grandfather, who was stationed in Japan after World War II as part of the U.S. Army Counterintelligence Corps. Schmidt-Arenales says this part of the military was responsible for a large-scale purge of Japanese Communist party members.
The other subject of the video piece is a man he met during a trip to Tokyo. He was part of the unionizing efforts in the energy sector during the same time period Schmidt-Arenales' grandfather served, and was a member of the Japanese Communist party. 
Those interviews are intercut and interspersed with footage relevant to the time period, displaying architecture left behind from the U.S. occupation and various contemporary military facilities in Tokyo. Accompanying the video are a series of photographs reproduced from negatives that his grandfather took in Japan during the occupation. The whole piece takes about 25 minutes to experience, he says.
Texas native Fields Harrington, another exhibitor and recent MFA graduate, will show an installation inspired by chemical engineer Norbert Rillieux, who invented the multi-effect evaporator; Frantz Fanon, a psychiatrist and political philosopher; and DJ Screw, a Houston-based hip-hop DJ active in the 1990s. 
After learning about Rillieux's invention of the evaporator, which was invented to distill sugar, Harrington was inspired to experiment on his own. 
"I wanted to try to develop my own distillation system," he says. "I consider Norbert Rilliuex's invention of the multi-effect evaporator as an example of black secret technology. His invention sits somewhere between myth and alchemy. Instead of focusing on sugar, I distilled cough syrup and Sprite to see if I could capture the essence lean."
The piece is three parts: a distillation system; an audiotape of a playlist compiled while researching the piece, with lectures from Hortense Spillers, music by DJ Screw, among others; and, finally, a video of a soap dispenser unresponsive to black skin. The latter component of the installation poses the question to audiences "How is technology racist?" 
These works will be displayed alongside the works of Anthony Cerilli, Rami George, Nova Gothlin, Zach Hill, Danielle Kovalski, Carolyn Lazard, Xiaoxuan Liu, E. Aaron Ross, and Mengda Zhang. An opening will be hosted from 6 to 9 p.m. on Friday, July 26. 
Lum notes that part of what makes Penn students' work so engaging is that they're not only aesthetically interesting, but come with strong academic insights and intuition. 
"Our students are smart," he says. "They think politically. [The work] is inculcated with thoughts about the world as it is and maybe shouldn't be, and so on. They're dealing with a lot of big questions through their art."