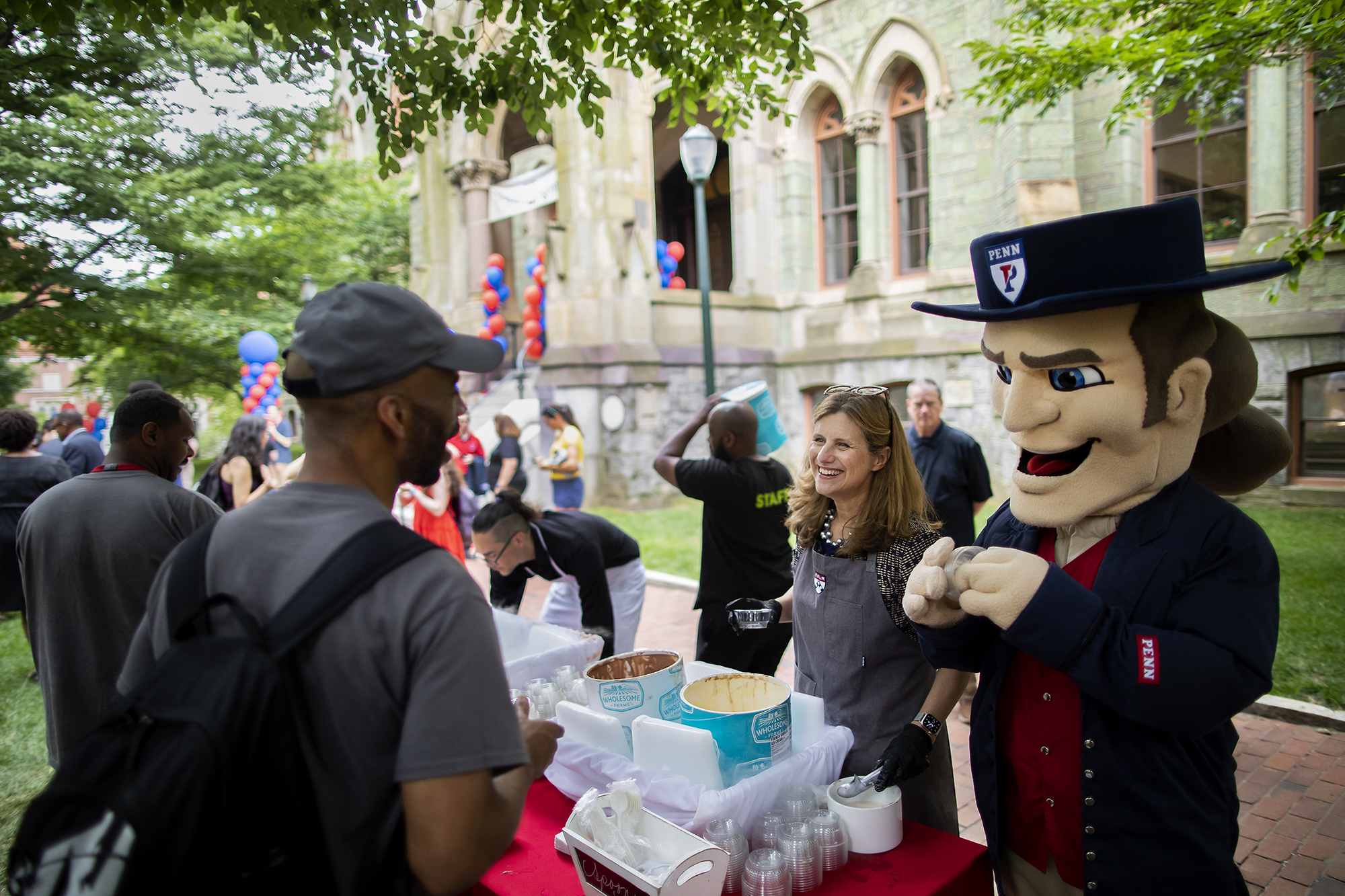 For nearly three decades, Sylvia English has worked at Penn. An admissions officer at the School of Nursing, she has helped support the transformative tenures of both Judith Rodin and Amy Gutmann. Now, English says she's looking forward to getting to know Penn's newest president, Liz Magill. 
Magill, who officially began her duties as the University's ninth president on Friday, July 1, hosted a laid-back ice cream social for faculty, staff, and students on College Green the day after the Fourth of July holiday. English, sitting next to the Benjamin Franklin statue with her colleague Tina Dy, said she was thrilled to be there.
"President Magill even scooped my ice cream," said English. "I said to her, 'It's nice seeing you here,' and she said, 'It's just a lot of fun.'"
Dy, who started working as an academic affairs coordinator at Penn Nursing six months ago, said she was happy to be out and about during lunch on the warm summer day. 
"It's good to have an opportunity to see everyone enjoying themselves," English agreed. 
For an hour and a half, Magill met and talked with hundreds of members of the Penn community. In a passing conversation, Magill said she never had a real job as an ice cream scooper, but coming from a big family, she has a lot of experience with the task. 
"I have a great metaphor for it," said the smiling Reginald Kwarteng, a rising sophomore studying biology, "She's really willing to serve the Penn community!"
Kwarteng, from the Bronx, is on campus for the summer conducting research in Doris Wagner's lab. On a break with friend Sarah O'Konski, a chemistry major, they enjoyed two scoops of ice cream each and posed for a selfie for social media with Magill. 
"It is so nice to have that personal connection with the president; it's important that people in the administration get to see who is actually in their student body," said O'Konski, from Wilkes-Barre, Pennsylvania. "And President Magill even complimented my Red Hot Chili Peppers T-shirt."
On a break from scooping, Magill chatted with Alexander Chmielinski, a third-year student at Penn Dental Medicine. Chmielinski, who has his undergraduate and master's degrees from the University of Virginia, recalls meeting Magill a few years ago in Charlottesville when she was provost and executive vice president at UVA.
"It's a blast from the past," Chmielinski said, before heading back to work.
Just over 2,000 people came together outside for the ice cream event, where administrators joined Magill to dish out five different flavors (including a vegan option), as well as an abundance of toppings. Many remarked at the big turnout. 
"I didn't realize so many people would be on campus during the summertime," said Dy, to which English answered: "This campus never sleeps."
View more images on the University of Pennsylvania's Flickr page.