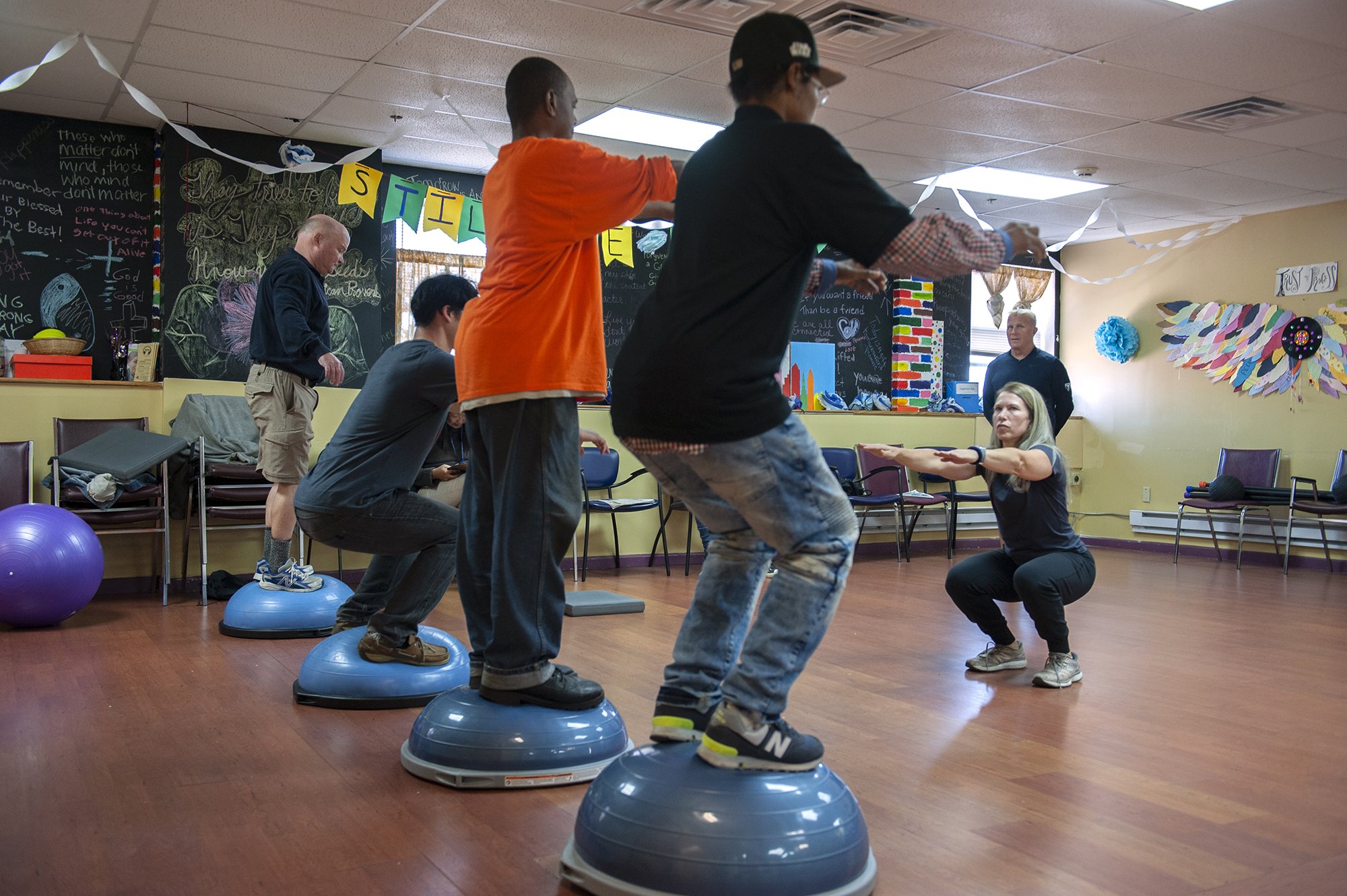 Penn Medicine CAREs is a grant program designed to provide monetary support to volunteers who serve the community outside of their day jobs. The diverse projects funded by the program are a snapshot of the efforts of Penn Medicine community members who devote their time and talents, in partnership with nonprofit organizations and grassroots efforts, to improving the quality of life in their communities. 
In 2012, its first year, the program had 43 applicants and awarded 24 grants. It has grown significantly since then. Last year, 316 volunteers submitted applications and Penn Medicine CAREs awarded grants to 136 projects. Since its start, the program has awarded more than $600,000 to upwards of 630 projects—giving Penn Med employees, students, and faculty the resources for their outside volunteer efforts. 
"The best part of my job is meeting these people who are employed by Penn Medicine and give so much to our shared community," says Laura Lombardo, manager of community relations for Penn Medicine, who oversees the CAREs grant program. "They work 40-plus hours a week, take care of their families, and still make an effort to help their neighbors, or serve in an area where they have a burden or passion to help. These employees carry a spark of humanity with them that we all should strive to emulate."
Improving health in a meaningful and lasting way is at the heart of Penn Medicine's missions. Even in these challenging times, J. Larry Jameson, dean of the Perelman School of Medicine and executive vice president of the University for the Health System says, this work continues in communities across the region.
"Individual well-being is rooted in healthy communities," says Jameson. "Serving our neighbors and promoting the health of the community is at the core of our mission, and the Penn Medicine CAREs grant program supports our faculty, staff, and students who embody that mission even outside our institution's walls."
Explore photos, animated graphics, videos, and more in Service in Action, the new digital 2020 Penn Medicine community impact report.
The selection process
The Penn Medicine CAREs grant program is open to every Penn Medicine staff, faculty, and students, who seek to address a community health need. Representatives from across Penn Medicine review applications and, according to Lombardo, award grants based on "the quality of the program, the needs of the community it aims to assist, and the potential overall impact of the project."
Penn Medicine will award grants up to four times a year for expenses directly related to community outreach activities. The grant funding can be used for projects big and small, for new or existing community outreach efforts. 
"Past programs have helped students purchase textbooks, receive SAT and college readiness tutoring, and provide outpatient care to those people who would not have seen a clinician without the efforts of the Penn Medicine CAREs grant," Lombardo says.
For this current grant cycle, according to Lombardo, coronavirus-focused programs were given top consideration in the spring's application review.
"We are prioritizing projects that deal with reducing the effects of COVID-19 in the community," she says. 
According to Lombardo, for this last round, there were 22 project funded offsetting the impact of COVID.  "Some of those project included getting seniors set up with technological devices so they can keep in touch with family and friends to stave off social isolation; ensuring no lapse in prescription service during time of COVID by mailing chronic disease medication to vulnerable patients," she says, "and providing families with educational and creative packets to entertain and educate children and offer parents a quiet moment."
Lombardo hopes to see the program grow and expand in the future with more resource, impact and volunteer effort.
The programs
There are more than 300 volunteer programs spanning communities across Penn Medicine's entire service area, from metropolitan Philadelphia to the suburbs, to rural Lancaster and Chester counties, to southern and central New Jersey. The program funds efforts which support a broad array of community health needs. 
"Health is widely defined to include the social determinants of health, as well," Lombardo says.
Penn Today takes a look at some of the programs. 
West Philadelphia Alliance for Children
A program which has been around since conception of the Penn Medicine CAREs grant, the West Philadelphia Alliance for Children (WePAC) provides programming, books, and volunteers for the public schools that are not funded by the Philadelphia School District and to steer the children into reading. The grant helped purchase a collection of books to help children with healing and emotional trauma.
Janet McMaster, now a retired nurse, was working as an outpatient practice coordinator in trauma and surgical care at Penn Presbyterian Medical Center (PPMC). McMaster has volunteered with the program for the past seven years. 
"I love reading," she says. "I grew up in South Philadelphia and the local library was my refuge. So, I believe in getting children to read early is so important, because it is believed that kids exposed to reading at an early age decreases their chances of becoming a trauma patient later in life."
McMaster has also engaged more nurses from PPMC to host reading cafes throughout the year for elementary school kids.
Ballroom Dancing for a Better U
The Ballroom Dancing for a Better U program is an existing nonprofit organization encouraging dancing to foster positive changes in people's lives. 
Stephanie Yellin is a sports medicine physician at Penn Medicine who volunteers with the program. The grant helps fund dance sessions for a group of up to 20 special-needs teens and adults. 
"The Penn Medicine CAREs grant was designed to provide monetary support for different groups in the community that are embracing the Penn philosophy," she says. "This organization, in my opinion, really fits the bill, because we are reaching a need for people that are underserved in a way."
Grape Leaf/Language Navigator
Zipporah Ngarama is a social worker at Penn Medicine Lancaster General Health. Ngarama's Grape Leaf/Language Navigator Program provides culturally sensitive intensive case management services and resources to refugee and immigrant families. Ngarama's grant helps to bring translation services to the program. 
Ngarama says interpreters who communicate in the various languages represented in immigrant communities play an important role in helping people access social and health services.
"I am truly grateful for the grant that was awarded to Grape Leaf Empowerment Center, because we now have a resource for incentives for both the client and those community members that are bilingual from other parts of the world," she says. "We can now confidently communicate with them. I have been able to help out by networking with the intention of finding the corresponding bilingual community members that are not only able to translate, but willing to do so for a token of appreciation."
Fitness in Recovery
A promising program awarded a grant last year and again this year is the Fitness in Recovery (FIR) Program. Addiction and athleticism serve as a catalyst for this program. According to FIR's co-founder, Sidra Ghafoor, who is also a fellow in addiction psychiatry at Penn, the program helps recovering addicts achieve physical fitness by participating in group workouts and developing a sense of community. 
"FIR is a 501(c)(3) nonprofit that offers specifically designed movement sequencing as dosed-exercise to change state, regenerate neuropathways, and accelerate systemic addiction recovery," she says.
Ghafoor said the program nurtures a sense of family and transforms the participants' fitness through its unique programming designed by John Breen, FIR's founder and current high-performance coach of Penn's sailing team.
"All you need to do to get involved is take the first step and show up for a workout," he says. "Once you are involved, you will see there is a lot of love and support in this community."
FIR is also open to those who are sober and those supporting people in recovery. The funds from the grant help secure workout space, purchase equipment, and pay instructors.
To learn more about the ways that Penn Medicine engages with local communities to support public health, including through the CAREs program, visit Penn Medicine's Service in Action website to read, watch, and explore more stories.
Homepage photo: Penn Medicine faculty, staff, and students donate their time and expertise to improve the health and well-being of people in the communities they serve. (Pre-pandemic photo)