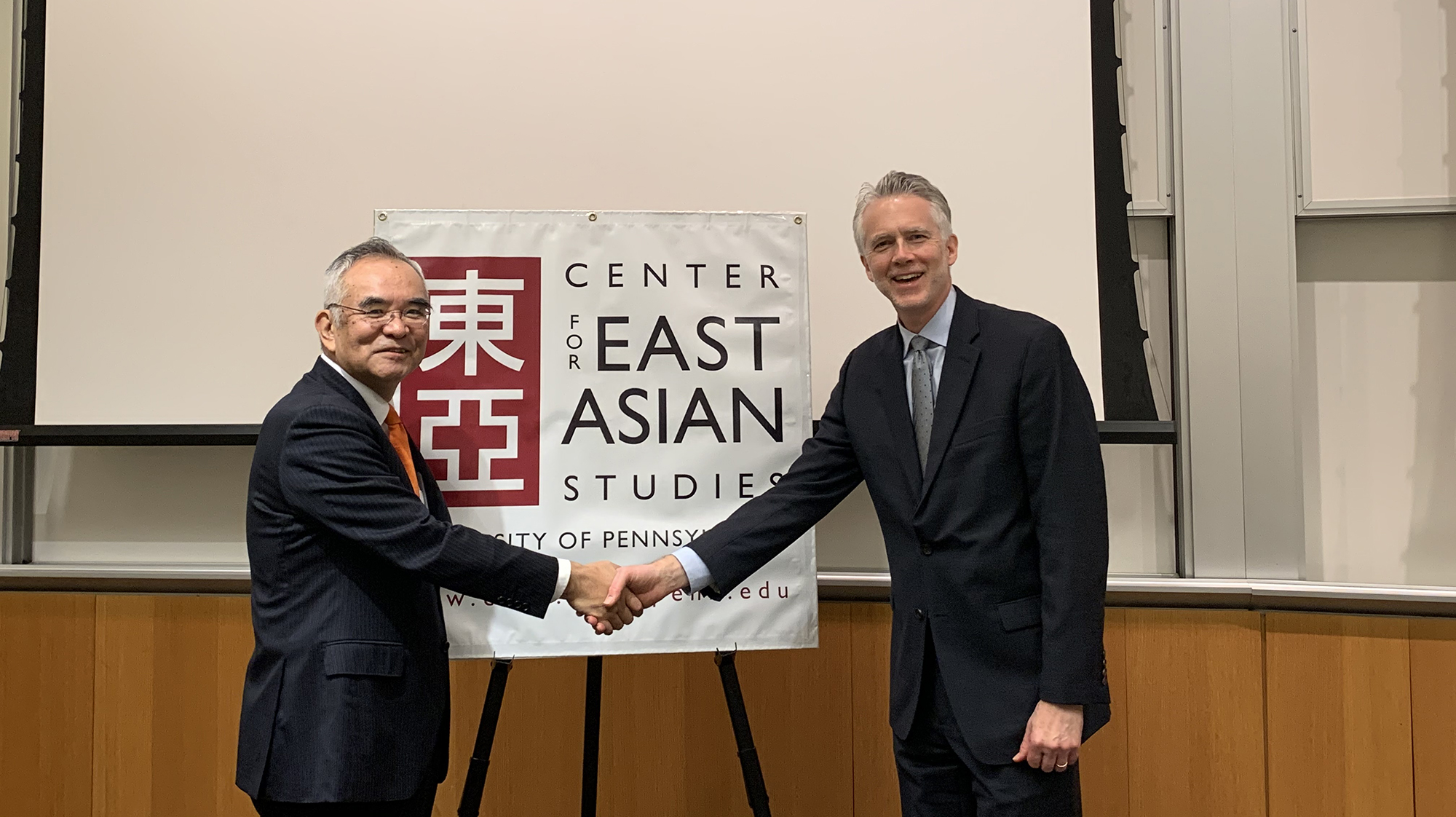 In a campus visit on Tuesday, Nov. 12, the first from a consul general/ambassador of Japan in more than 10 years, Ambassador Kanji Yamanouchi delivered a 50-minute lecture at Huntsman Hall to students about the past, present, and future of Japan-U.S. relations. 
After a playful introduction from Japanese Honorary Consulate General in Philadelphia Dennis Morikawa, who joked about their shared passion for rock and roll music (they'll play together at the Subaru Cherry Blossom Festival in April at Fairmount Park), Yamanouchi set the tone for his talk by repeating a quote from Prime Minister Shinzo Abe:
"The Japan-U.S. alliance is the cornerstone of Japan's diplomacy and security," he said, reiterating Abe's remarks from 2017. 
"This is the nature of U.S.-Japan relations today," Yamanouchi added. 
Yamanouchi led his talk with reminders of Japan's special relationship with Philadelphia and the U.S. at-large, projecting images of moments symbolic of the two countries' connection—including some from the 1876 Centennial Exposition held in Fairmount Park, now home to Shofuso Japanese House and Garden, housed on the site of the Centennial.
Significantly, one photo from his presentation's collage pictured President Donald Trump and Prime Minister Shinzo Abe golfing together, and another portrayed Abe and former President Barack Obama standing over the National Mall, showcasing the closeness of the nation's leaders—a point Yamanouchi would return to again several times in his lecture. Among the collage of images Yamanouchi showcased was a recent photo of a Toyota truck he said was proudly described by Texans as "an American car" because it was manufactured in San Antonio. He contrasted that with the tensions of 1989, when autoworkers in Detroit were, he said, "so frustrated, so they … got a hammer and smashed the Japanese car."
"This is a totally different picture of today's Japan-U.S. relations," he said, going on to explain a relationship that is "deep and wide" between the two nations.
He also highlighted three numbers: five, which is the number of golfing trips Trump and Abe have made together; 14, the number of face-to-face meetings the leaders have had since 2017; and 32, which is the number of telephone calls they've had. 
"This is amazing communication," he added, then pointed to a diverse talking-points agenda for a meeting held between the two—with issues covering everything from North Korea to outer space.
As for trade tensions, Yamanouchi began by giving fuller context, noting Japan's high-growth era that began in 1967, the guidance from the United States that helped spur that growth in the post-war period, and Japan's economic dominance on the world stage circa 1989—when 32 Japanese companies were among the Top 50 worldwide, and it accounted for 15 percent of global GDP. 
Today, he pointed out, that figure is 5 percent of worldwide GDP and only one Japanese company lands on that Top 50 list—though he later highlighted a statistic that showed Japan's outsized prominence among the world's most innovative companies.
Yamanouchi went on to lament the "unfortunate" instance of the U.S. pulling out of the Trans-Pacific Partnership on Trump's first day in office, but cited the U.S.-Japan Trade Agreement's signing in September as a recent success that works toward reducing the U.S. goods trade deficit. He noted what he saw as several significant accomplishments of the deal, including agreements the two countries had come to on digital trade and taxation of digital products.
He also praised the policy concept of FOIP, or Free and Open Indo-Pacific, citing the opportunity for cooperation between Africa and Asia, and the states separated by two oceans: the Indian and Pacific—largely referring to Japan, India, Australia, and the U.S. 
"When we say, 'free and open,' it means three pillars," explained Yamanouchi. Those are, he added, the rule of law, economic development, and security—but also potential for freedom of navigation, and for economic growth and a free trade agreement.
The lecture hall was filled with approximately 50 people, a mixture of students, faculty, and staff.
Julia Lammers, a freshman, was excited to attend the talk as part of her studies. 
"I'm actually taking an East Asian diplomacy class and one assignment was to attend a public talk and write an analysis of it," she says. "This one stood out to me because I'm half-Japanese, half-American, and I wanted to listen to what he said about U.S. relations; that's something important to my life."
Frederick Dickinson, director of the Center for East Asian Studies, which organized the event along with its co-sponsors, the Lauder Institute and Penn Global, sees the ambassador's appearance as a sign of great faith in Penn and a step toward future conversations.
"That Ambassador Yamanouchi visited Penn just a year after becoming consul general of Japan in New York attests to the growing importance of Japanese studies at Penn," Dickinson says. "That the ambassador began by recognizing over 150 years of intimate Philadelphia-Japan ties suggests that Penn, and Philadelphia, have enormous potential to help further the discussion of Japan and East Asia in the future."