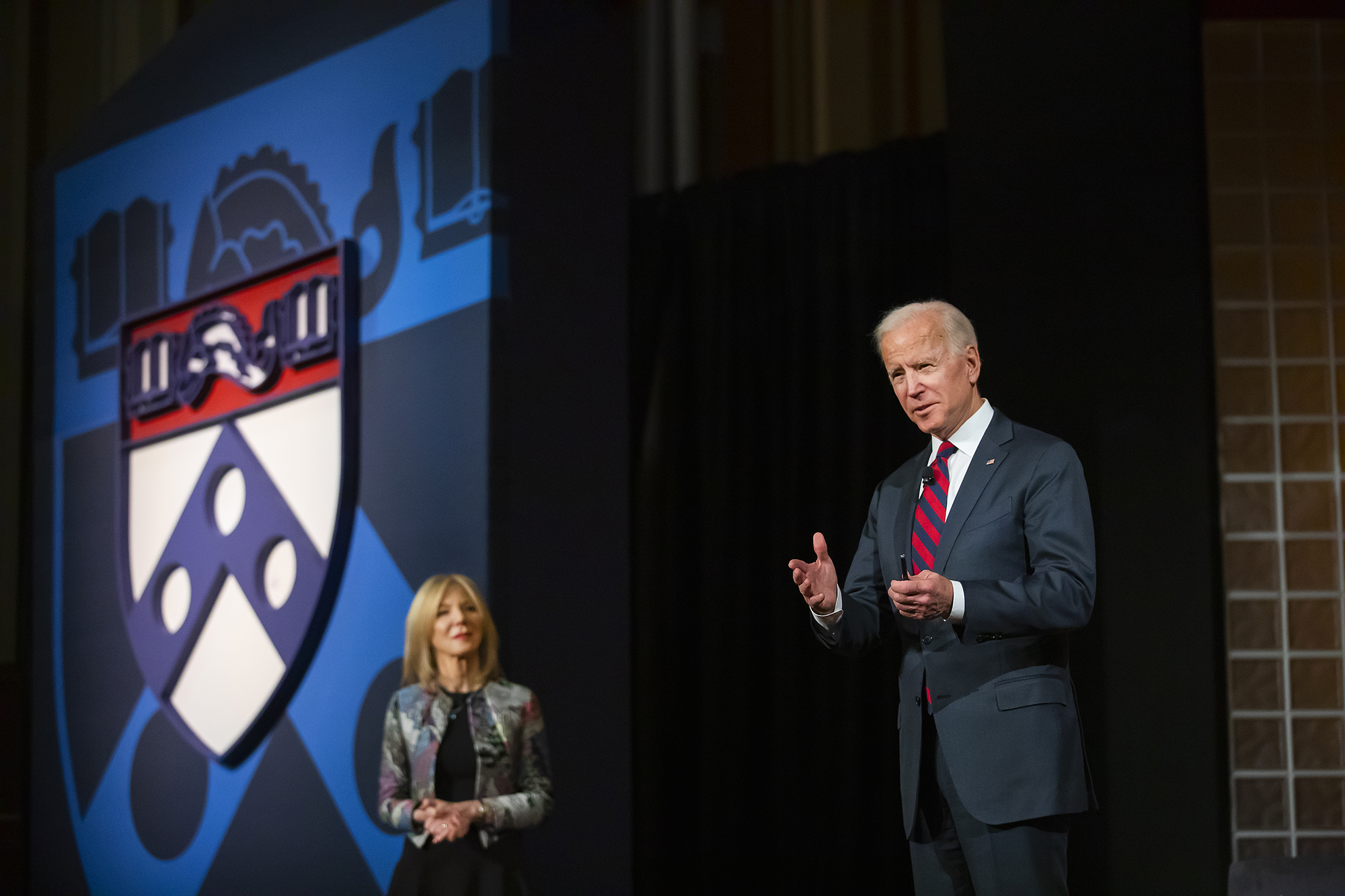 He's passionate, and he's personal.
Since Joe Biden was named Penn's Benjamin Franklin Presidential Professor of Practice in 2017, there hasn't been an event on campus he's attended where the former vice president didn't showcase those two noble traits. 
Tuesday afternoon, in a wide discussion with Penn President Amy Gutmann, was no different.
From global issues to disorder "in our own house," he had a jam-packed Irvine Auditorium—with 1,200 students, faculty, and staff—engaged. They laughed and clapped, sighed and groaned, and for the entire hour and a half were engrossed; phones and laptops off, study notes tucked away.
"It drives me nuts," Biden once blurted out, after discussing how the western hemisphere needs U.S. leadership—and isn't getting it.
"Passion connected with empathy is a really good thing," responded Gutmann.
Biden, the driving force behind the Penn Biden Center for Diplomacy and Global Engagement, which launched last year in Washington, D.C., explained how, if the countries in the western hemisphere worked together, they could become the "epicenter of innovation, cooperation, and growth in the entire world." 
When he was vice president, Biden laid out a critical foreign policy initiative to deal with the northern triangle: Guatemala, Honduras, and El Salvador. People from the countries were—and still are—fleeing because of corruption. 
"People leave when there's no hope," Biden said. 
A bipartisan plan initiated efforts by the U.S. to help the countries change their circumstances on the ground, but it came to a halt in recent years. 
"We have to reinstate this notion of helping," he said. "It's in our naked self-interest." 
Biden also discussed a speech he gave at the Munich Security Conference, which he recently returned from. He emphasized the need for multilateral cooperation and why a strong Euro-Atlantic alliance is important. And instead of talking about who will pick up the pieces, which was the conference's theme, Biden discussed how it's important to reassert the U.S.' commitment to the world. 
"Seventy percent of American people think we should stay engaged in the world," he said. "We're being told that somehow America wants to walk away, not from our obligations but from our opportunities. Tell me, name me one consequential problem from global warming to the nuclear arms race that can be solved by us alone? Name me one."
He called it an "inflection point" and a "really critical moment" for the generation of students sitting in the room, but noted that he believes the U.S. will be able to sustain, save, and expand the security that's built around NATO, "because I think that's where the American people are, not where the Administration is."
Propelled by a question from Gutmann, Biden illuminated the importance of cultural connectedness, with a nod to a group of Penn students affiliated with the Biden Center who recently traveled to Japan. 
Talking with the students after their trip, Biden recalled them "saying something along the lines of 'I have a better understanding now.'" 
"All politics [are] personal," he said. "All international relationships are personal. 
"The world has become so small that we have so many common interests that transcend borders and ideology that we have to be able to work together," Biden continued. "But the first thing is to get to know the other person, get to know the other country, understand what its cultural biases are and cultural instincts are." 
The conversation shifted from international affairs to topics closer to home—including the "forgotten" working and middle class, corporate responsibility, sexual assault and mental health awareness, and immigration, xenophobia, and racism.
"It's time to restore America's soul," Biden exclaimed at one point.
Questions from the audience asked how the west could have handled globalization better from the start; what important political issues young voters should pay more attention to; how higher education institutions can better prepare future diplomats and public policy leaders; and how to civilly discuss and listen to people with opposing views.
Julia Park, a freshman physics major, put forth the latter question, which Biden responded with encouragement to "actually listen," as well as "try to figure out what motivates them, what it is that makes them reach the conclusions they have reached." He added to not engage in rationalism. "Never underestimate the ability of the human mind to rationalize," he said.
Talking after the event, Park, from New York, said she appreciated Biden's perspective. 
"I think a lot of the issue right now, at least for our generation, we're not really open to hearing other people's ideas," she said. "Whether you are a Democrat or a Republican, you kind of shut the other person out. Especially in high school, it was like, 'avoid politics, don't talk about politics in the classroom.' I think it's important to share."
Her first time at a Biden conversation, Park, alongside her friend Nisha Krishnan, a freshman biochemistry major, said the pair were grateful for the opportunity. 
"This is definitely the highlight," began Krishnan, "of our entire freshman year," ended Park, both smiling. 
"When politicians come like this it gives more of a human side to them," Park continued. "We always see them on the news, but when they come and are casually talking with us, it feels really intimate."
A fitting question from a student for Biden to conclude the program—"because it all comes down to people in the end," Gutmann said—asked, bluntly, "What will happen to all the Dreamers?"
Biden said he hopes that they will be met with openness from the American people. 
"The majority of people think there's plenty of room to integrate these Dreamers into society," Biden said. "The vast majority of these kids, and now grown-ups, have been honorable citizens, have done well in our education system, done well in our society, and have already become more American than many Americans by adopting the basic fundamental truths that we believe are the essence of what America is."
As Biden does so often, he shared a personal story, one that touched on a meeting he had with Lee Kuan Yew. The late president of Singapore told Biden that China was likely "looking for the buried black box" in America—the secrets that have allowed the U.S. to be the only country in the history of the world to ever be able to constantly remake itself.
"I said, Mr. President, I am old enough now to hazard a guess," and noted how, for one, every child in America is never criticized for challenging orthodoxy.
"Unlike any other country in the world, including our European friends, we do not worship at the shrine of orthodoxy," Biden said. "That's why we're able to break old things and make new things. Literally."
And two, Biden said, in the "black box" would be a "constant, unrelenting wave of immigration beginning in the mid-1700s, met occasionally by periods of xenophobia that lasted a couple years to a decade, but always overcome."
"The people who left were optimistic, determined, resolved, committed—we've got the best of every culture," said Biden. "That's what makes us the most unique nation in the world."