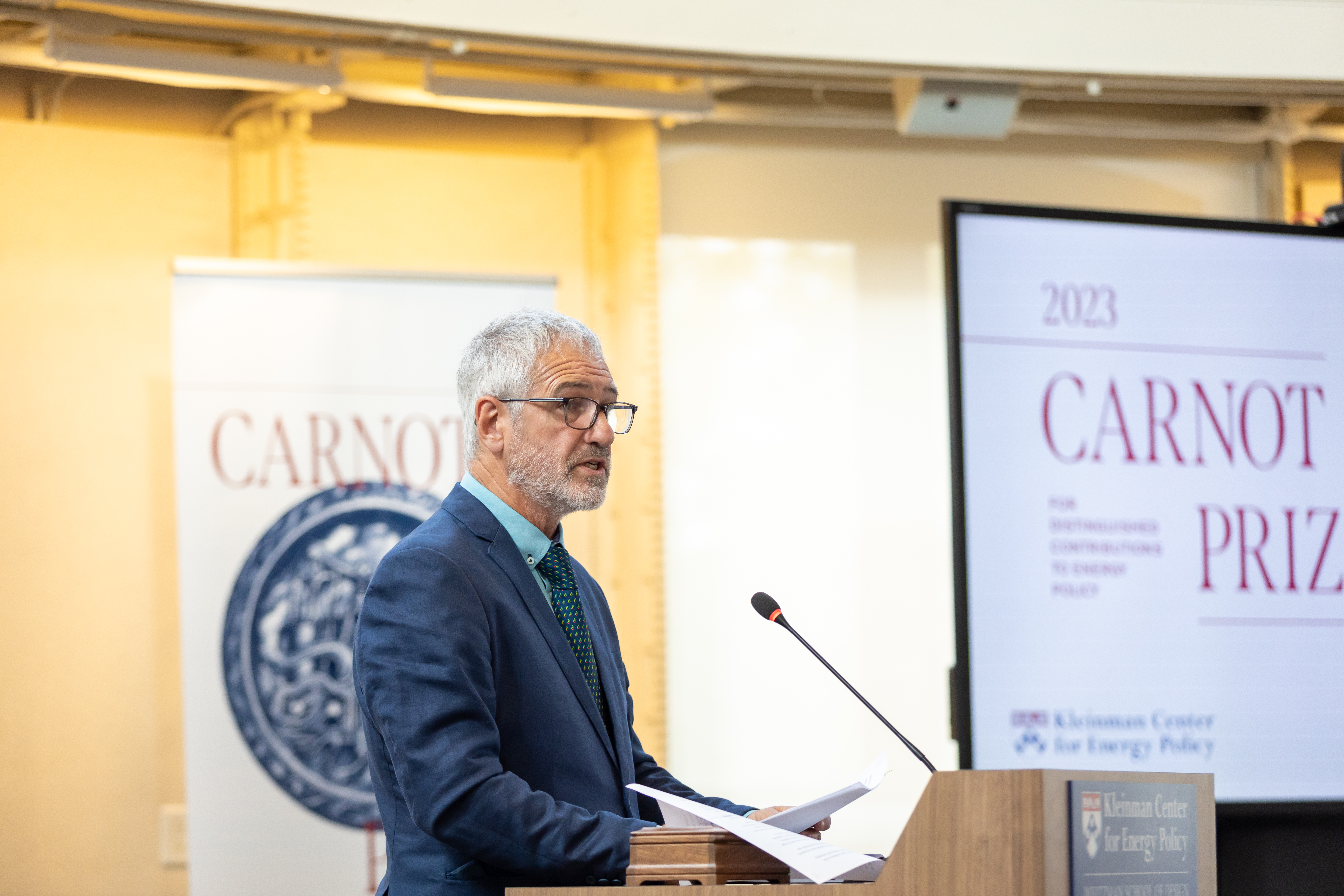 The Kleinman Center for Energy Policy has presented its eighth Carnot Prize to Ramón Méndez Galain, who, as Uruguay's former energy director, guided the country's electric grid to becoming up to 98% powered by renewable energy sources. He now serves as executive director of Ivy, a foundation helping other countries with energy transition and sustainability. 
"Many have noted that the answer to our global climate crisis lies in our capacity to imagine. Dr. Méndez's leap of imagination, and his ability to share that vision with others, has resulted in one of the most striking decarbonization stories on planet Earth," President Liz Magill said. "As national director of energy and then of climate change, he worked across the political spectrum." 
In the ceremony at the Kleinman Center Energy Forum, Magill presented the award to Méndez. Roberto Schaeffer, professor of energy economics at the Federal University of Rio de Janeiro, gave this year's Carnot Prize policy lecture, in Méndez's honor. He discussed energy transition pathways and different approaches for burden-sharing among countries. 
Launched in 2015, the Carnot Prize is named for French scientist Sadi Carnot, whose 1824 book "Reflections of the Motive Power of Fire" became the basis for the second law of thermodynamics. 
"We wanted to recognize people who made distinguished contributions to energy policy—the real, creative, visionary thinkers," says Cornelia Colijn, executive director of the Kleinman Center. She notes that Méndez and former honorees are a diverse group working across sectors, "but the thing they all have in common is their ability to think really big-picture and then to implement on that scale." 
She says these are people making a real connection between energy transition and climate change, and so the Carnot Prize has wide appeal across campus, from engineering to law to Wharton.  
In talking about the selection of Méndez, Colijn cited an October 2022 New York Times Magazine piece, "What Does Sustainable Living Look Like? Maybe Like Uruguay." The reporter, Noah Gallagher Shannon, attended the ceremony and recorded an episode of the Kleinman Center's Energy Policy Now podcast with Méndez, scheduled to air Tuesday. 
From physics to policy 
"Ramón made very real the overused aphorism of 'never waste a crisis,' combining in equal parts the skill of the physicist and the politician," said Mark Alan Hughes, co-faculty director of the Kleinman Center and a professor of practice in the Stuart Weitzman School of Design. He said that Uruguay is on its way to carbon neutrality by 2030, while maintaining the lowest poverty rate in Latin America. 
Fifteen years ago, Méndez was working as a particle physicist, trying to understand what happened in the first microsecond after the Big Bang. But Méndez said that, as he saw the Uruguayan energy sector "going into a deep crisis" with no proven reserve of fossil fuels, he decided to reinvent himself. 
"I started to write down my thoughts, and almost without realizing it I ended up with a holistic proposal, focused on a just transition to renewable energies, with very ambitious goals," he said. 
He said he received an unexpected call from then-President Tabaré Vázquez asking him to be national director of energy. "I lost my academic freedom, but I won the chance to change people's lives," Méndez said. The New York Times Magazine article details how five months into his tenure, Méndez submitted a plan that proposed decarbonizing the grid by 2020 and decreasing Uruguay's energy consumption by 20%. It passed the cabinet, but when José Mujica became president in 2010, he wanted approval from all political parties. 
In an interview in advance of the ceremony Méndez said, "In many countries, what is happening is that one government is following a certain energy policy, and then the following government changes everything." This is bad, he said, because a country needs continuity in the energy sector to create confidence in the markets. 
Since 2008, the power mix in Uruguay went from about 50% fossil fuels to 2%, Mendez said, with the rest coming from hydropower, wind, sustainable biomass, and solar. He said Uruguay has proven that, while any given source can be intermittent, "the complementarity between different sources gives the robustness that a power system needs." The energy mix also meant that the war in Ukraine did not impact energy prices in Uruguay. 
He noted that the total cost of generating electricity consumed by the country was reduced from about $1.1 billion a year to $600 million, a difference that equals 1% of Uruguay's gross domestic product. The transition also created 50,000 new jobs. 
"When I tell people about what we achieved in Uruguay, they often tell me that it was possible because Uruguay's a small country. Nothing could be farther from the truth," Méndez said, noting that large economies have greater ability to attract investment, along with more qualified experts and manufacturing capacity. Rather, he said, the most important point is political will. 
After his time as energy director, Méndez became Uruguay's director of climate change—when he was chief negotiator for Uruguay for the Paris Agreement—and then served as planning director for the city of Montevideo.  
In 2020, he co-created Ivy, which he describes as a mix between a think tank and consultancy firm that is not only working to export Uruguay's renewable energy transition but also working on sustainable land planning and transportation. Ivy has worked with 10 countries in Latin America and Europe. 
"The clean energy transition is undoubtedly the greatest challenge our species has ever faced. It's going to take a lot of creativity; it's going to take discipline and courage," said Fritz Steiner, dean of the Weitzman School, which houses the Kleinman Center. He said that, when it comes to adaptation, "we have much to learn from visionary leaders like Ramón Méndez Galain."