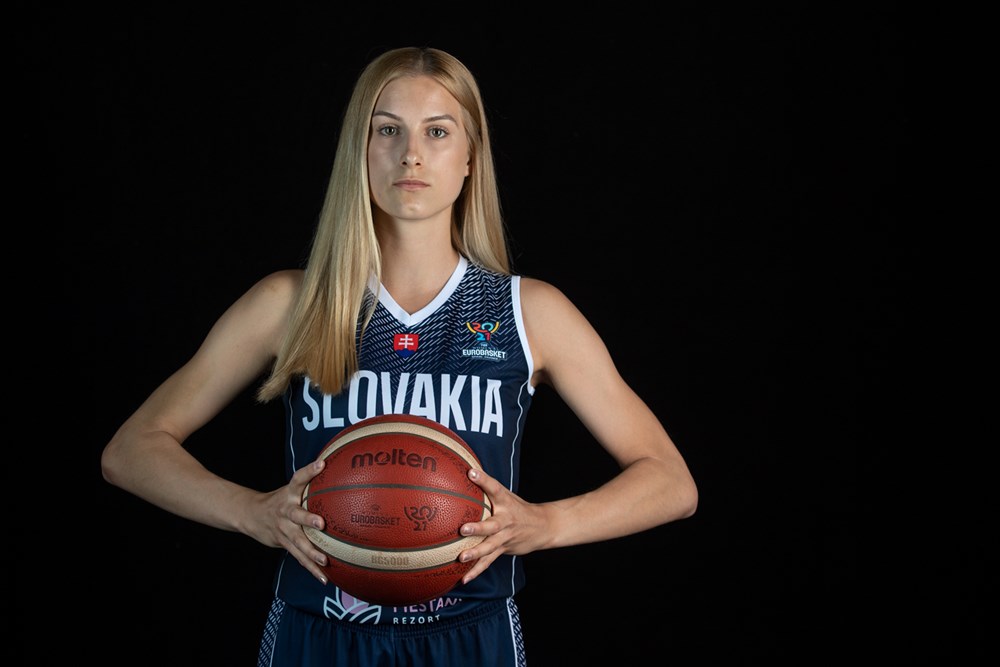 Rising senior Nikola Kovacikova of the women's basketball team is representing her native country of Slovakia as part of the Slovakia women's national team in the 2021 FIBA European Women Basketball Championship, or FIBA Women's EuroBasket 2021, which opens today in France and Spain.
Kovacikova, a 5-foot-10 shooting guard from Krskany, Slovakia, transferred to Penn last year, after spending her freshman and sophomore seasons at Georgetown University. She played in all 35 games during her freshman campaign—averaging 4.0 points per game and 1.8 rebounds per game—and won the team's Newcomer of the Year Award. In her sophomore year, she appeared in 27 games, starting 12, and was the Hoyas' third-leading scorer, averaging 7.9 points per game.
Last season was cancelled because of the coronavirus so she has not yet suited up for the Quakers.
A national team vet, Kovacikova, who is enrolled in the College of Arts & Sciences, was also a member of the Slovakia women's national team that placed eighth at the FIBA Women's EuroBasket in 2017.
"Our coaching staff knew within minutes of the recruiting process that Nikola was a perfect fit for Penn," said Head Coach Mike McLaughlin, announcing her transfer last August. "She is a well-rounded student-athlete who is the ultimate competitor and exhibits a strong love and passion for the game of basketball. Niki is an extremely tough player and phenomenal teammate who gives us a lot of flexibility at the guard position. With the high level of experience she has, both at the collegiate level and internationally, Niki brings the maturity and leadership skills to make an immediate impact on our program."
Slovakia opens play against Sweden in Valencia, Spain. Competing in Group A, they take on Belarus on Friday and Spain on Sunday. The tournament runs through June 27. Sixteen nations are competing in four groups. The top six teams will advance to the FIBA Women's Basketball World Cup 2022 Qualifying Tournaments.