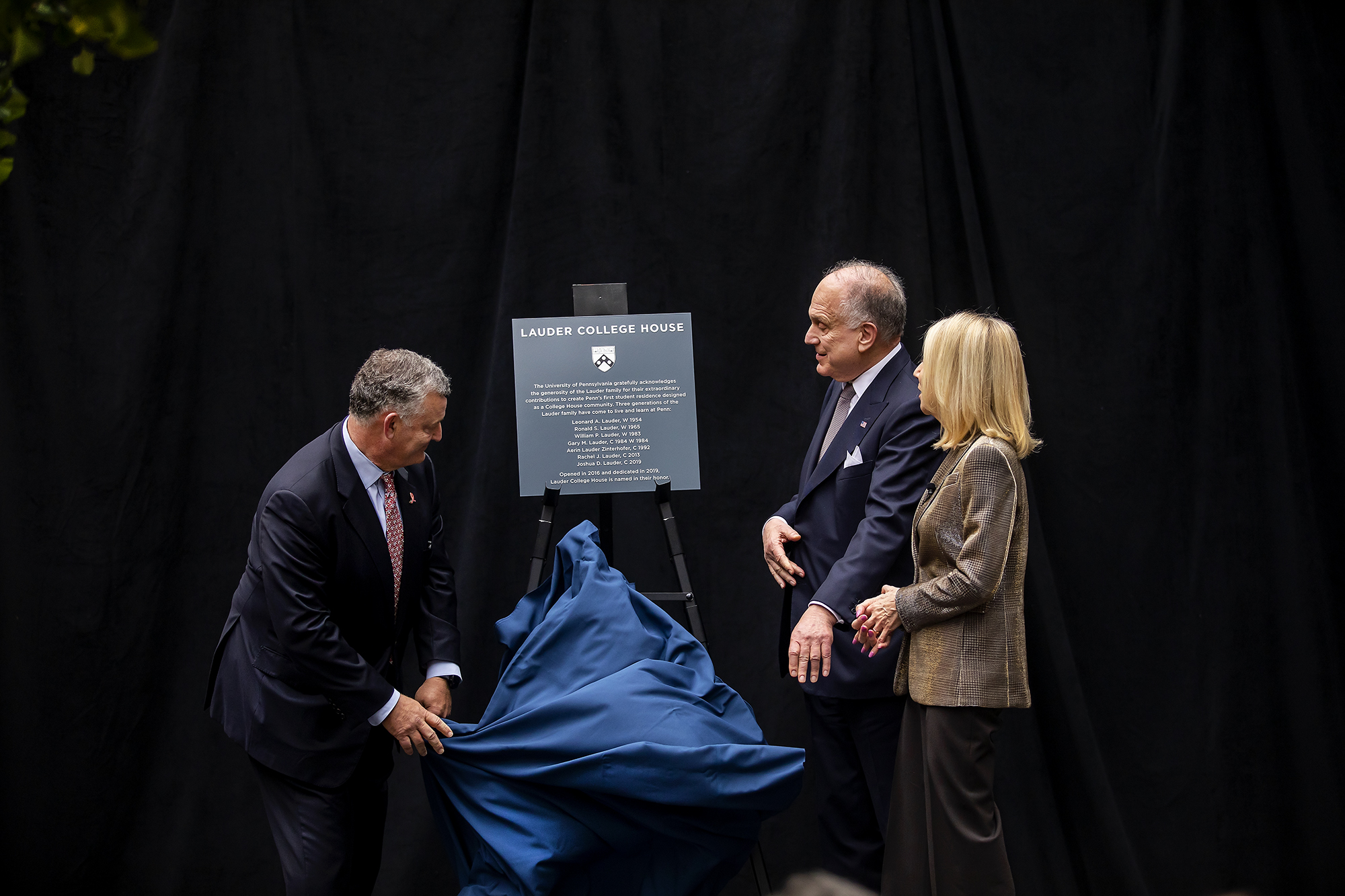 The University of Pennsylvania today announced the naming of Lauder College House. Formerly known as New College House at 34th and Chestnut streets, the new name was revealed at a ceremony celebrating the house's first cohort of fourth-year residents, along with incoming Class of 2023 and second- and third-year residents. 
Lauder College House (LCH) officially opened its doors on Aug. 24, 2016, and is the first Penn residential building specifically designed as a college house. The University's residential system brings together undergraduates, faculty, staff, and graduate students to form shared communities within the larger context of Penn's campus.

"The University of Pennsylvania gratefully acknowledges the generosity of the Lauder family for their extraordinary contributions to create Penn's first student residence designed as a College House community," said Penn President Amy Gutmann. "For over half a century, the Lauders, starting with our Trustee Emeritus Leonard Lauder, have made Penn an integral part of their family. 
"Three generations of the Lauder family have come to live and learn at Penn," said Gutmann. "Lauder College House is named in their honor," she said adding, "I only wish that I could live here. It is just a spectacular home."
Joining Gutmann at the podium at the ceremony were Campbell Grey, LCH faculty director and associate professor of classical studies; Ronald Lauder, Lauder Institute Board of Governors chairman; and William Lauder, Penn term trustee.
The Lauder Family released a statement for the occasion saying, "the Lauder College House is a love letter from our family to the students of Penn. The University of Pennsylvania has been pivotal in helping to shape the ideas and experiences of each of the Lauder family members that have attended. We are honored to be part of creating memories for students at Penn for generations to come."
Other members of the Lauder family attending the ceremony included Gary Lauder and his wife, Laura Lauder; Aerin Lauder Zinterhofer; and May graduate Josh Lauder, who was a resident of the house his junior year at Penn.
"I am overwhelmed with gratitude for the generosity I've experienced throughout my four years at Penn," said Josh Lauder. "Its exceptional environment for intellectual exploration cultivated my drive for lifelong learning, and it turns out I'm not the only one in my family who loves Penn ... I couldn't be more proud of my family for giving back to the university that has given us so much. I was lucky to be among the first students to stay in the eponymous Lauder College House, before it was called that. To its future tenants, I can attest to its magnificence as a living space, and I sincerely hope that it can enrich student's lives and leave a purely positive mark on Penn's campus for generations to come." 
Designed by the Philadelphia-based design firm of Bohlin Cywinski Jackson, the seven-story, 198,000-square-foot, $121 million project houses undergraduate students, in three-, four-, five-, and six- bedroom suites with a dining venue and many public and programmatic spaces built around a private central courtyard.
As a four-year house, Lauder College House is a microcosm of Penn. This year, among the 351 undergraduate residents, roughly 29% are from the Class of 2023, 31% are sophomores, 25% are juniors, and 15% are seniors. Within the College House system, each of the 12 houses has a distinct character and mission. The LCH community is centered around a global sustainability theme, a founding principle of the house's design. 
The house has a state-of-the-art rainwater-harvesting system and a lifted lawn that doubles as the café's green roof, among other sustainability elements, supporting its LEED Gold Certification by the US Green Building Council. Representative of Penn's mission to support local businesses is the fact that 180 dining chairs in the student suites were fabricated in Pennsylvania from a total of 20,000 discarded soda bottles, and each coffee table in the student suites is designed and fabricated in South Philadelphia.
The celebration took place in the Heyman Courtyard named for other major donors to the project, emeritus trustee Stephen Heyman and his wife, Barbara Heyman.
Additional information on Penn's College House system is at https://www.collegehouses.upenn.edu/about.