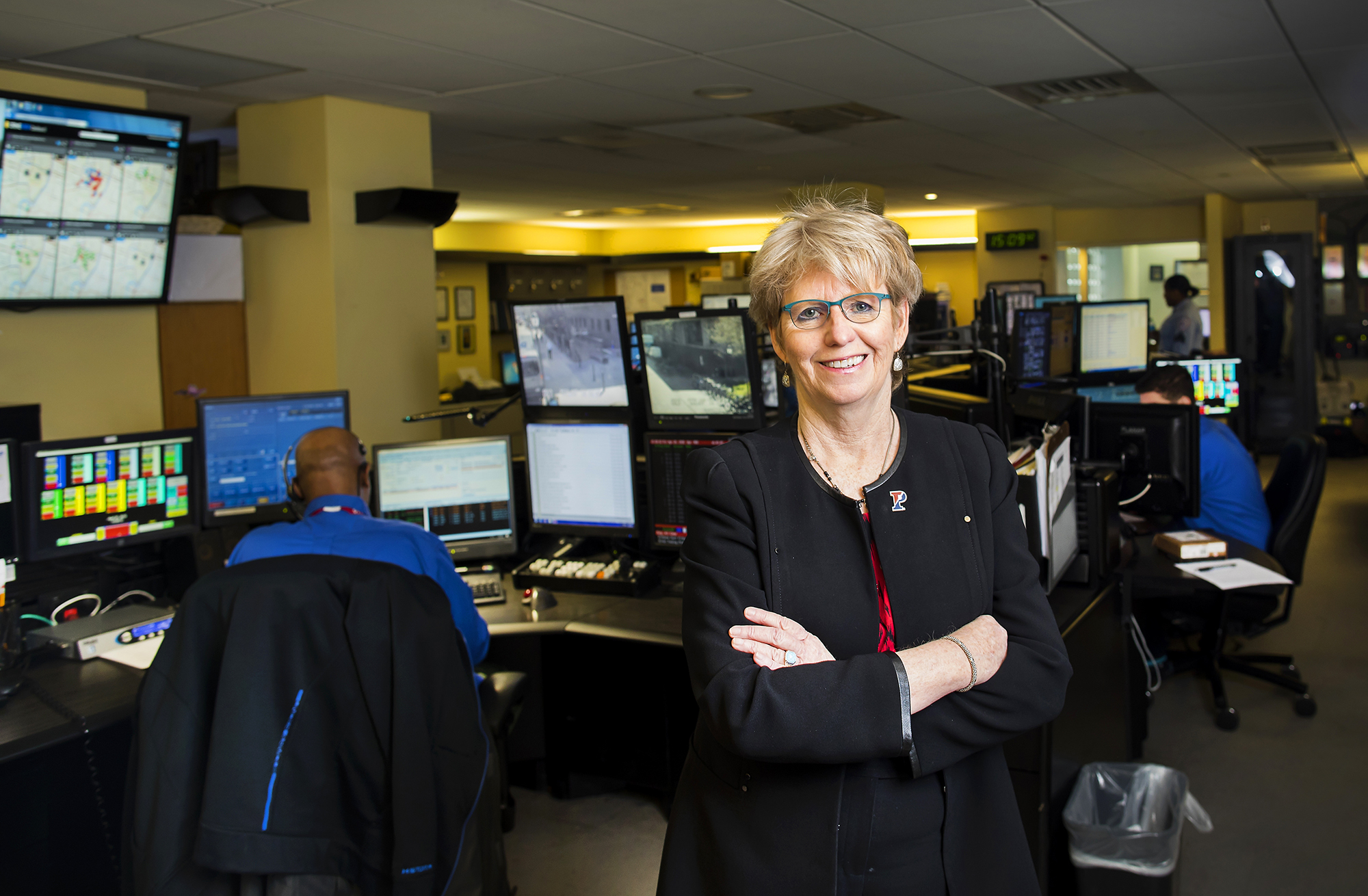 Twenty-four years ago, Maureen Rush joined Penn. Prior to coming to the University, she spent 18 years in the Philadelphia Police Department, progressing up the ranks to lieutenant. 
Rush, now Penn's vice president for Public Safety, recently sat down with Penn Today in the division's headquarters to chat about the University's emergency preparedness plan, how the Penn community can respond in an emergency—including if there's an active shooter on campus—and the types of training the Penn Police Department utilizes.
What does your role entail as vice president for Public Safety?
I oversee seven departments; the Penn Police being the largest with 120 officers. They are fully sworn, having the same powers as Philadelphia Police officers. We have a full-fledged Detective Unit, an Emergency Response Team, foot patrol, bicycle patrol, mobile patrol, and more. We also have a canine unit with two very cute ordnance detection dogs, Zzisa and Socks. 
In addition to the Police Department, we have our PennComm 9-1-1 Communications Center, which operates 24/7. All emergency calls to 5-1-1 or 215-573-3333, blue light phones, open door and duress alarms all come into PennComm. We've been able to add significant programming to the PennComm Center; the most recent was the creation of the Help Line—215-898-HELP. Students who are struggling, or their friends or parents who are concerned for their well-being, can call the HELP Line to connect students with University resources. The UPennAlert Emergency Notification System is managed from the PennComm Center as well.
We also have the Security Technology Department. The department supports all of the cameras that are fed into PennComm, as well as exterior door access control and building technology. There are over 150 Pan-Tilt-Zoom cameras on the street, in addition to hundreds of other cameras. 
We have the Fire and Emergency Services, Finance and Administration, and the Security Services Departments, which maintains the Allied Universal Security account. We have the Special Services Department, which provides victim support including options counseling, safety presentations and self-defense courses, and helps across the University with Student life. 
We have 180 Penn employees in the Division, and 550 Allied Universal Security officers throughout the entire Penn account. We patrol from 30th Street Station to 43rd Street, east to west, and from Baltimore Avenue to Market Street, south to north. We support the Penn Presbyterian Medical Center along Powelton Avenue, as well.
Let's talk a bit about emergency preparedness here at Penn.
The University developed an updated, comprehensive Emergency Preparedness Plan immediately following 9/11. Each school and center has its own plan as a part of the University's Mission Continuity Plan. A big part of our plan is emergency communications. The UPennAlert supports the plan by allowing us to send messages out to members of the Penn Community. Once we send a message for an event or incident, we aren't going to keep sending additional messages about that event. We direct users to the Penn Public Safety website, and use that as our 'bulletin board.' 
Other forms of emergency preparedness take place behind the scenes. We conduct table top exercises and practice drills with our Police Department regularly. Training is a big part of our program. We also train with our law enforcement partners, including Philadelphia Police, SEPTA, Drexel, Amtrak, FBI, DEA, etc., as in a true emergency, like an active shooter situation, we will all be working together. We always say that you never want to exchange business cards for the first time on the scene. It's all about relationships for us.
We see in the news the horrible shooting tragedies like those in Parkland, Fla., and Santa Fe, Texas. What can people at Penn do to prepare for an emergency like an active shooter?
We provide training to all schools, centers, and departments and explain what you should do while you are waiting for police to arrive in a crisis situation. What we are teaching you is applicable anywhere. You could be in the movie theater, you could be out to dinner when a tragedy like that strikes. What do you do, whether you're in a Penn building or you're in a supermarket or at the mall, is really the same response, and the same response is: Run, hide, or fight. We have a video on our website that walks you through each of these, but in sum:
Run: If you can get away from the situation, do so.
 
Hide: If you can't run, we want you to hide, secrete yourself, and try to make sure that you are quiet; don't talk on your cell phone. Be sure to mute your phone; do not set it to vibrate—the sound could reveal your location. This is another reason why we only send the alert out once; you can go onto our website and quietly read the updates. That's also a good time to use the Penn Guardian system—you can text us and say, 'Hey, I'm hiding in the bathroom in building x, on the second floor.' We can also get your approximate GPS location through Penn Guardian.
 
Fight: Finally, if all else fails, you do what you have to do. Do it as a group. Have the survivor instinct. Do everything you can to survive.
For other emergencies, such as a fire, we also teach people to pay attention to their surroundings. Ask, 'Where is the exit sign?' 'How would I get out in two different ways?' and be aware of how to react and what to do.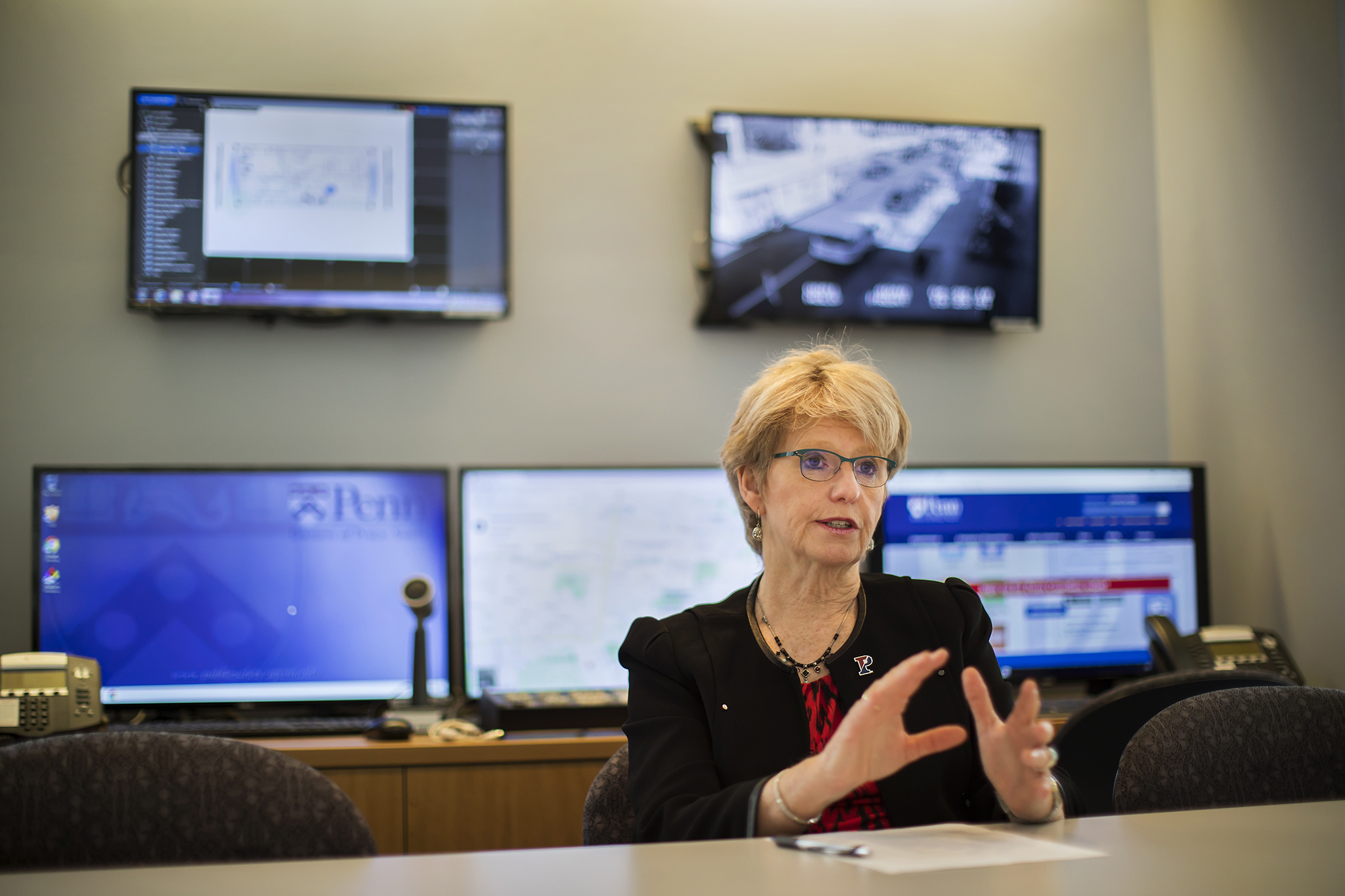 How does Public Safety prepare for Penn Relays, and other high profile events?
We are constantly updating, adding, and improving our response. Penn Relays is a great example. After 9/11, we had to think beyond the normal personal safety that you would have for a large event like this. It's an international track and field event. We began working with the Philadelphia Police Ordnance Disposal Unit—the bomb squad. We join with Philadelphia, Amtrak, and SEPTA police to sweep the entire area of what is considered the interior perimeter for Penn Relays, which now includes Penn Park. Our dogs will make sure that no one placed a bomb or anything that could hurt people. We staff that around the clock, to make sure it remains a sterile environment.
Penn is an urban university. Is that a benefit or not?
Yes, it's a benefit if used wisely. We have a lot of great relationships with other schools, hospitals, and law enforcement. We have a monthly public safety group meeting during the academic year and it includes Penn, Drexel, University of the Sciences, HUP, Penn Presbyterian Medical Center, and Children's Hospital, plus law enforcement officials from Philadelphia Police, Pennsylvania State Police, Amtrak Police, FBI, Secret Service, and and property managers. We're all in a very tight environment, and if something were to happen to one, all would be impacted and there would be support from the others. 
For 22 years, the University City Public Safety Group has completed very important projects together. For example, in the realm of communication, we integrated a multi-agency radio network into our PennComm Center. We can contact all area stakeholders at the push of a button. Why is that important? Because if you have an emergency, time is of the essence. Again, it's all about relationships.
Have you ever had to use it?
We had a situation where there was a fire on the rooftop of CHOP. There was construction being done—the construction workers had been welding on the roof and left before ensuring that everything had cooled down. The roof caught fire and one of our very alert PennComm telecommunicators saw it on our cameras while doing virtual video patrol. We put the information out to everyone, and, fortunately, it was brought under control very quickly, but if not, we would have wanted to have the assistance of all of the stakeholders in University City. 
What do you want the Penn community to know about the national concern about active shooters?
This is a heavy topic and it's one that we don't want the Penn community to feel like they have to think about every minute of every day, we want you to be aware and we want you to know what to do wherever you are. But we also want you to know that your Penn Police Department, your Division of Public Safety, worries for you, we worry 24/7 for you, and we are here for you. We are here to make sure that we do everything we can to make sure this environment remains safe and free from this type of violence, so you can teach, learn, do life-changing research, and support the mission of Penn.