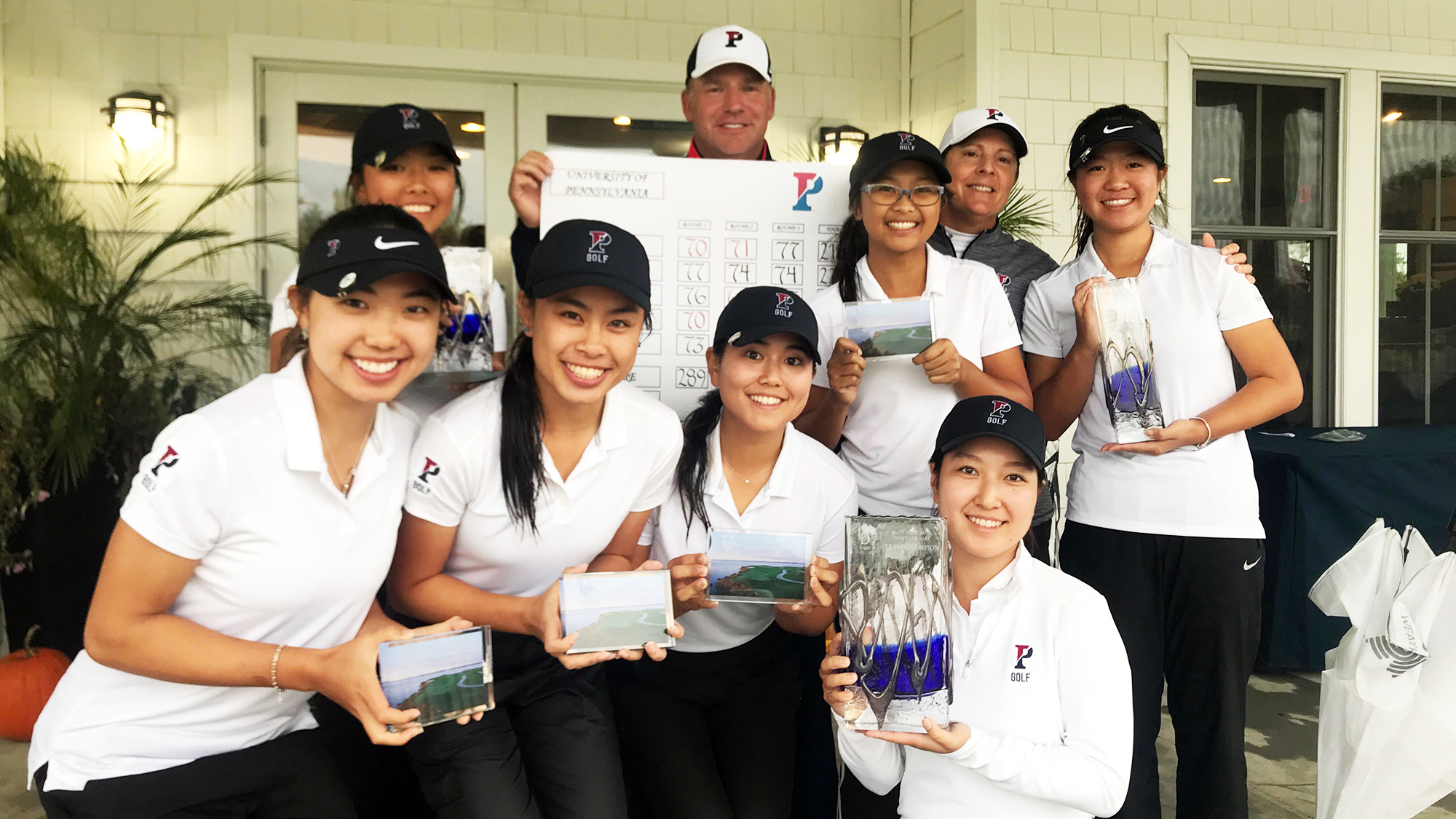 The women's golf team made history over the weekend with a record-breaking performance in their fall season finale at the University of Delaware's Lady Blue Hen Invitational.
Their cumulative score of 864, or even par, broke the school record for a 54-hole course.
Playing at the par-72 Rehoboth Beach Country Club in Rehoboth Beach, the Quakers shot a 289 in the first round on Saturday morning, a 280 in the second round Saturday afternoon, and a 295 in the final round on Sunday. 
Four Quakers finished in the top five, including individual medalist Susan Xiao and runner-up Rina Jung.
Xiao, a freshman, shot a 70 in the first round and a 6-under-par 66 in the second round, which set a new school record for low round and low round to par. On Sunday, she shot a 73 to finish at a sensational 7-under-par 209. She broke the school record on a 54-hole course by four shots. Her individual title is Penn's first in five years.
Jung, a junior, finished second. She shot a 70 in the first round, a 71 in the second round, and a 77 in the third round, concluding the tournament with a 2-over-par 218. 
Each of the five players in the Red & Blue's lineup finished among the top 15 golfers in the 69-player field.
Freshman Abigail Wiranatha and senior Christina Park tied for fourth place. Wiranatha had a 73-77-71 weekend. Park shot 72-74-75. Both finished with a 5-over-par 221. 
Sophomore Mary Shin finished tied for sixth with 76-69-77 scores for a 6-over-par 222. Sophomore Leila Dizon tied for 11th with a 9-over-par 225. She shot 77-74-74.
The team win marked only the second time Penn has won two events in the same season. The Quakers also won the 54-hole Nittany Lion Invitational to open the season.