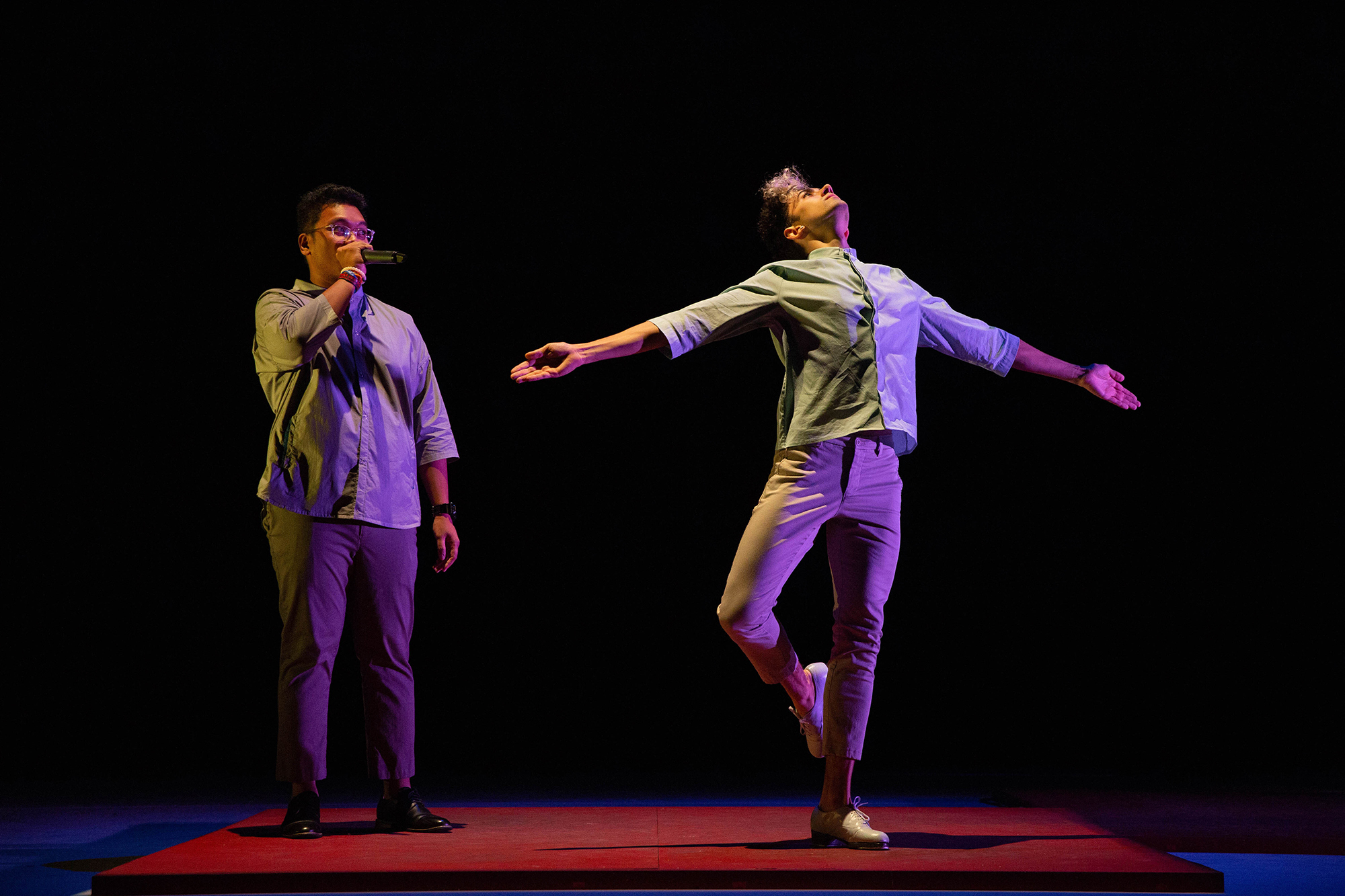 The Annenberg Center for the Performing Arts is raising the curtain on a fall season unlike any other before it.
Really.
The Center will launch its fall season on Oct. 1 with an original dance piece performed by Caleb Teicher and Chris Celiz—streamed live, from Annenberg's stage in the Harold Prince Theatre. Christopher Gruits, executive and artistic director of the Center, says that to the best of his knowledge, Annenberg will be one of few theaters to have ever tried this real-time model.
"This is artists performing live, in real time. Although there will be no audience in the theater, people can join us virtually," Gruits says. "And that means the format will be different—it's not going to be a two-hour jazz performance. [Shows] will be adapted to this medium."
The theater has been closed since the stay-in-place orders were put into effect earlier this year as a result of the coronavirus pandemic. Annenberg has adapted with programming distributed through its "Annenberg Center @ Home" blog, but has ceased all in-person performances in accordance with state regulations on crowd sizing.
"We revamped the entire season; we had to start over, in a lot of ways," says Gruits of the experience. "We focus on small programs now: duets, ensembles, and those who can come down to the University in a safe way. And a big challenge here is a lot of performance ensembles that we'd bring to Annenberg haven't been together rehearsing.
"It took time to think about which artists we could approach to come down to Annenberg, and what would be appropriate for social distancing."

Annenberg has since purchased state-of-the-art high definition cameras, tripods, and cranes, and has partnered with Vimeo to handle the distribution of the live stream broadcasts. The new fall season mostly consists of performances that are about an hour in length with, Gruits says, "highly interactive moderation during performance" and time built in for audience Q&As.
"It gives audiences a chance to see the same world-class performances at Annenberg, but interact in a different way," he says. "For example, they'll get close-ups and see these performers from vantage points not possible in the theater. We're experimenting with the format and so are the artists."
The first performance of the season, featuring Teicher and Celiz, will be a tap dance performance—by Teicher—alongside beat boxing, performed by Celiz. Teicher previously performed at Annenberg in 2018 for his Philadelphia debut.
"He's an innovative, thoughtful artist," Gruits says. "He's doing a duo program that will leverage the live element, the close-up looks at his feet and face, the beat boxer's mouth, and how he produces sounds."
On Oct. 15, choreographer and dancer Pam Tanowitz makes her Philadelphia debut with two pieces that twist classical, minimalist movement. She will perform alongside four dancers on the Julia Lang Mally, W'83 Stage of the Zellerbach Theatre.
"That's as big as ensembles will get this fall," Gruits says. "Tanowitz is a phenomenal choreographer who has not been to Philadelphia before, and we originally planned to bring her here in the fall of 2021. We're thrilled that she was able to adapt and respond."
The 13-show season will end with a performance by Sullivan Fortner on Dec. 17. Fortner is a Grammy Award-winning jazz pianist who will play a program of holiday music.
Annenberg is currently planning a spring season that will likely begin at the end of January and conclude in May.
In the meantime, the Center will undergo a facelift this fall, with updates to the lobby, the addition of a work-study space for students, new furniture, updated lighting, signage for wayfinding, updated amenities like concessions, and technology upgrades. Those improvements are funded by a gift from Keith and Kathy Sachs that also funded the creation of The Sachs Program for Arts Innovation, which is housed in the Center.
Digital programming from Annenberg will be free for students. An added perk of the digital programming, adds Gruits, is that anyone can access it.
"One advantage now is that these programs are accessible to everybody," he says. "Whether you're a Penn alum or not physically in Philadelphia, you can still participate, and we look forward to welcoming everyone virtually."