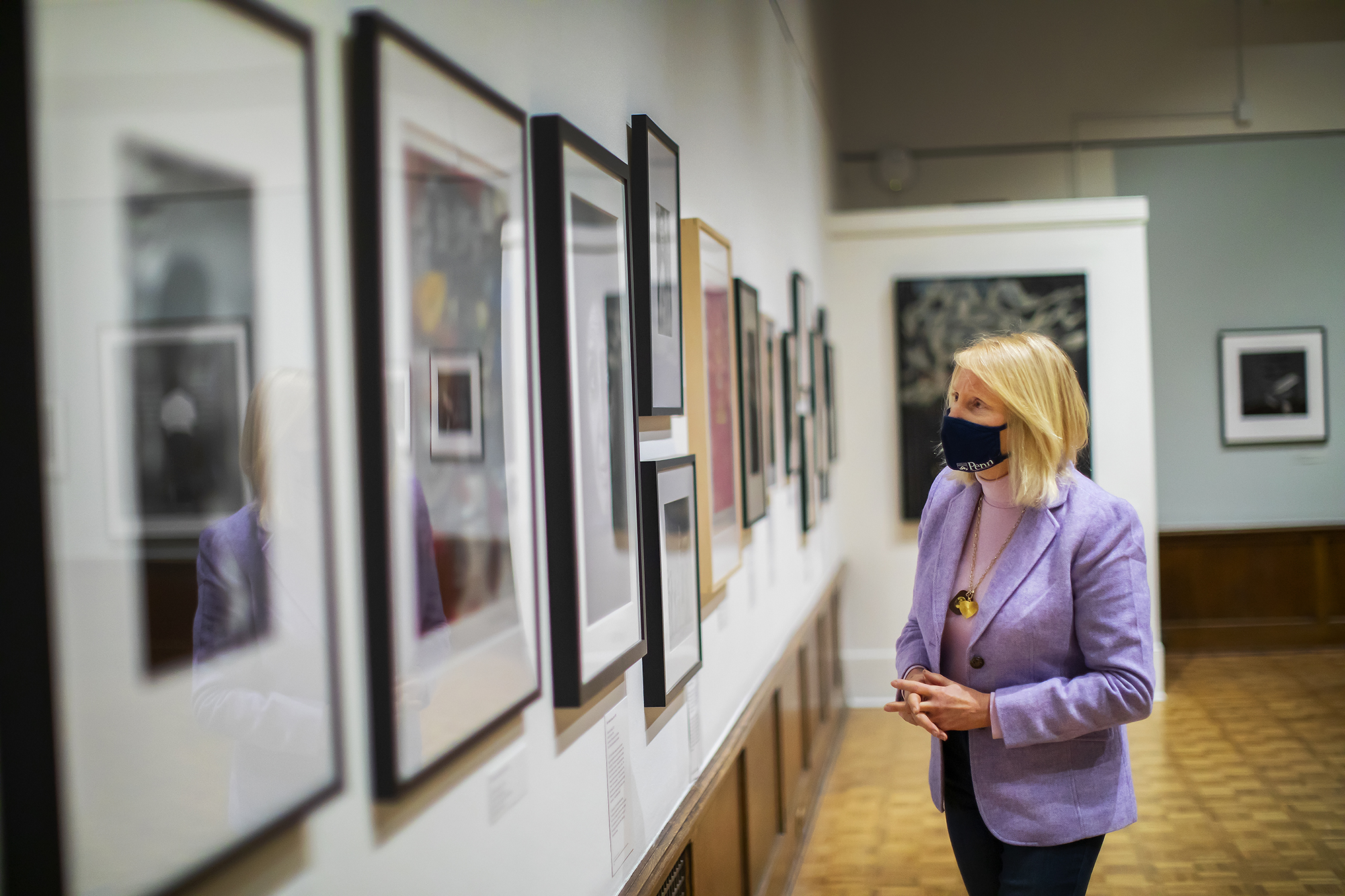 Putting together an art exhibition in the middle of a pandemic is a particular challenge.
Instead of considering pieces in person, University Curator Lynn Marsden-Atlass chose the 43 artworks now on view at the Arthur Ross Gallery primarily by looking through the Penn Art Collection online archive. Working remotely as much as possible, Lynn Smith Dolby, university art collection manager, helped to locate the works.
Some were easier to find than others, as artworks are on loan throughout campus. Two Honore' Daumier prints of courtroom scenes dating to the mid-1800s were in a law professor's office. A 1937 Thomas Hart Benton lithograph, "The Flood," depicting the natural disaster during the Great Depression was in the office of a Liberal & Professional Studies professor, and a 9.5-foot galvanized steel sculpture of a kayak by Rafael Ferrer was hanging from the ceiling of a Rodin College House conference room.
The kayak is now suspended in the center of the Arthur Ross Gallery in the "Many Voices, Many Visions" exhibition, on view until March 28. The gallery is open to visitors, but reservations for free timed tickets are encouraged, as a maximum of 10 people are allowed. Visitors are required to wear masks.
The exhibition is the eighth in a series drawn from the 8,000 works in Penn's art collection, based on a theme. "Some of these objects I had never seen," Marsden-Atlass says, noting that not every work in the online database is accompanied by an image.
But even though Marsden-Atlass hadn't seen all the objects, she knew what she was looking for to create "Many Voices, Many Visions." She chose artworks that mirror the social, political, and environmental challenges in America during the past year: the pandemic, the election, the protests, climate change, and immigration.
A collection of black-and-white photographs by photojournalist Bruce Davidson, taken during the 1960s civil rights protests and donated to Penn in 2019, were the starting point, Marsden-Atlass says.
Featured in the center of the entrance to the exhibition is a Davidson photo of a young Black woman being restrained by two white policemen during a 1963 march led by Martin Luther King Jr. in Birmingham, Alabama. Three other Davidson images are included: a Black woman and a white woman at a lunch counter, the National Mall during the 1963 March on Washington, and protestors in a van.
Photographs are important to this exhibition, including two 1950s images by Edward Steichen, but the 43 artworks also include paintings, sculpture, and prints, from humorous engravings about elections by William Hogarth dating to 1755 to a relief woodcut of masks by David Driskell from 2019.
"Each work has resonance in what happened in 2020. It is about this particular year," Marsden-Atlass says. "I see it as hopeful, in that we are able to say there are other times that we've had challenges in America and people have been resilient. In this exhibit you see adversity, and you see people surviving and overcoming adversity. These things have happened before, and we will get through our challenges today."
The exhibition is loosely arranged around themes of governance, compassion, the human condition, the environment, and times of change.
In their search for art reflecting the themes, Marsden-Atlass and Dolby found some treasures that haven't before been displayed, including a 1969 serigraph by Wayne Campbell that features chicken-wire fencing, a reference to imprisoned immigrant children taken from their parents.
Portraits are also prominent, including a 1963 photograph by Elliot Erwitt of Jackie Kennedy at Arlington National Cemetery during the funeral of President John Kennedy.
Bookending the exhibition at each end of the gallery are the largest portraits, 4-foot-high prints by photographer Judy Gelles, part of her fourth-grader series. One is of a girl facing forward, smiling with her hand on her hip, and the other is the back of a boy, his worries about guns spelled out in white words around him.
Hanging between them, casting a shadow on the floor in the gallery's center, is the rust-colored kayak "Magnetic North," dated to 1977. "It symbolizes a journey," Marsden-Atlass says. "We're all on journeys, and they are very challenging."
Marsden-Atlass hopes that the Penn community will visit the exhibition during the spring semester, but she is also planning to create a video tour to be available on the Arthur Ross Gallery website. Virtual programming is underway.
"We are definitely hoping to get the undergraduates in here," she says. "We're informing all of the faculty who we think might be interested in any aspect of this exhibit to include it in an assignment."