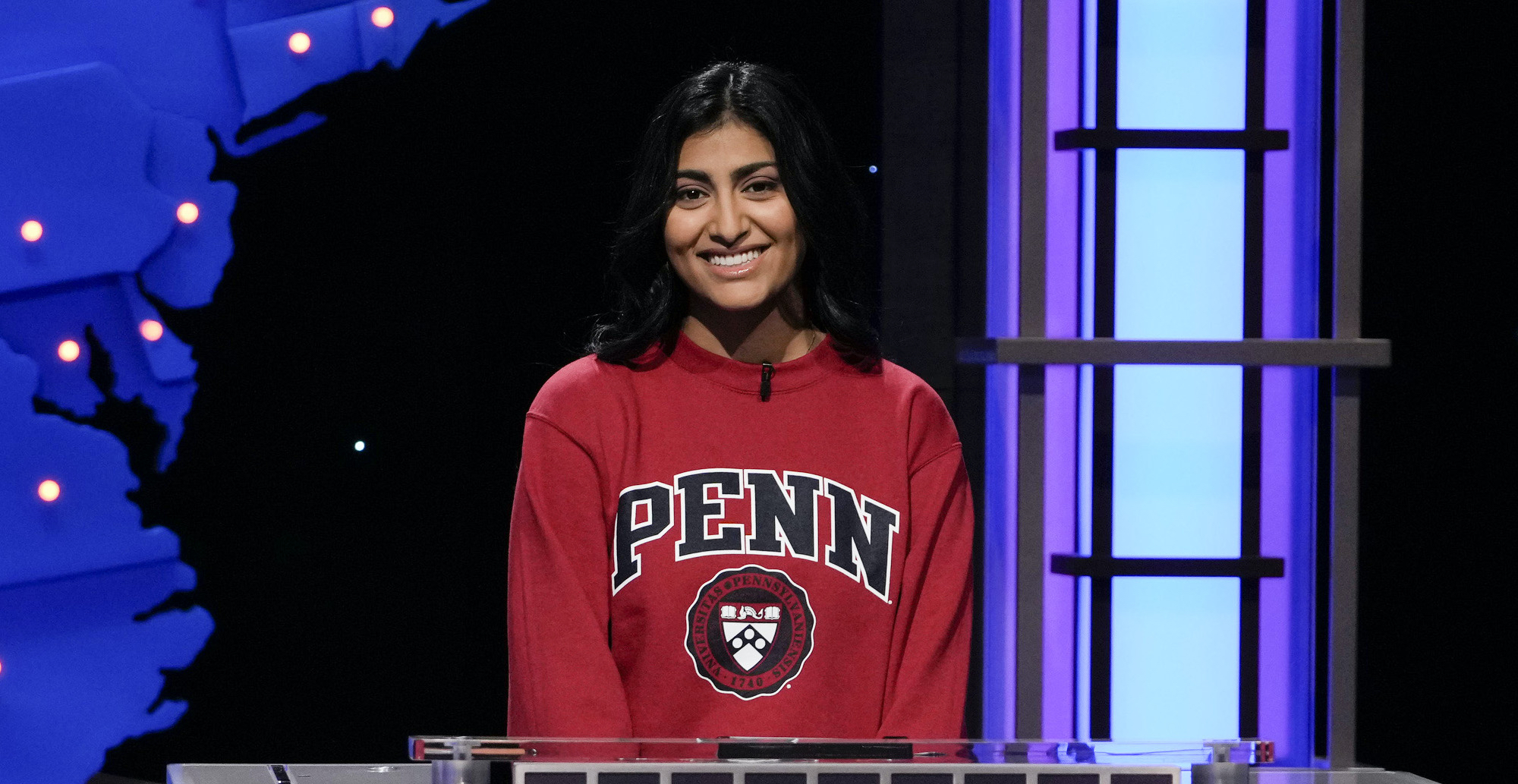 Twenty-five thousand people tried out for this year's "Jeopardy National College Championship," which began Feb. 8. Of those, 36 were chosen, including Penn's Mehek Boparai, a senior English major from Hanford, California.
During the lockdown in her sophomore year, Boparai returned to central California to hunker down in her family's home. At the time their daily routine included watching three "Jeopardy" episodes, with Boparai competing against her father and brother. With her friends' encouragement, she took the online test and then one over Zoom, followed by an interview. She says she then forgot about the whole thing.
Winning "Jeopardy" was never a goal for Boparai. "The chances of getting on the show are so low," she says. "You'll only really enjoy it if you end up on it randomly." Boparai lost the game in her appearance on Feb. 9 against contestants from the University of Minnesota and the California Institute of Technology. The "Jeopardy" episode, she says, is "just something cool I can put on my resume." What Boparai really wants to do is publish a book.
Boparai lights up when talking about books. She gravitates toward modernist classics like J.D. Salinger's "Franny and Zooey" and Virginia Wolf's "To the Lighthouse." She was hesitant to read "The Goldfinch"—how could Donna Tartt improve upon "A Secret History?"—but now considers it one of her favorites. Sally Rooney is overrated because too many of her main characters have the same narrative voice and any conflict is resolved with easy artifice, she says. Nor does Boparai buy the characterization of Rooney as Salinger for the Snapchat generation." "She's not doing anything new," says Boparai.
Boparai hopes to incorporate modernist techniques in her creative writing honors thesis, which she'll submit in April. It's about a girl who goes to college to study English—not a novel dealing with one's formative years, Boparai says—the character hates everything about her experience until she meets a friend group that encapsulates everything she wants in life. This is the moment her life will change, the protagonist believes. Except it doesn't.
The project grew out of a series of short pieces she wrote for a class with Carmen Maria Machado, says Paul Saint-Amour, Boparai's thesis advisor. Boparai's characters are having ongoing conversations in which living and reading are entangled, Saint-Amour says. "Mehek's characters constantly read literature by the light of their experience," he says. "At the same time, their experiences are being lit by their reading."
While Boparai has been consistently involved in the literary world at Penn, taking on several roles for the magazine 34th Street and even an internship at McSweeney's literary journal, it took lockdown for her to realize that English and creative writing weren't just a detour en route to her life as a doctor. Originally on a pre-med track, "the only enjoyment of it was studying with my friends," says Boparai. "Once that was taken away, I realized that if I genuinely do not enjoy studying for this on my own then it's just never going to get better."
Boparai is now reviewing offers to work in finance writing and is working on her 30,000-word creative writing thesis.
She says she didn't spend too much time cramming for the "Jeopardy" shoot. While the literature category was a consistent strength for her—"I just think about books 80% of my life," Boparai says—sports was a lost cause.
Instead, she spent some of her filming downtime befriending other college students on the show. "It helped humanize the people you were going against," Boparai says. "In any competition, you think you're just, like, going against robots and that can be very daunting."
No matter what happens, "people are going to be excited for you," Boparai says. She was surprised to see the interest in her success. "Of course, everyone watches 'Jeopardy' and it's fun, but it was something that was so personal and consuming to me that I didn't realize anyone else would care about it," she says.
Boparai is "full of a sense of open horizons," says Saint-Amour. "When you're a young creative writer who reads a lot, you can get bogged down by the splendors of the past. But I don't think that ever occurs to her.
"When Mehek reads a new thing, she asks, 'What is this and what can it do? What other possibilities does it open up for me as a reader and as a writer?'" Saint-Amour says. "I think she sees the literary universe as a feast of possibilities."
With the game now behind her, the greatest relevance of Boparai's "Jeopardy" anecdote may be its inclusion on the jacket flap of her first published novel.