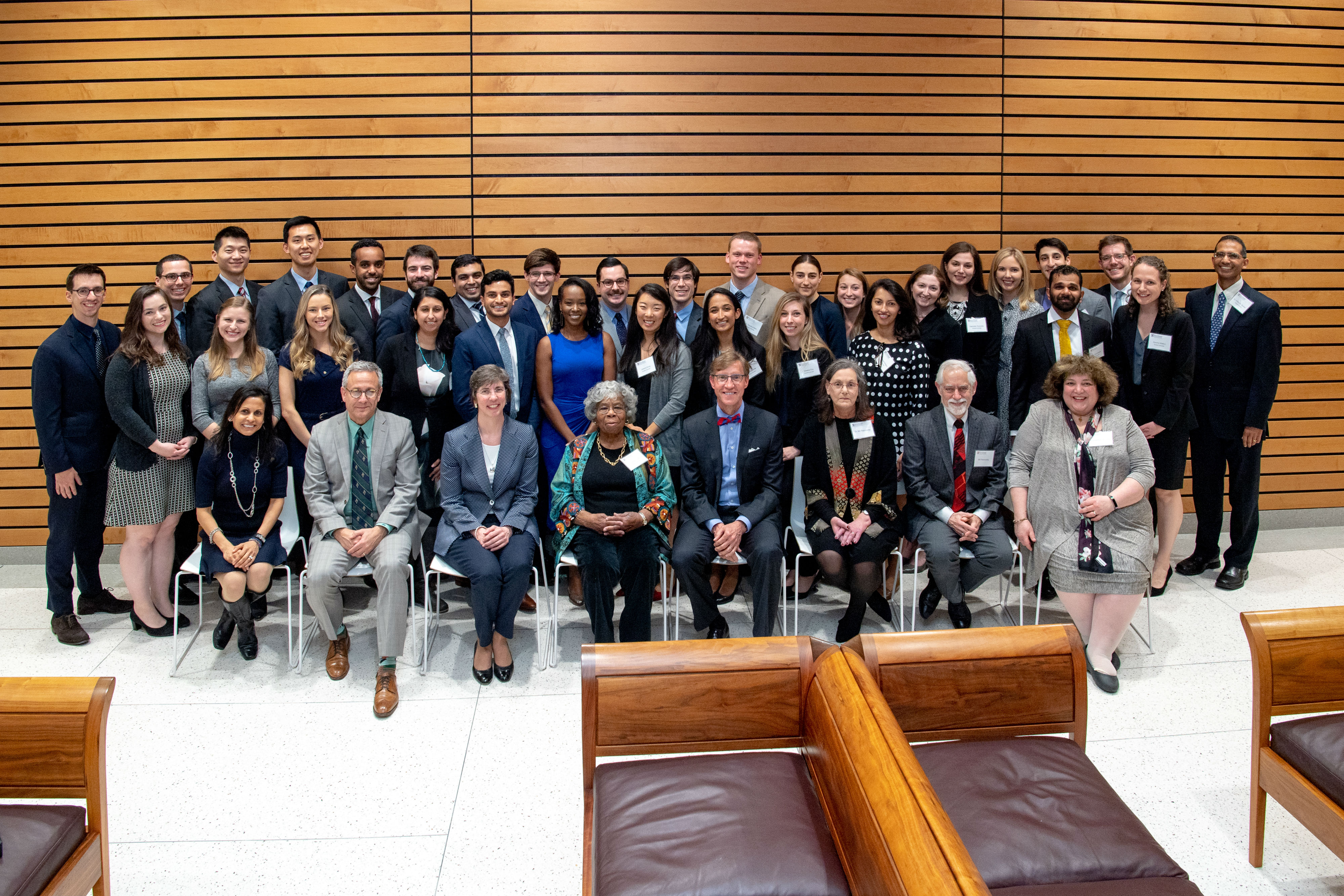 On Tuesday, Penn's Perelman School of Medicine inducted 25 medical students, three residents, three faculty, and two alumni into its chapter of the honor medical society Alpha Omega Alpha, joining the more than 185,000 members elected to the society since it began in 1902. 
J. Larry Jameson, executive vice president of the University of Pennsylvania Health System and dean of the medical school, introduced the event and spoke about the organization's motto, "Be worthy to serve the suffering." "The motto is a standard we will all live up to," he said and then went on to describe the high standards achieved and exceeded by everyone there. Kristy Weber (not pictured), Abramson Family Professor in Sarcoma Care Excellence and vice chair of faculty affairs for the Department of Orthopedic Surgery, then addressed topics like patient trust, physician self-care, and the importance of maintaining curiosity throughout a long career. 
One of the alumni inductees was Arlene P. Bennett, the first African-American woman to graduate from Penn Medicine, in 1964. "I never felt restricted by the gender and racial biases of the time. I joined the Air Force on the GI Bill with the intention of going to Penn and pursuing medicine. It always felt like that was what I was supposed to do," Bennett said in a 2015 interview, after receiving an award from the Elizabeth Blackwell Society and Penn Medicine Development and Alumni Relations. "Now it is a joy to see so many women, and so many women of color, among the ranks of students and recent alumni." 
The other alumni inductee was Jerry P. Rabinowitz, who graduated from Penn as an undergrad in 1973 and from the medical school in 1977. Rabinowitz was one of 11 people killed during the shooting that occurred at the Tree of Life Synagogue in Pittsburgh in October 2018. He received the honor posthumously, with his wife, Miri, accepting on his behalf. Here, she is joined by Penn Medicine's Neha Vapiwala, assistant dean for student affairs and an associate professor of radiation oncology at the Hospital of the University of Pennsylvania. 
(Photos: Daniel Burke)