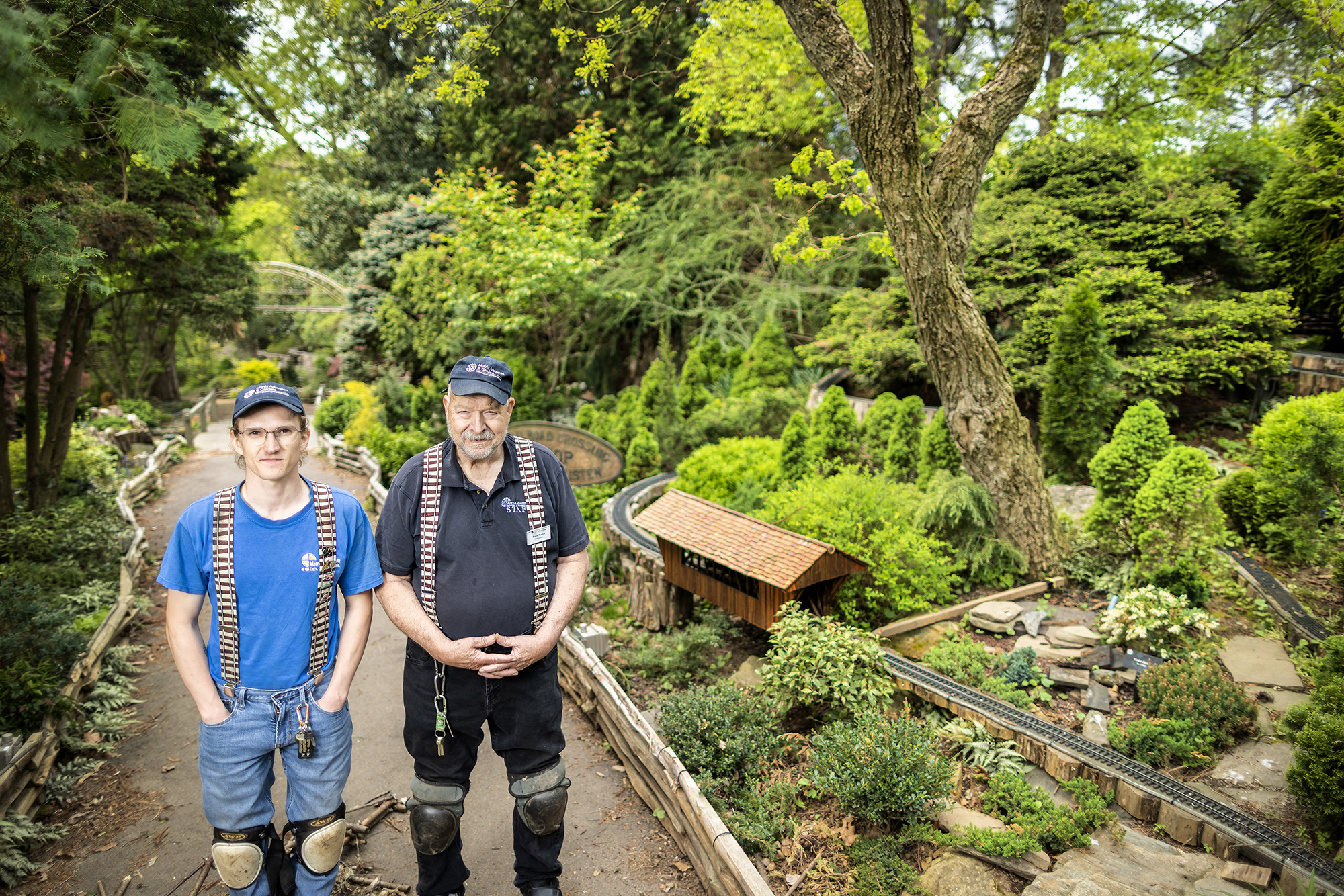 A pre-teen at the time, Bruce Morrell would wait at the train platform near his home in the Fox Chase neighborhood of Philadelphia, watching for the train to cross underneath a bridge, at which time he'd dash to see it come out the other side in a puff of smoke. 
He couldn't get enough. It was one of the first times Morrell recalls being in awe of a train. 
"I like trains," he says. "I like the scope of them. The noises they make. [As a kid] you see this big thing coming, belting smoke and steam and all kinds of hissing noises and clanging, and you're just in awe. It's a giant, fire-breathing monster."
Morrell, today, is a trainmaster of the Morris Arboretum & Gardens' Garden Railway, which this year celebrates its 25th anniversary. Morrell has worked on the railway since 2005; he first visited the Morris after his son—aware of his dad's interest in and mechanical experience with model trains—suggested they create a backyard train line. Looking for inspiration, they went to the Morris. But Morrell, taken with the Railway, lingered for hours during the visit—fascinated and eager to understand how it was put together. When he later saw a TV interview during which a Morris staff member mentioned the need for volunteers, he made a visit, signed up, and shortly after became staff.
When he arrived, Morrell says, the railway had about six tracks with turns that were too tight and limited the kinds of trains it could run. He suggested some changes that involved expanding some of the loops, extending a couple of short tracks, and eventually added the train inspired by "Thomas & Friends." The railway has seen iterative upgrades and tweaks each year—sometimes, each week—in the decades since. 
In 2020, Morrell welcomed his grandson, Josh Faia, as part of the trainmaster team. Josh remembers lending a helping hand with his brother as a child, often squeezing into narrow underbellies of trees to help clean rail tracks. He now helps with maintenance, assemblage, and circuitry. Like his grandfather, he grew up awed by trains, captivated by the roar and rumble of Amtrak trains that rush by SEPTA station platforms. 
Together, they help keep 16 separate trains running, five of which run back and forth, and 11 others of which are on a loop.
This year, in collaboration with the Morris's horticultural staff, they've helped build a new, 300-foot track extension that will make the railway one of the largest garden railways in the country—reaching a new length of one-third of a mile. It's a far cry from its beginning length of 550 feet when it was designed by landscape architect Paul Busse in 1998. 
The track addition simultaneously recognizes the Morris's 90th anniversary and its role as a public garden. This year, the Garden Railway's theme is "Public Gardens," with miniature replicas of structures from famous American public gardens on display, created by Kentucky-based botanical artists Applied Imaginations. The inclusions range from the Science Pyramid at Denver Botanic Gardens to the Torii Gate and Pavilion at Brooklyn Botanic Garden. Much like the Philadelphia-inspired miniatures sprinkled into the railway's landscape, they are made using natural materials, with logs and branches used to create tunnels. For a model of Fisher Fine Arts Library, for example, windowpanes are created using walnut shells cut in sections. 
The extension of the Garden Railway will create a more seamless entry point to the exhibit, says Vince Marrocco, the Gayle E. Maloney Director of Horticulture, and will feature two little hills, a stone wall, limestone outcroppings, and dwarf conifers to replicate a woodland hillside. Miniatures that fit the "Public Gardens" theme will be dotted throughout the entire railway. 
"[The Garden Railway] is theater with plants, basically," Marrocco says of creating the exhibit. "We're making a stage, and the trains run through it."
"The Garden Railway is not just a miniature wonderland, but a testament to our commitment toward preserving and showcasing the beauty and diversity of the natural world," adds the F. Otto Haas Executive Director Bill Cullina. "It's an extension of our mission to inspire the public to a deeper appreciation of the botanical and horticultural wonders around us, and a symbol of the magical and transformative power of public gardens."
For the trainmaster duo, much of their work this spring has been to identify the right elevation to keep the trains stable; the trains, they explain, are not meant for steep grades, especially when they have several cars added to them. 
But the work is worth it when they see the crowds come in, they agreed. 
"I want people to know that when they come here, they're going to have a great time," says Morrell, adding that he enjoys visiting the Arboretum in the summer just to soak up the joy felt in the crowd. 
The Garden Railway will reopen for the 2023 season on May 26 and runs through Oct. 9.