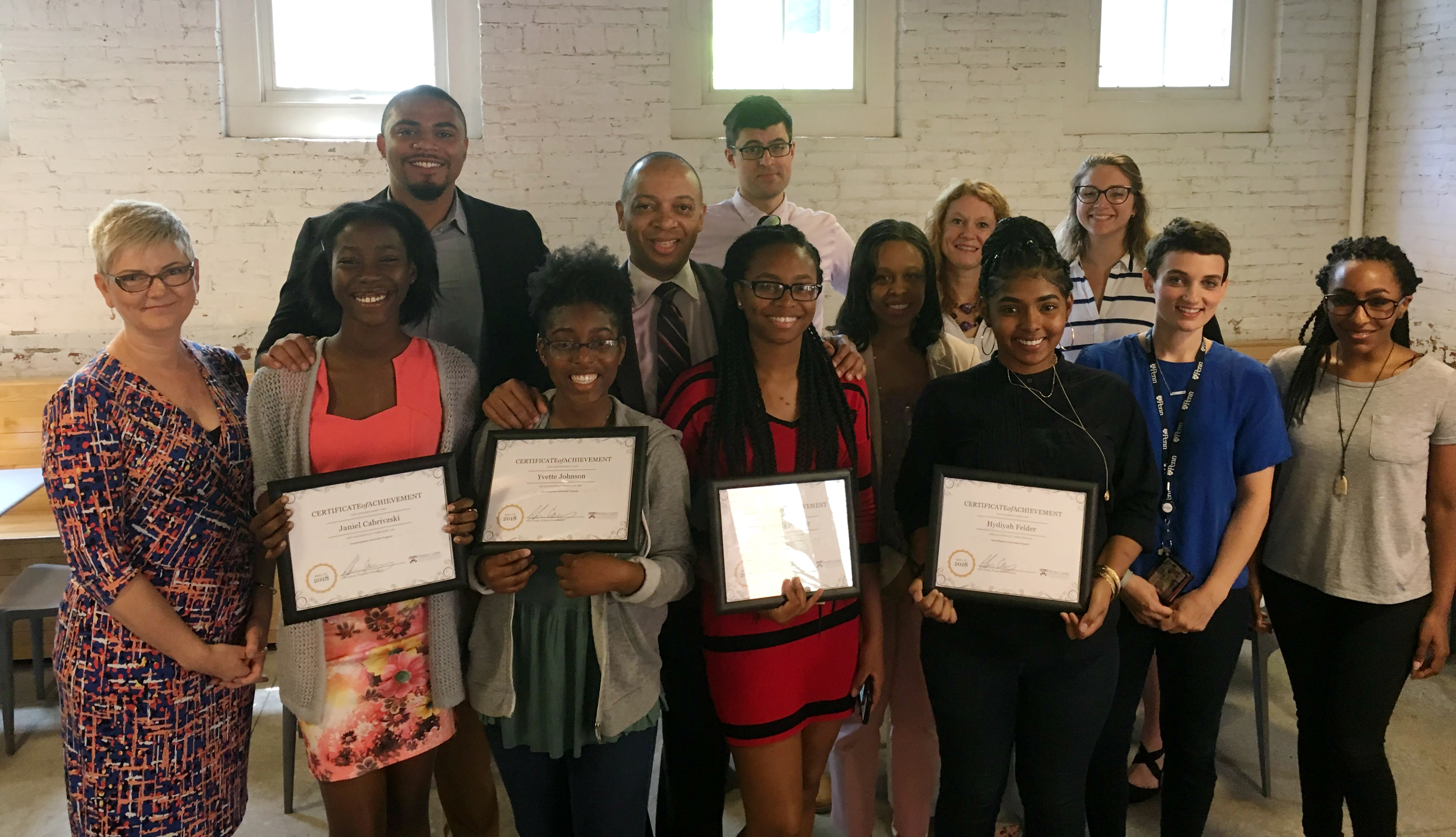 Five high school seniors from West Philadelphia are better equipped to operate effectively in the 21st century workplace, thanks to participating in a pilot internship program at the University of Pennsylvania.
Operated by the Barbara and Edward Netter Center for Community Partnerships, CareerExplorers is a new University-wide internship program that prepares seniors from local high schools by providing them with diverse professional networks, on-the-job experience, and professional-development workshops and seminars featuring guest speakers who focus on career possibilities and pathways.
It began in the fall with a six-week training course designed to strengthen the "soft skills" needed to be a successful employee in today's workforce. Topics included interpersonal and group communication, office etiquette and norms, conflict resolution, setting goals, resumé building, and job-search strategies. 
Then, the inaugural cohort of CareerExplorers, comprised of four students from Paul Robeson High School and one from Sayre High School, were paired with employer mentors across Penn for a six-month practical internship, where they were able to apply the skills they learned and gain additional insight about career fields from accounting to Zamboni operations.
"Although this was just the first year of the CareerExplorers program, it grew out of several successful on-campus internship efforts we previously operated with Business Services," says Cory Bowman, associate director of the Netter Center. "Marie Witt, the vice president for Penn's Business Services Division, and Carolyn McIntyre, its director of human resources, were instrumental in making the worksite connections." 
McIntyre worked with supervisors to identify placement opportunities across the Division of Business Services. This led to successfully placing Donnella Abraham, a CareerExplorer from Sayre High, as an intern at Penn's Class of 1923 Ice Rink. For her employer mentor, Abraham was paired with Tori Matarazzo, the seasonal manager of the 60,000 square-foot arena next to Penn Park.
McIntyre monitored the students' progress and helped to strengthen the Netter Center's training program, which included developing work-readiness skills. She says she got involved with CareerExplorers because it was an opportunity to make a difference.
"It supports Penn's mission to connect locally and it continues our commitment to the West Philadelphia community," says McIntyre, adding that this is just one of the many ways that the Business Services Division supports area youth in developing their future career skills. Other ways, she says, include co-sponsoring Penn VIPs, which was renamed as the Marie K. Bogle Scholarships last year, as well as serving snacks from Rebel Ventures, a youth-run business that creates healthy snacks through the Culinary Center. "It also provides career development for our own staff, as well as the participants."
Glen Casey, who led the 2017-18 CareerExplorer Internship Program from start to finish, understands firsthand the kinds of challenges today's adolescents are facing. He grew up at 52nd Street and Haverford Avenue and participated in "Leaders of Change," a local engagement program run by the Netter Center. 
A 2017 Penn alumnus who majored in urban studies at the School of Arts and Sciences, Casey has served as the Netter Center Fellow for the past year. As the CareerExplorer program's primary organizer, he cultivated relationships across Penn, helped to make sure the internship placements aligned with the students' interests, facilitated the semester-long skills-training course, and managed ongoing professional development efforts. 
Casey says the CareerExplorer program "is a way for individual departments to help build morale, as employer mentors take pride in helping young people accomplish their goals and gain access to resources that they wouldn't have access to otherwise."
CareerExplorers build connections with their employer mentors, Casey says. An example is Hydiyah Felder from Robeson High, who shadowed Jessie Hemmons, a senior research coordinator in Kit Delgado's Behavioral Science and Analytics for Injury Reduction Lab at the Penn Health System's Department of Emergency Medicine.
Hemmons says the staff came together to discuss priorities and projects for Felder and helped her develop necessary skills, so that she could gain a "toolbox of resources." The team, including research coordinators Dina Abdel-Rahman and Evan Spencer, maintained a student-centered approach and worked with Felder to examine different career pathways.
"Participating in the CareerExplorer program definitely enhanced morale in our office and helped us to refine our supervisory skills," Hemmons says.
Another CareerExplorer from Robeson, Romonia Bennett, was connected with Beverly Carter, a senior staff recruiter in Penn's Human Resources Department.
During her internship, Bennett learned about conducting employee searches, interviewing, and the thinking that goes into building talent pipelines for large organizations. 
CareerExplorers also discovered what they didn't like doing, which will help to guide them in the future, says Casey.
Because of the success of the inaugural cohort, the Netter Center is hoping to expand the program to as many as 14 interns in 2018-19.
"CareerExplorer leverages Penn as an anchor institution and is an important new component of our comprehensive University-assisted community school program, an approach we've been developing for more than 25 years and that has been replicated nationally by other universities," says Rita Hodges, assistant director of the Netter Center, adding that the internship program embodies the Penn Compact 2020. "We're making a positive impact in our community by giving youth from nearby high schools the opportunity to gain skills through on-the-job training as they build social capital. It's a win-win for everyone."
_________________________________________________
How you can get involved

•    Become an "employer mentor"
•    Facilitate a workshop specific to your career field
•    Be a guest speaker to share information about your background and career
•    Contribute to curriculum development