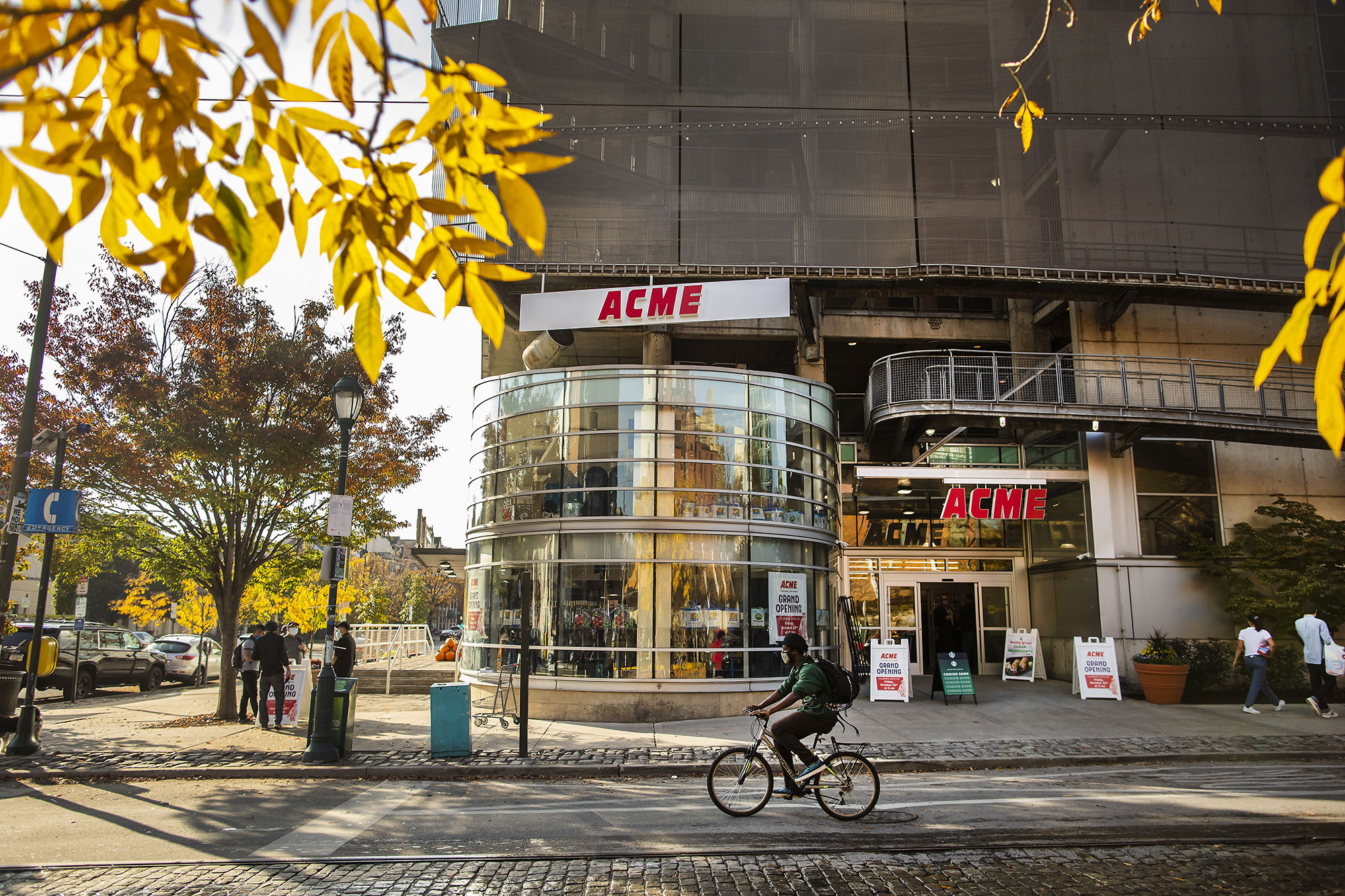 Grocery stores are a vital lifeline for the community, and they're essential during even the most trying of times. The opening of the newly renovated ACME at 40th and Walnut streets will not only serve as an important, convenient asset for those on campus, but also for everyone in the West Philadelphia neighborhood.
Since spring when they acquired the space, ACME's leadership, working closely with Penn, has been able to invest in, modernize, and launch a market with a fresh, new concept based on research and neighborhood trends. The store, which opens officially on Friday, Oct. 23, offers a variety of affordable, already-prepared meals such as sushi, poke bowls, and focaccia pizzas, as well as a BBQ station. It also features ACME's first ever "Sally the Robot" salad station—created with COVID-19 safety guidelines in mind. 
There's a full-service meat and seafood department, a bakery, beer and wine offerings, and a variety of natural, organic, and gluten-free products. In addition, the new ACME—a welcomed addition to the University's Shop Penn retail district—offers an in-store Starbucks. 
At the site's ribbon cutting Thursday afternoon, which was also streamed live online, Penn Executive Vice President Craig Carnaroli explained the power of the "three Cs," which stand for community, corridor, and commitment. Addressing each, he noted how important it has been to neighbors for Penn to house a reliable, high-quality grocery store near campus for the community at large. He detailed the "renaissance" the 40th Street corridor has experienced in recent years ("40th Street is coming alive," he said, pointing to the UCD Trolley Portal, new mixed-use development at Chestnut Street, and ongoing projects such as New College House West and Tangen Hall). In terms of commitment, Carnaroli expressed gratitude to ACME for their partnership at this location and their dedication to producing a great store in such a quick amount of time.
"We only turned this over to them in April. When they told me six months, I really wasn't sure," Carnaroli said, before gifting the store managers a Penn flag to hang. "But here we are; it's amazing."
"I think you will be pleased with the new look and feel of our new Penn ACME," said ACME district manager Kristan Lewis. "A lot of hard work went into planning this store and it's exciting to see it finally come to life."
ACME's commitment to the community has been commendable—through local hiring (200 new associates were hired for the Penn store) and good customer service—especially this year as the city, nation, and world faces a devastating pandemic. Throughout the past several months, the ACME Markets Foundation has implemented its Nourishing Neighbors community relief fund, donating more than $2 million to organizations that help those facing food insecurity. At the ACME kickoff at Penn, its leadership announced an additional $50,000 to five local hunger relief initiatives supporting the West Philadelphia community. Each organization—including the University's Netter Center for Community Partnerships, which will use the funds for its food distribution programs in University City—was presented with $10,000.
Ed Datz, executive director of real estate at Penn's Facilities and Real Estate Services, who worked closely with ACME officials to get the store up and running, said the market comes to a corridor that's "bustling day and night."
"The grocery store joins a cinema, several restaurants, retail stores, and service providers in an established pedestrian-friendly, mixed-use commercial area along the edge of campus connecting to the neighborhood," Datz said, adding that he is happy to see ACME join Shop Penn's retail lineup.
"ACME Markets fits right in the mix as a local icon serving Philadelphia neighborhoods for over 100 years," Datz said. "They are dedicated to bettering the lives of people in our community and nourishing our neighbors, a valuable partnership at any time but especially appreciated during these days in a pandemic environment."