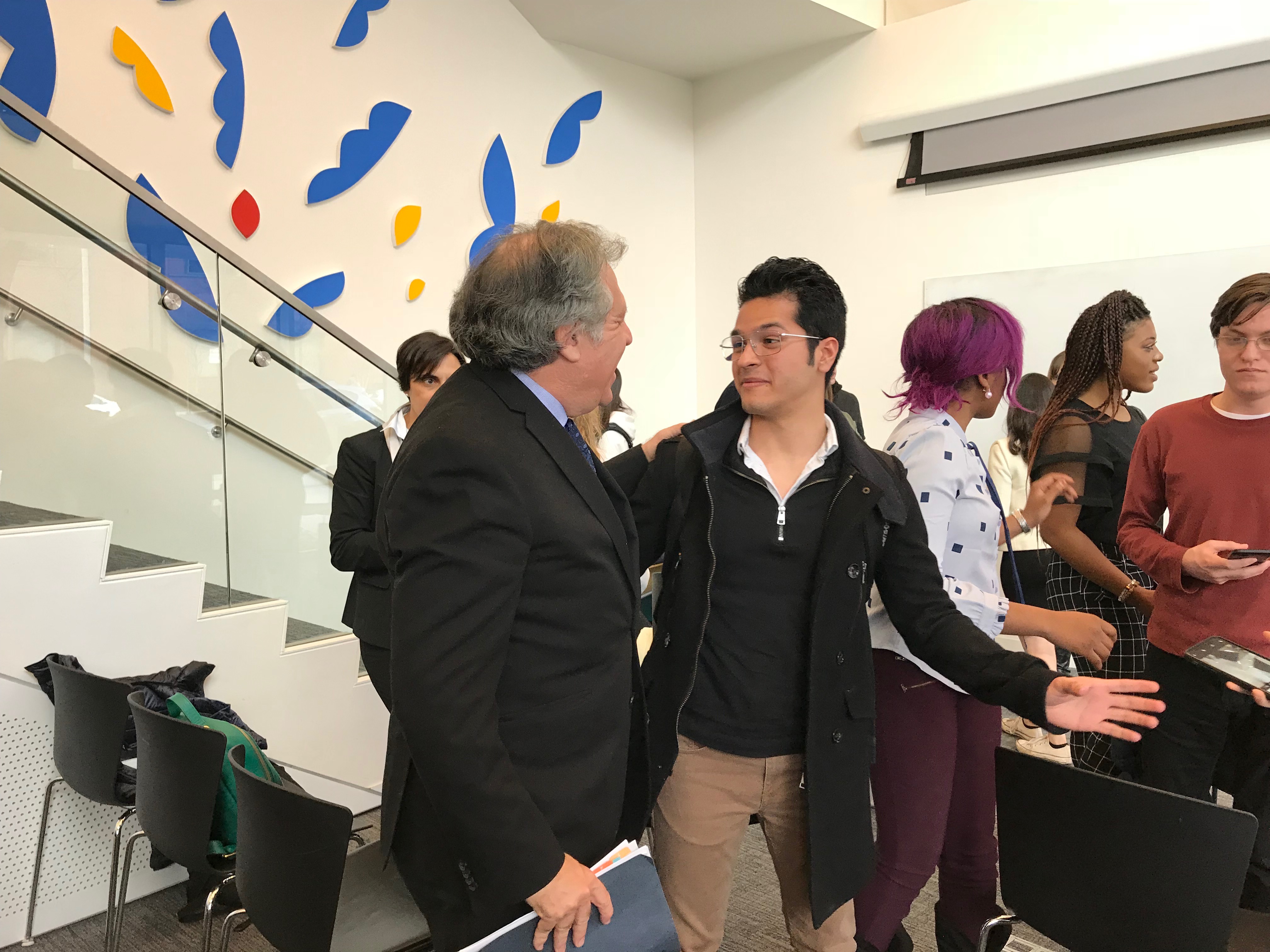 Budding diplomats and scholars in the University of Pennsylvania's Latin American and Latino Studies (LALS) program engaged with Luis Almagro, secretary general of the Organization of American States (OAS),on March 23 at the student-led Wharton Latin America Conference at Penn. 
His visit and speech at Penn's Perry World House marked the launch of the Penn Model OAS program, a multi-year LALS project in partnership with Fox Leadership International, the Andrea Mitchell Center for the Study of Democracy, the Netter Center for Community Partnerships, and Penn Global. 
Founded in 1948, the OAS charter was established by the United States and 20 Latin American nations affirming their commitment to diplomacy, collaboration, and respect for each nation's sovereignty. Since then, the OAS has expanded to include 35 members including Canada and the nations of the Caribbean. 
The Penn's MOAS program, based on two LALS undergraduate courses, will enable students from Penn and public high schools in the area to walk in the footsteps of representatives of OAS countries, through conferences that mirror OAS public-policy making activities. 
This semester, Penn students enrolled in the course "International Organizations in Latin America" will take part in the Washington Model OAS simulation for college students in Washington, D.C., March 26-30. Serving as delegates from Bolivia, they will prepare resolutions and negotiate with other WMOAS representatives. 
"I feel honored and excited to be part of this program that promotes solidarity, development, and welfare in the Americas via education," Catherine Bartch, LALS associate director who teaches the course, said. 
During his visit to Penn, Almagro signed a Memorandum of Understanding with School of Arts and Sciences Dean Steven J. Fluharty to "promote cooperative research and the international exchange of ideas" and research and teaching on issues of "democracy, development, security, and human rights in the member states of the OAS." 
"It was an incredible privilege for me and all the members of the LALS community, our students, affiliated faculty, staff, and community partners, to meet and spend the day with Secretary General Luis Almagro," said Tulia Falleti, LALS program director and Class of 1965 Term Associate Professor of Political Science. 
In the fall, students enrolled in the second course, "Democracy in Trouble: OAS to the Rescue?" will work with Philadelphia public high school students to prepare them to participate in the High School MOAS program in November. 
LALS in partnership with Penn Global is facilitating summer internships for students enrolled in the MOAS courses at the OAS national offices in Latin America and the Caribbean and in OAS headquarters in Washington, D.C.