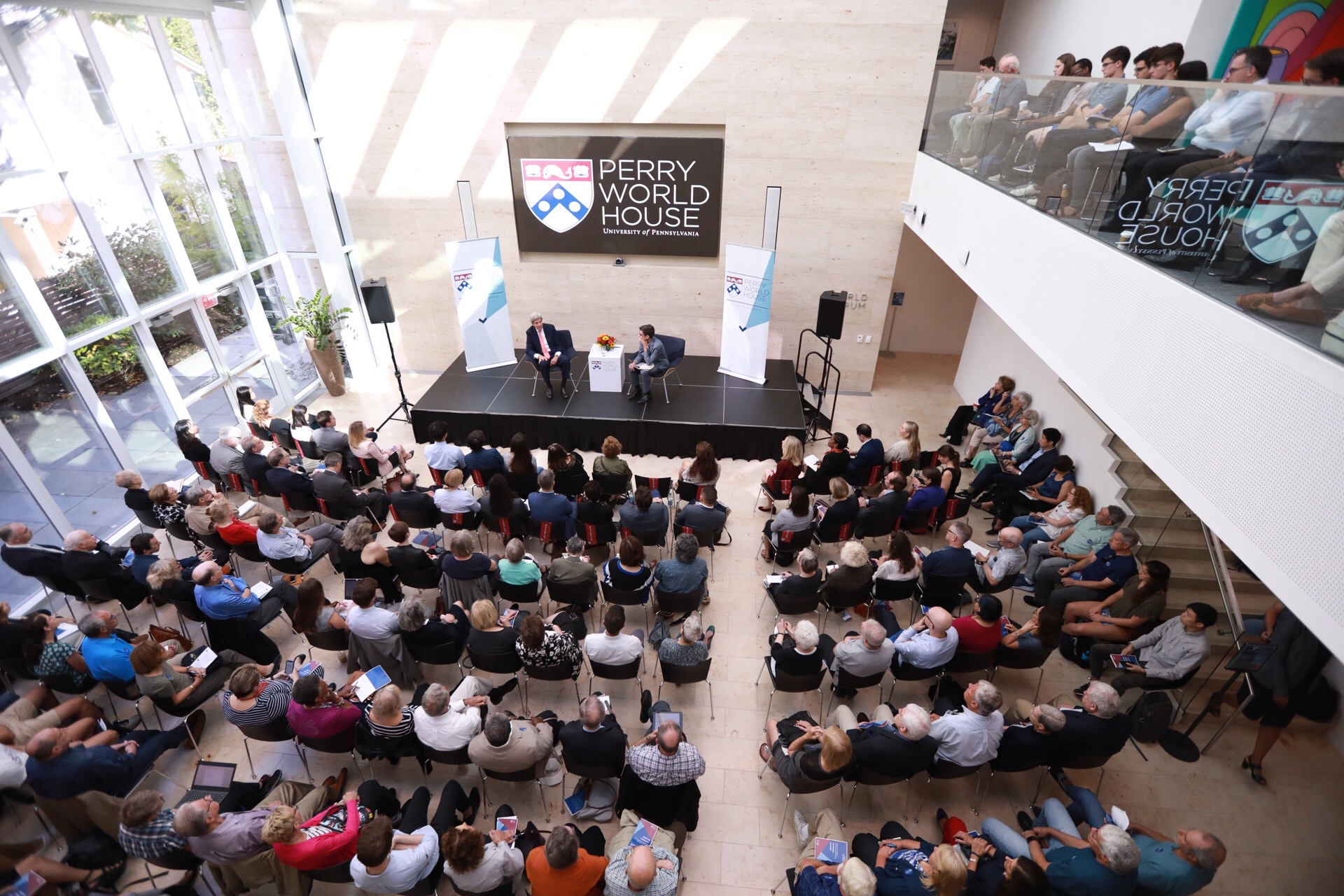 There's no question that technology has changed world governance, giving a voice to the voiceless, building coalitions, and providing a platform for protest. But has technology also done democracy a disservice, encouraging the rise of authoritarianism?
Asked that question at Perry World House's third annual Fall Colloquium Sept. 24, former U.S. Secretary of State John Kerry did not hesitate to respond with a strong "no."
"Technology is a tool. It doesn't speak to you on its own. It doesn't organize," Kerry said. "People have manipulated politics for centuries, and what [technology] has done is magnified and sped up the process."
Since its launch in 2017, the Fall Colloquium has drawn esteemed speakers from the U.S. and abroad, including politicians, policy makers, and business leaders; this year's theme was "How Emerging Technologies are Rewiring the Global Order." In addition to Kerry, who served as the U.S. Senator from Massachusetts from 1985-2013, and was the Democratic candidate for president in 2004, guests included former U.S. Secretary of Defense Ash Carter; former President of Kyrgyzstan Roza Otunbayeva; Raquel Urtasun, chief scientist for Uber Advanced Technologies Group; and Kenneth Roth, executive director of Human Rights Watch.
Carter, whose first job in government was working for U.S. Secretary of Defense Casper Weinberger during President Ronald Reagan's administration, closed the day's programming. He detailed his many roles in the Pentagon, the final one being Defense Secretary under President Barack Obama from 2015-2017. FOX News Channel journalist Jennifer Griffin asked about subjects including cyberwarfare, autonomous weapons, and the possibility that a foreign government would again tamper with a U.S. election. 
In an era in which "diplomacy by Tweet" has become a reality, Carter also addressed the importance of consistency. 
For the U.S., he said, "part of having the stature and reputation that we have is that we keep our word."
"We stick to our values and we stick up for our friends and we stand firm against our enemies. Being predictable, in that sense, reflecting values that other people share and keep them on your side and not on the other side, that's important," Carter said. "Sometimes Americans seem to think that you can proceed in world affairs instance by instance, and you don't have a reputation in international affairs the way you have a reputation as an individual human being … but you do."
The mix of speakers and topics appealed to a large cross-section of students, faculty, staff, and community members, who bustled in and out of the Perry World House, filling the main seating area and sometimes seeking seats in the balcony and adjacent overflow room. Ph.D. student Daphne Ippolito said she remembered watching the building as it was being constructed as a way to bring Penn's insights to the world and the world to Penn. This was her first visit.
"I came to hear about the self-driving car [from Uber's Urtasun] and ended up staying for the rest of the afternoon," she said. "I didn't expect they'd get such big name people."
Freshman Freud Thomas said he attended to hear from Carter, but also found himself interested in insights shared by the former Kyrgyzstan president
"It was great hearing about the different relationships her country has with Russia and China, and how they balance relationships like that," he said. "She talked about theories that we learn in class, like about negotiations, and how she applied them in real life."
But Kerry was the day's keynote speaker. Before he took the stage for his conversation with WIRED magazine editor Nicholas Thompson, Penn President Amy Gutmann introduced him as "a renowned global leader who led our government's response to unprecedented global change.
"He is among the most experienced, thoughtful, and articulate proponents of embracing that change in ways that ensure peace and advance prosperity, not only for our country, but for all nations," Gutmann said. 
The current government, Kerry said, is not working. One of his college professors once said, "All politics is a reaction to felt needs." He initially didn't understand what that meant, but he learned after years of public service.
"If you don't act on a felt need, you will not have that need met," he said. "The answer is we have to overcome the opposition in a democracy by out-organizing, out-voting them and setting the priorities that will impact the future, but not enough people are working at making our democracy work."
Democracy is fragile, Kerry said. A government of the people needs to be constantly nourished, he added, recalling Penn founder Benjamin Franklin's response when asked if the Constitutional Convention delegates had created a monarchy or a republic: "A republic," Franklin replied, "if you can keep it."
"If you can keep it," Kerry repeated. "From the beginning, it was dependent on all of us."
After Kerry's talk concluded, freshman Sarah Yoon said she was happy to hear him describe the Green New Deal as a good first step that needs a few reality checks before being implemented. Sustainability and global warming are issues she cares deeply about. She said she was leaving with a bit more hope for the future.
"He's very concerned about the environment," Yoon said, "and the fact that he is part of the inner circle of politics and has the resources and the voice means he can actually bring about change."
This story is by Natalie Pompilio.