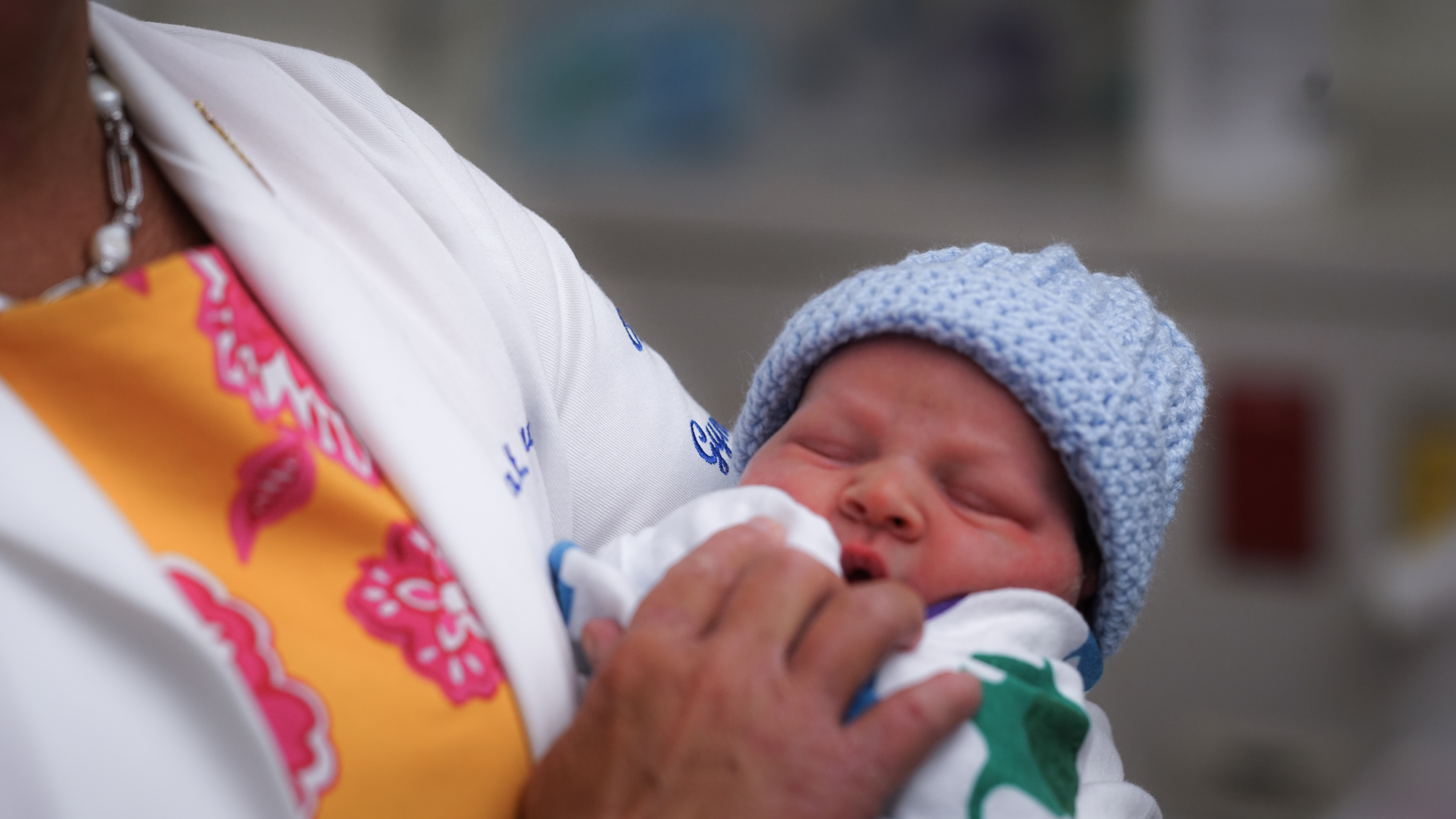 It seems intuitive that holding a baby provides comfort, but a recent study found that human touch plays a major role in the progression of infant neurodevelopmental function. Another showed that distressed infants who received less physical contact while in a neonatal intensive care unit (NICU) had slower brain maturation. 
The NICU at Penn Medicine's Chester County Hospital has found an easy way to help offset early trauma and potential developmental delays with a volunteer newborn-cuddling program aimed at soothing premature infants and those suffering from maternal drug-use withdrawal.
Chester County's Susan Cacciavillano and Stefanie Steinberger spearheaded the effort, applying for a $10,000 grant from Huggies. In November 2017, the hospital launched its infant cuddling program, using the funds to train "cuddlers," who volunteer in the NICU during the infants' medical procedures, to ensure patients there receive enough physical contact and stimulation during early brain development. Six months in, the program has already doubled its number of cuddlers, and Cacciavillano, clinical manager of the NICU, says that the program has been smoothly integrated into standard care.    
Babies in the NICU often require extensive care and numerous medical procedures. "About 95 percent of care is not intended to be comfortable or pleasurable. It's intended to keep the babies alive," says Steinberger, the NICU's lead physical therapist. "Comforting touch in between and during these procedures decreases the babies' stress, helps them create bonds, and lets them know that touch can be good instead of bad."
In addition, this is an important period in the brain development of these children, she says. "We've realized that the amount of stress babies receive during NICU stays—which includes whether or not they receive skin-to-skin care to offset all of the needles and tubes—directly impacts their development later in life."
These infants already face risk for physical and mental delays, particularly if they've been born prematurely. To understand the effect of cuddling on babies' brains, some research has studied NICU infants' somatosensory systems, which includes the sensory neurons and pathways that respond to changes such as pain and temperature. When prompted by stimulus, sensory receptor cells send signals via a sensory nerve to the spinal cord, where more sensory neurons process the signals before relaying them to the brain. 
Researchers from Nationwide Children's Hospital in Columbus, Ohio, found that in comparison to full-term infants, premature infants who received care in NICUs displayed decreased somatosensory responses to touch. And without positive touch while in the NICU, premature babies exhibited even more severely decreased brain activity when presented with neutral stimuli.
A lack of proper somatosensory system function can worsen existing problems, particularly for premature babies. Early sensory processing allows the infant to learn from experiences such as touch, which forms the foundation for building perceptual and cognitive abilities. The somatosensory system is one of the first to begin developing, and it mediates both social and biological interactions with the mother. Frequent medical procedures can interfere with this mediation. 
Infants in Chester County Hospital's NICU rarely undergo a procedure without supportive touch. If a parent isn't around, a cuddler likely is, since the hospital staffs them from the early morning hours until 11 p.m. These volunteers hold and rock the babies, and sing, read, and hum to them. 
Beyond obtaining hospital-required background clearances and vaccinations, cuddlers must be visibly compassionate, soft-spoken, and hardworking during interviews and training, and they also need to be prepared for the heartaches that occur in the NICU.  
Upon acceptance to the program, cuddlers learn about brain development, anatomy, infant development, and baby-holding techniques ranging from typical holding and rocking to a method called containment, during which cuddlers gently place a hand on a baby receiving a painful or routine medical procedure. 
"We tell them that they're not just holding a baby—they're helping that baby's brain develop," Cacciavillano says. "They embrace the responsibility." 
Parents, so far, have been pleased too, particularly those whose circumstances make it harder to return to the hospital every day, such as those without consistent transportation or single mothers, Steinberger adds. "We've received nothing but positive feedback from parents, and busy parents were especially grateful that someone was there to provide the appropriate cuddling and nurturing for their child [when they couldn't be]." 
Cacciavillano and Steinberger say they couldn't have started this program without help from the Lancaster Women & Babies Hospital, another Penn Medicine facility, which supplied Chester County with numerous resources, including training guides and volunteer mentoring. 
Cacciavillano says she's really enjoyed seeing the program grow. "We weren't sure how our nurses would respond initially, but they've embraced the program entirely," she says. And "one of the best things about this program is the people we've hired. They've dedicated themselves to helping these preemies, and they provide such a nice, nurturing presence in the NICU." 
The volunteers seem to love it too, if the full program is any indication. There's even a cuddlers waitlist. "And the waitlist is full!" Steinberger says. She says the care team at Chester County hopes to expand this program eventually, and in the meantime, she encourages interested volunteers to seek similar opportunities elsewhere.