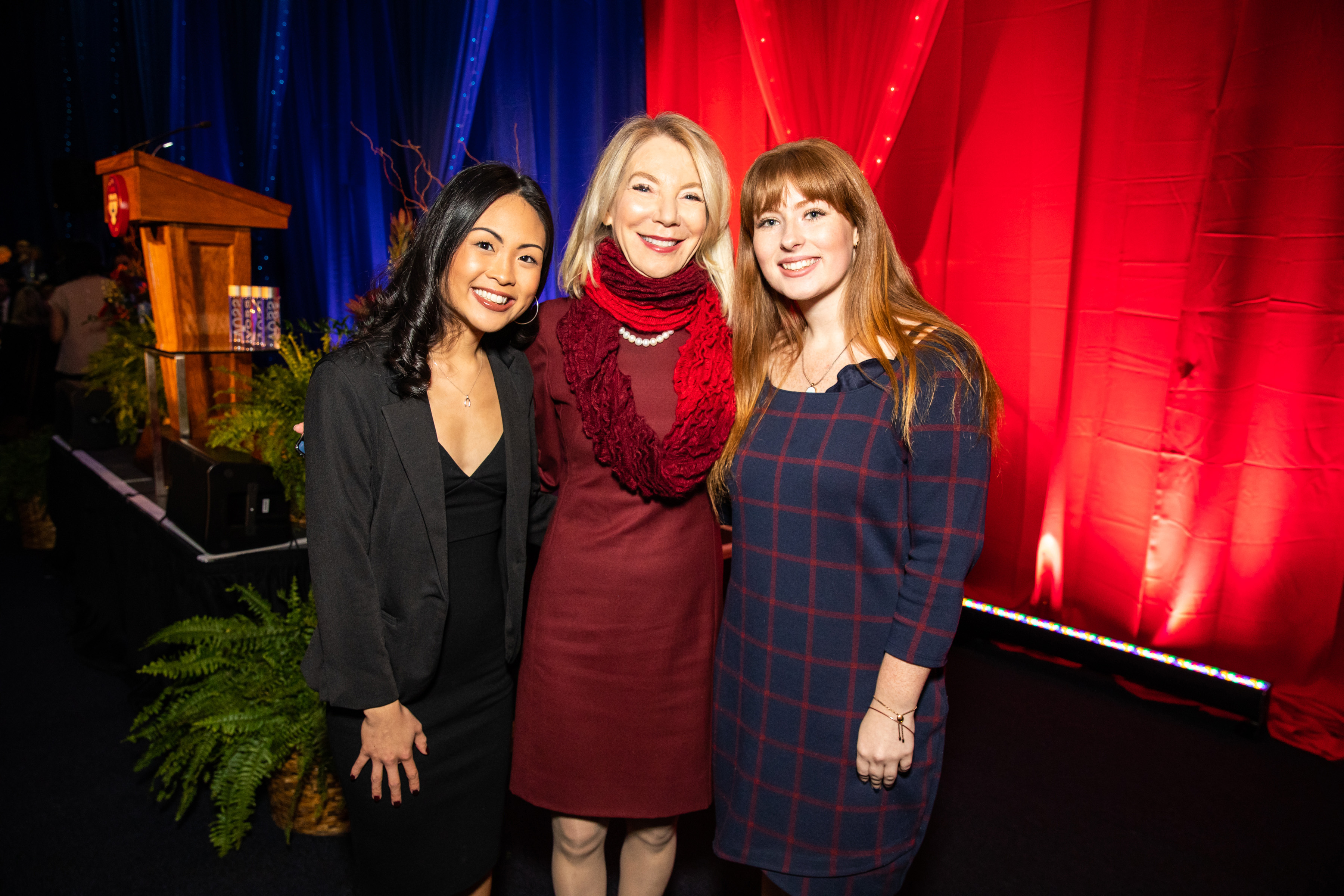 Nearly four years ago, when Angelica Du was a freshman, she recalled being completely "awestruck" upon walking into her first Scholarship Celebration.
"It's just really warm," the now-senior noted at this year's event, which took place Wednesday, Nov. 20. "My donors have always been so warm with me."
Du—with a smile that's constant, as well as contagious—scanned the red-and-blue draped walls of the John R. Rockwell Gymnasium, completely transformed for the yearly event on campus, and eyed the appetizers being passed. She glanced at her proud mom, a few folks over. Hosted by the Undergraduate Named Scholarship Program, the Celebration is one that has grown to attract hundreds of scholarship donors and their recipients and families, for an evening of networking and good-old-fashioned catching up.
"[Angelica] tells me that she's proud," said Jerry Riesenbach, a Wharton School alumnus who helped support Du's cost of education through the Class of 1960 scholarship fund. "And I said to her, she makes us proud. Being able to provide funds is one thing, but seeing the benefit that goes to these young people, who have such tremendous aspirations and are so grateful, is another."
At Penn, Du, who will graduate with her bachelor's in bioengineering in May and her master's in December 2020, designs robots and conducts neurobiology research. She teaches thermodynamics and critical writing to her peers. She sings for a Disney-themed a cappella group, serves her community in a Christian union, celebrates her culture in the Penn Philippine Association, and advocates within several honor societies. This past summer, she worked at Thermo Fisher Scientific, running experiments for a next-generation sequencer that will take a patient's DNA, sequence it, and diagnose it within 24 hours.
"What it really comes down to, my parents and I were born in the Philippines, we had no semblance, no idea of what an American college education was, much less what an Ivy League, what an elite institution is, and what it could offer me," Du said. "I'm just so grateful for the steps that other people have laid out for me to be able to come here. I just have an outpouring of gratitude." 
The space felt "electric," noted Penn President Amy Gutmann, "The power of hope and the dreams of tomorrow run through this room like a current."
Since 2009, when Gutmann led the implementation of Penn's grant-based policy for undergraduate financial aid, based on need, the University has provided students and their families with more than $1.4 billion in grants. A first-generation college student herself, Gutmann has more than doubled the number of students from low-income, middle-income, and first-generation college families attending Penn. She's also initiated significant efforts, including Penn First Plus, to make sure that students of all different socioeconomic backgrounds are not only able to get to Penn, but able to flourish once they arrive.
"With us here tonight are the people who are investing in the greatest possible future and with us here tonight are the people who are going to be that great future," said Gutmann.
Hailing from Wilkes-Barre, Pennsylvania, political science senior Hayley Boote, who spoke to the crowd along with Du at the Celebration, talked of her determination to get to and succeed at Penn. 
"Every smart kid in Pennsylvania wants to go to Penn, but few actually get there," she said. "Even fewer get there from an underfunded public school in northeastern Pennsylvania."
With undoubted resilience, Boote did everything she could to garner acceptance to Penn, and she did so while grieving the sudden loss of her mother her senior year of high school. Her junior year of college, her father unexpectedly passed.
"Penn has given me so much and has supported me through so much struggle," said Boote, who received the Ann Mae Mankausky Kiryluk Memorial Scholarship from Carol A. Kiryluk and the Hilary and Richard Cooper Scholarship to pay for college. "I think it is vitally important that Penn's classrooms continue to have students like me and that every kid has the opportunity to thrive at Penn like I have."
"Penn has been the absolute highlight of my life so far," continued Boote, also co-chair for Seniors for the Penn Fund. "The lifelong friends that I have made here have made Penn a home rather than a dream."
Chatting the day after the Celebration, Mark First, a Wharton '87 graduate and chair of Penn's Undergraduate Financial Aid Leadership Council, noted how important it is that Penn focuses on services to help students acclimate to Penn, even after they've received financial aid.
"To provide resources where they might otherwise not have, for example, subsidizing summer jobs so they can go work for a nonprofit," First said. "Giving them the same experience as every Penn student."
The best part of the Celebration each year, said First, who has supported four students through his personal scholarship with his wife Rachael First, is "seeing the energy in the room." 
"It's the excitement of the donors as well as the students and the interaction between them, it really makes you feel good, and makes you realize why we do what we do," First said. "There's no better gift you can give someone than an education, and there's no better place to do it than Penn."
Wiping a "tear of joy" from her eye, Gutmann, closing the event, noted—the day after her birthday—that there's no better present to her "than knowing what these amazing students are making possible for themselves, their families, and frankly for our county and the world."